Pets As Therapy: Christmas Cheer
---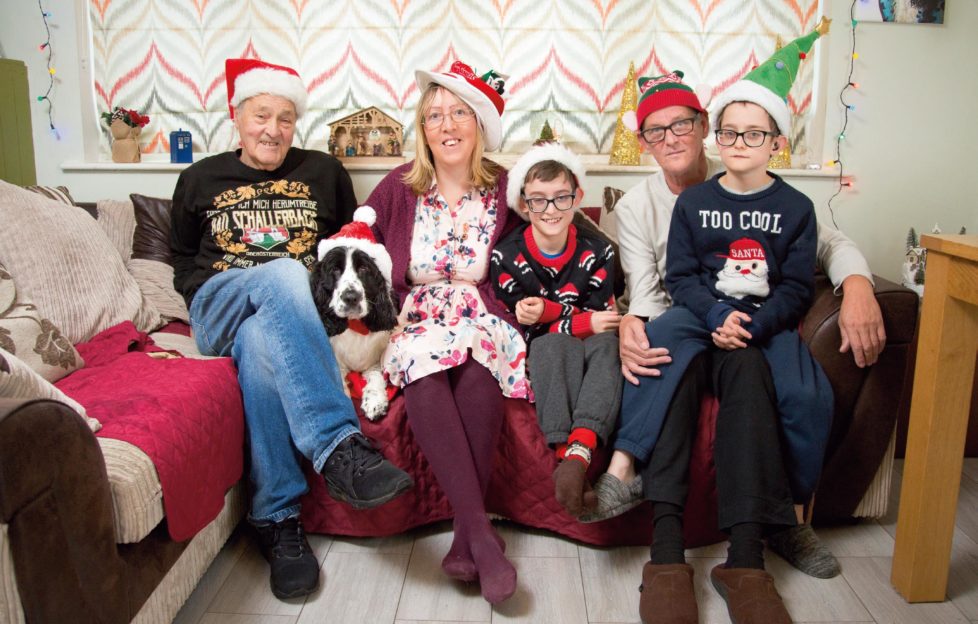 Emma's dad, Hans, joins Hansie and the family for Christmas
Pets As Therapy team Emma and Hansie spread some Christmas cheer.
Over the past three months we've been following the story of Emma Tyreman from Oxford, who recently became a volunteer for the charity Pets As Therapy (PAT) alongside Hansie, her cocker spaniel.
A few years ago, Emma was extremely frightened of dogs, having been viciously attacked by a friend's pet. She conquered her fear, however, after realising that her twin grandsons, who she adopted in 2011, would benefit from having a four-legged friend in the family.
It's not only the boys, now aged twelve, who are enjoying the little dog's company. Since Emma and Hansie passed their PAT assessment in October, they've also been spreading joy at a women's psychiatric ward at the Fulbrook Centre at Churchill Hospital, Oxford. And now they're paying visits to Marston Court, a residential care home.
Visiting Marston Court
"As with the Fulbrook Centre, Hansie and I met up with the staff first to find out what they wanted from our visits," Emma explains. "Sharon Fenn, the manager, told me they'd been on the waiting list for a PAT Dog for a while, so she was very keen for me to start. We agreed I'd visit the following week."
Emma and Hansie received a warm welcome. "Paul Lucas, one of the activity workers, introduced us to the residents in the day-room. It was great to go round and greet people, and again I took Hansie's little stool so he could step up and say hello to anyone who struggled to bend down."
"I was very aware of everyone, and kept Hansie away from people who were feeling tired, and those who said they weren't keen on dogs."
One of the main aims of Pets As Therapy is to bring comfort and companionship to those in hospitals, hospices, nursing homes and care centres, which seems even more important as Christmas is approaching.
Santa Paws
"Visiting Marston Court over the Christmas period will make a huge difference to some people there," Emma says. "Christmas can be such a lonely time, especially if you're missing a special friend or loved one in your life. It leaves a huge void."
Emma reckons Hansie will be eager to attend any Christmas parties at the establishments.
"We'll be making extra Santa Paws visits! I've got Hansie a Santa hat as well as an elf hat, so he'll be wearing those in the run-up to the twenty-fifth. He has a snowman suit, too, which he may wear if it snows, but I don't think he's very keen on it."
Christmas Traditions
As for Christmas in the Tyreman household, Emma says that it's usually a quiet affair.
With Joshua and Matthew both having hearing difficulties, as well as Attention Deficit Hyperactivity Disorder (ADHD) and Autism Spectrum Disorder (ASD), Emma and her husband Colin like to stay at home and keep everything quite low-key.
"Josh and Matt can become quite overwhelmed if we have too many visitors, but my dad will join us for Christmas dinner. As he's Austrian, it's traditional to open a present on Christmas Eve."
"That's nice, especially as my other son, Ollie, and his fiancée, Amy, will be with us as well. Every year, I also pretend to have forgotten to hand over some presents, so everyone gets another to open on Boxing Day."
The family enjoy other festive traditions, too. "The boys and I take delight in getting the decorations down from the attic, looking at ones we've made in the past and old favourites.
"Josh and Matt love 'Doctor Who', so it's not unusual to see a Cyberman or Dalek hanging on the tree." Baubles and tinsel, however, only decorate the tree from the middle upwards – mainly so they don't get knocked down by Hansie and the two cats, Mittens and Emma (Joshua named this one).
"Stockings will be put out for the boys on Christmas Eve, and for our three pets."
"The cats usually get a special Christmas meal, and Hansie is sure to get some dog treats – perhaps a bully stick. They're terribly smelly, but Hansie thinks they taste delicious."
The boys leave out a drop of rum for Santa and carrots for the reindeers, and a Magic Christmas Key before they go to bed.
"We don't have a chimney, but there's no need to worry." Emma smiles. "This special key allows Santa access inside."
Catch up with all the posts so far on our Pets As Therapy page.