Trainspotting
---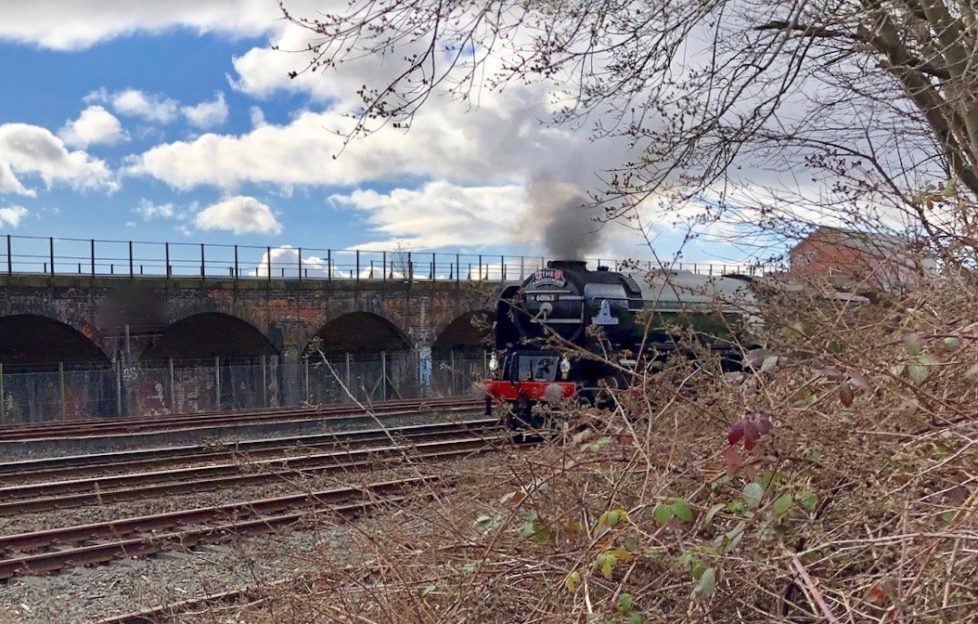 Photo: Shirley Blair
People tend unfairly to snigger a bit at trainspotters but I joined their ranks recently.
I heard on the morning news that a steam train was to be travelling through Dundee en route from Edinburgh to Aberdeen and back again. Well, that would be something to see, I thought. A little bit of research turned up the fact that it would leave Edinburgh at 9.30 approx. How fast does a steam train travel? Would it reach Dundee at the same time that a modern diesel would?
Another internet search unearthed a fairly obscure but very useful site  This Week In Steam – with the train's schedule. The Aberdonian, with steam engine Tornado, would be passing through Dundee at 12.57. My lunchtime. Hurrah! And my usual lunchtime walk takes me alongside the train tracks in any case.
I weighed up likely observation spots – there are a number of pedestrian bridges crossing the line but figured I might be jostling for elbow room with a horde of genuine trainspotters. And when I headed along that way, I was right. There they were – complete with tripods and cameras. But I found a nice little spot quite close to the line, and waited.
Can I Hear It?
Not the best plan. The disadvantage of my spot and the advantage of theirs was that I had no view up the line. I couldn't see it coming. But I thought I heard it. Like a sewing machine, beautifully oiled, pistoning away, the noise soft but getting closer. And then suddenly there it was. And dead on time. Not a great thundering, as I had expected, but quite dainty in stature and delicate in sound.
I managed one or two pics – it passed faster than I thought it might!
This was its inaugural run on this route. Wait – what? But isn't it a vintage train? In fact, no, it's not.  It was built in Darlington, and was completed in only 2008, the first such locomotive to be built by British Railways since 1960. And it's already appeared in the movie Paddington 2 and Tv show Top Gear.
There are four more of these trips scheduled for this year. Maybe I should try one.
Read more from our Fiction Ed here.