Writer Of The Week: Kitty-Lydia Dye
---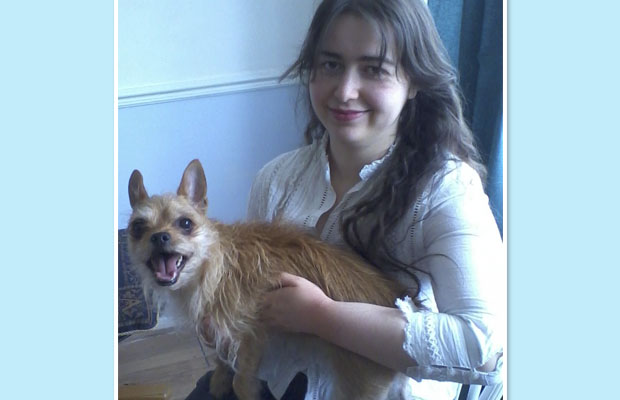 This week, we're delighted to talk to Kitty-Lydia Dye, our Writer Of The Week.
Welcome to the "Friend" Writer Of The Week! Tell us, when did you start writing, Kitty?
I was home-educated, and I developed a love for writing stories as a girl through my friendships with other home-educated children across the country. We would write fantasy and science fiction stories together online, creating our own characters and continuing the story a paragraph at a time. I think this really helped me develop my writing skills for when I started writing my own short stories.
My very first story for the "Friend" was back in 2016. It was called "The Big Red Box". I find it hard to believe that it has been over three years now!
Your short story, "Love Written On The Petals", appears in this week's issue. Where did the idea come from? How long did it take to write?
I have always been interested in the Victorian hobby of floriography — creating messages through the medium of flowers. There are some beautifully illustrated books on floriography, and I used to love looking through them.
"Love Written On The Petals" started as an idea put on the back burner for a few months while I did some research. It then took a couple of weeks to write and edit. I found this one really easy, though, as I enjoyed writing from Caleb's perspective.
"Love Written On The Petals" is set in 1840. Do you prefer writing stories with a historical setting?
Historical settings are one of my most favourite backdrops for a story — both for reading and writing. In the past, folklore felt just a little more "real". As a lot of my stories focus on Norfolk legends and superstitions, having the characters more likely to believe in a local ghost makes it more interesting. I tend to be drawn to the Victorian and Regency periods the most, mainly due to the clothing!
Does the story come first, or the characters? Do you have a writing schedule to stick to?
My short stories normally start with a scene that appears strongly in my head.
For "Love Written On The Petals", it was the scene where Caleb is watching May at her window while he is gardening. I then write a brief outline of what I want the plot to be.
The characters tend to speak for themselves as I write out the scene, and often change the direction of the story entirely. I then spend most of the time researching what would be relevant to the story while writing out draft versions of each scene.
I wish I did have a writing schedule, but I keep on forgetting to stick to it!
What have you found to be the biggest challenge as a writer?
Confidence in continuing something. Often I end up frustrated with what I have written, and start again several times. The best way of lessening the impact this has on me is to put the story away for a little while, work on something else, and then come back to the first story afresh.
Most inspirational authors?
Historians such as Ruth Goodman and Lucy Worsley have opened so much of the past to us through their research. They really bring history to life. I have often read their books and watched their shows, and been inspired so much that it made me want to find out more.
Who are your own favourite authors, and why?
Thomas Hardy, because of his stunning descriptions of the countryside. Philippa Gregory, for her vivid, relatable portrayals of real-life historical people. Elizabeth Gaskell for the social commentary in her novels, and the Brontë sisters for their originality, memorable characters and landscapes. I read all of these as a teenager, and they had a huge impact on my writing.
Notebook and pencil, or laptop? Kitchen table, or study? Blank wall, or inspiring view?
I like to collect unique notebooks — particularly ones featuring dragons — to write my rough drafts in, which I then type up on my laptop. Often I am curled up in my chair, with my dog Bramble snoring on my lap.
And a P.S. – what's your one top tip for aspiring writers?
Read and read and read — especially the guidelines for whatever magazine or publisher you are submitting to! Then you never know, you may wind up Writer Of The Week!
Kitty's story, 'Love Written On The Petals', is in our latest issue, on sale now.
Worried about missing out? Subscribe today!