Willie's View: Historic Kirriemuir
---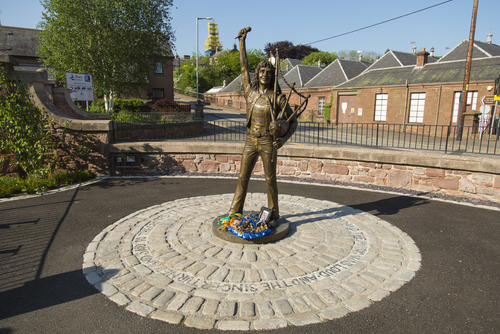 Kirriemuir's other famous son, AC/DC's Angus Young. Shutterstock.
Locals call the red sandstone town of Kirriemuir the "Gateway to the Glens".
What a grand view you have over the hills and glens of Angus from the 631 feet high top of Kirriemuir Hill.
In the Hill Cemetery rests Kirrie's greatest son, playwright and children's author Sir J.M. Barrie.
In the centre of the town square stands a statue of one of Barrie's most famous characters — Peter Pan.
In the park on top of the hill is Kirrie's Cricket Pavilion and Camera Obscura.
On June 7, 1930, J.M. Barrie gifted the building to the town. It was the day he received the "Freedom of Kirriemuir".
Close to the top of the hill is a large, solitary standing stone.
Locals will tell you the "stannin stane" used to be twice its present height. But, the story goes, three men once robbed another at the market, and they sat beneath the stone to divide the loot.
For whatever reason, the stone split and the top half fell, burying the robbers beneath it. They say for fear of similar fate, no-one has recovered the stolen loot.
One place I'll definitely be visiting before heading home is the "Star Rock" sweet shop in the Roods.
Founded in 1833, it has continuously traded and made sweets in the same premises for some 187 years, making it the oldest sweet shop in Scotland.
From humbugs to lucky tatties, clove rock to Lion's midget gems, if you've a favourite, you'll be sure to find it here.

For more of Willie's travels around Scotland, click the tag below.
To read more from the team, visit our blog page.