Writer of the Week: Margaret Connor
---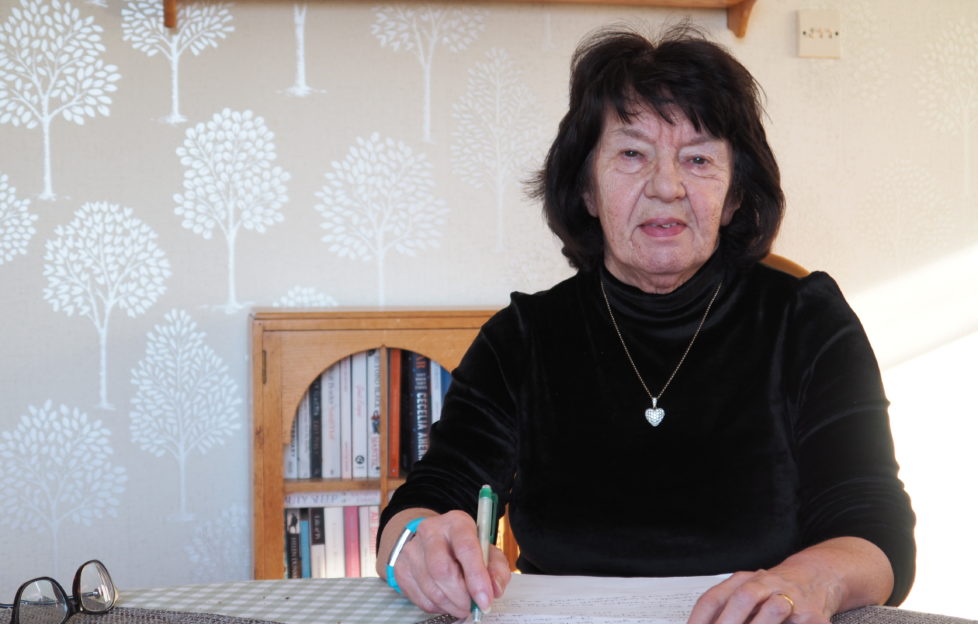 Photograph courtesy of Margaret Connor.
Margaret Connor joins Fiction Ed Shirley as our Writer of the Week.
"Sweets For My Sweet" is a lovely fun idea. Can you remember what was the inspiration for it?
This quirky story was inspired by memories of a fellow student who sat in a lecture theatre in Sheffield and struggled to keep an enormous Valentine's biscuit "wrapped in cellophane and tied with long red ribbons" in one piece.
This image started me wondering "what if"?
Tell us a bit about yourself and your writing, Margaret. Have you been writing away for years? Have you had other writing success?
I feel lucky to have been helped by some inspirational writing tutors over the last few years.
Since graduating from Sheffield Hallam University with an MA in Writing, I have had stories published in anthologies, been shortlisted in competitions and have had short plays performed on stage.
My first "Friend" story was published last year. (Our records slipped up and we've tagged Margaret as a Debut Author in this issue. Oops! – Shirley)
Do you belong to a writing group? Do you think they're useful for writers?
I think writing groups are absolutely essential, both from an inspirational and motivational point of view.
Belonging to a writing group, giving and receiving feedback and constructive criticism is part of the learning process.
Are there any writers who particularly inspire you, or who you admire?
I admire all short story writers, and I learn such a lot from reading the work of writers who can condense a story into a few thousand words.
I really like Deborah Moggach's short stories, which are amusing and worth searching for.
Other short story writers I admire are Sarah Hall, Helen Simpson, Tania Hershman, Anthony Cropper and Della Galton.
Notebook and pencil or laptop? Kitchen table or study? Blank wall or inspiring view?
I always write by hand at the kitchen table with my notepad and pen, a cup of coffee and a view of the garden.
Once I print my work, I move to another room or wander round the house revising, editing and printing again (and again).
I find editing is so much easier when I am in a different location.
And a P.S. – what's your top tip for aspiring writers?
Enrol on a writing course, go to workshops and join a writing group.
Take your notebook everywhere, especially on a train.  Overheard snippets of conversation are brilliant!
For more from our Writer Of The Week series, click the tag below.