Leap Year Birthday: Centenarian "Turns 25"
---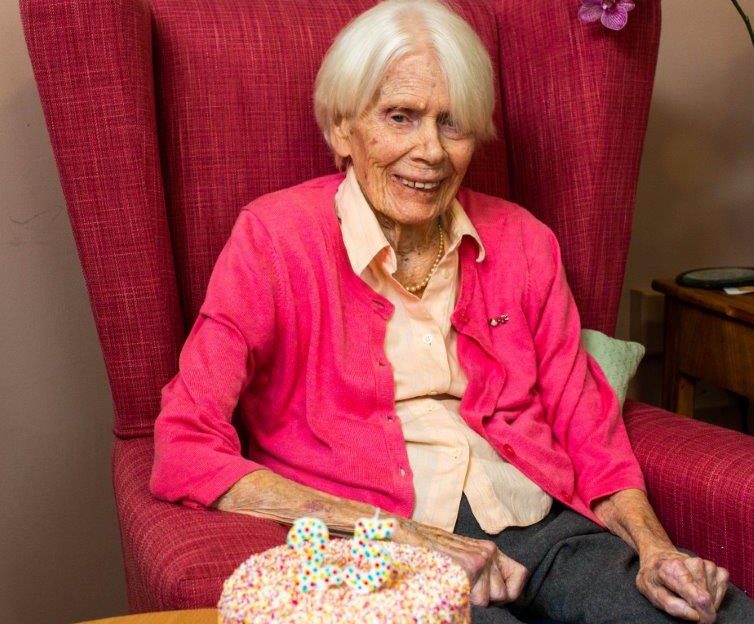 Photograph courtesy of Bupa UK.
Leap year babies have to have a lot of patience.
After all, there's a long wait for presents when your birthdays are four years apart!
But that certainly hasn't fazed Hilary Don-Fox, who is all set to celebrate her 25th birthday this weekend — a full 75 years "late".
Bupa UK introduced us to this special lady.
You have to believe in yourself
Hilary was born on February 29, 1920, to Harry Trusted QC and his wife, Mary.
The family moved to the West Indies when she was five, before returning to the UK in the early 1930s, when Hilary attended school in Winchester.
Following the outbreak of the Second World War, she joined the Women's Land Army.
Based in Great Missenden, Buckinghamshire, Hilary would get up at 6.30 a.m. each day to fetch and milk the cows. And it was an experience that stayed with her.
"One thing I've learned over my years is that you have to believe in yourself, especially if you're a woman," she said.
"Don't let people stand in your way. Being a land girl taught me that.
"Of course, we never thought it at the time — we just got on with the job.
"Today I've got two wonderful daughters, as well grandchildren and great grandchildren. And some of my fondest memories are watching them flourish."
Family comes first
"While some people worry about getting older, for me it's a privilege, as I've always been surrounded by family and friends.
"People often ask me about my secret for a long life, and I tell them it's that family come first.
"Get that right and you'll have enough support to weather anything life throws at you."
Maureen Vickery, who manages Bupa's Mellowes care home, where Hilary now lives, added:
"Hilary's really popular within the home, but also hugely close to her family. So we wanted to do something to bring them all together:
"We're going all out with a big cake and decorations. We rarely need an excuse for a party, but a 25th birthday isn't something we get to celebrate every day!"
Are any of our readers leap year babies? Send us a message on Facebook or Twitter, we'd love to hear from you!
For more great features like this, delivered straight to your door, subscribe to "The People's Friend" today.