Illustrator Of The Week: Tracy Fennell
---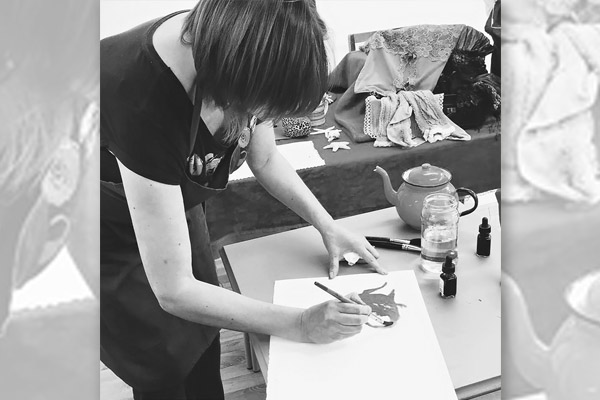 Photograph courtesy of Tracy Fennell.
Meet Illustrator Of The Week Tracy Fennell.
Tracy's beautiful illustration to accompany Teresa Ashby's "A Letter From Sidney" appears in our April 4 issue, which is out this Wednesday.
Can you talk us through the process from receiving a brief to completing it?
As the illustrations are based around a fiction story, I try to summarise the main focus in the composition, combined with the notes from the Commissioning Editor.
Firstly I will take photos — which my friends and family have had to participate in over the years! But if the story has historical content, I will take reference from the internet. Then I'll compose the composition on Photoshop, playing with scale and details.
From here the process is quite simple.
I'll then draw out the rough, and once approved I'll either use the rough on a lightbox and place watercolour paper on top to create the illustration, or I'll redraw the rough onto watercolour paper, stretch the paper onto a board (which is a very traditional method) and then illustrate.
By using the lightbox, I can be less restrictive and concentrate on washes. This allows for plenty of bleeding and staining, and it's also a much quicker process.
The final element is scanning the finished illustration, and if any additions or cleaning up is needed it can be revised.
This whole process will take a couple of days from beginning to end, but if the deadline is urgent I can be quicker.
How do you convey the feeling of a story in an illustration?
I read the story first and highlight any visual references that carry an emotive description.
I also pay particular attention to detail, especially if it's an historical piece.
The mood or feeling of a piece is often down to my interpretation, and I suppose intuitive response to the piece of writing.
This will be conveyed through colour. And if there are characters involved, it will be reflected in their expressions and body language.
Do you prefer illustrating historical or contemporary stories?
I like to work on both. And as my work can be decorative and feminine, I think it lends itself to both areas.
Historical stories appeal to my love of research, while contemporary stories allow me to play more with the composition and different media, where appropriate.
Notebook and pencil, or laptop? Kitchen table or study? Blank wall or inspiring view?
I have a studio at home, and this is my working space, which I try to keep separate from my home life. 
I don't carry around a notebook and pencil. But I do like to collect images, photographs, materials, coloured or textured papers — anything that inspires me.
Usually I keep ideas on my computer or large sketchbooks where I play around materials and techniques.
And a P.S. — what's your one top tip for an aspiring "Friend" Illustrator Of The Week?
Persevere!
Being self-employed as an illustrator has its challenges, but it can also be very rewarding.
For more from our Illustrator Of The Week series, click the tag below.
Meet our Illustrations Editor, Manon, here. If you're an aspiring artist, try her illustration starter here.