"The Weekly News" Is Ceasing Publication
---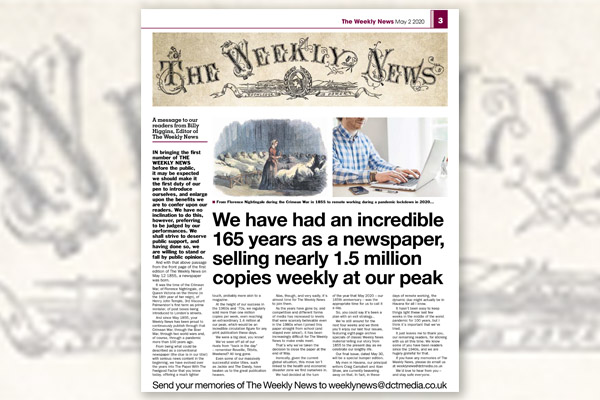 Photograph courtesy of "The Weekly News".
Billy Higgins, Editor of "The Weekly News", has asked us to pass on the news that sadly, after 165 years, the title is to cease publication. 
A national, general-interest weekly newspaper,  "The Weekly News" was first published in 1855. It continued to publish throughout The Crimean War, the Boer Wars, two World Wars and the Spanish Flu pandemic.
At its height in the 1960s and 1970s, it sold nearly 1.5 million copies every week.
With sales in decline for a number of years, DC Thomson took the decision — prior to the outbreak of coronavirus — to close the title, which will celebrate its 165th Anniversary in May.
 "Ironically, this isn't linked to the current health and economic disaster zone in which we find ourselves," Editor Billy said.
"We'd decided that our 165th anniversary in May was the right time for us to bow out.
"Our last four issues will each feature eight-page Weekly News archive specials reflecting our life from 1855 to 2020. This will culminate in a bumper final issue on sale from Wednesday May 27.
"Our bumper final issue is on sale from Wednesday, May 27"
 "I'd like to thank all short story contributors for their submissions over the years, and wish them all the best for the future.
"Fiction has appeared in 'The Weekly News' on and off for over 100 years. I'm pleased we'll still have short stories right up until the final issue.
 "Hopefully, writers will still find homes for their stories in our sister titles 'The People's Friend' and 'My Weekly'.
"Creativity and escapism is ever more important in the face of a global pandemic."
Everyone at "The People's Friend" would like to wish Billy, the "Weekly News" team, and all their readers and writers the very best for the future.  
"The People's Friend" remains open to submissions, from published and unpublished writers.
You'll find our guide to submitting during lockdown here.