Alan's Bookcase Reading
---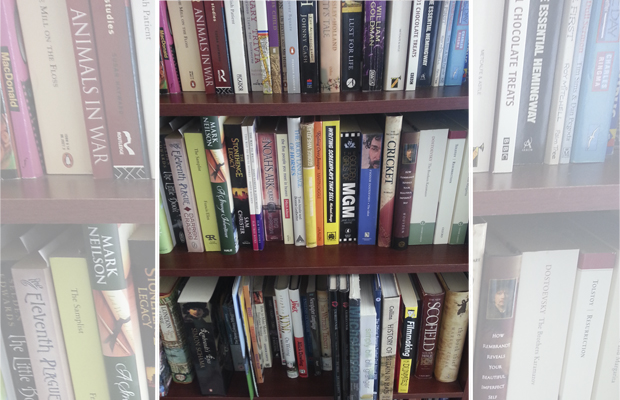 Photograph by Alan Spink.
I love my bookcase.
It contains books I've read, books I am going to read, and books which I often browse through on a regular basis.
The great thing about a bookcase or bookshelf is that no two are the same.
Though they might contain similar classics or the bestsellers of the day, there will always be books which are individual to the reader.
Like an album collection or film library, books can make for good talking points among friends or colleagues.
So what's in my bookcase?
Fiction classics
These include "Bleak House" by Charles Dickens, "Anna Karenina" by Leo Tolstoy and "The Brothers Karamazov" by Fyodor Dostoyevsky. These classic novels explore a wide range of themes within different social frameworks, making you ponder long into the night.
Capturing moments in time that last through different generations simply makes for great fiction.
General fiction
I like character-driven books. Whether it's the scheming courtiers in Benjamin Black's 16th century "Prague Nights", or Markus Zusak's imaginatively captured characters in "The Book Thief", I want to experience the protagonists' highs and lows for myself.
A good work of fiction will make readers feel the book was written for them alone.
Non-fiction
From Johnny Cash, Michelangelo to the playwright Arthur Miller, creative people have always intrigued me. And finding out more about them helps me appreciate and enjoy how these artists excelled.
I also enjoy reading a selection of books on filmmaking ⁠— "Adventures In The Screen Trade" by William Goldman a particular favourite.
The creative arts are often entwined, and at the end of the day a good story will always remain.
Sport
I love my sport, especially football and cricket, and naturally have books on both subjects. I also own a selection of equestrian books from my days working with horses.
Animals to me are the great levellers in life. You could be having a bad day, but if you spend just a few minutes in the company of our four-legged friends, your worries will soon dissipate.
Misc.
From a young age, I have always been fascinated by maps. So, my bookcase contains maps, new and old, which explore regional boundaries and city journeys.
Tolkien knew what he was doing when he created Middle Earth!
Why not share your bookcase gems with others?
Take a look at the "Friend" team's latest book reviews by clicking here.