International Museum Day: London's Garden Museum
---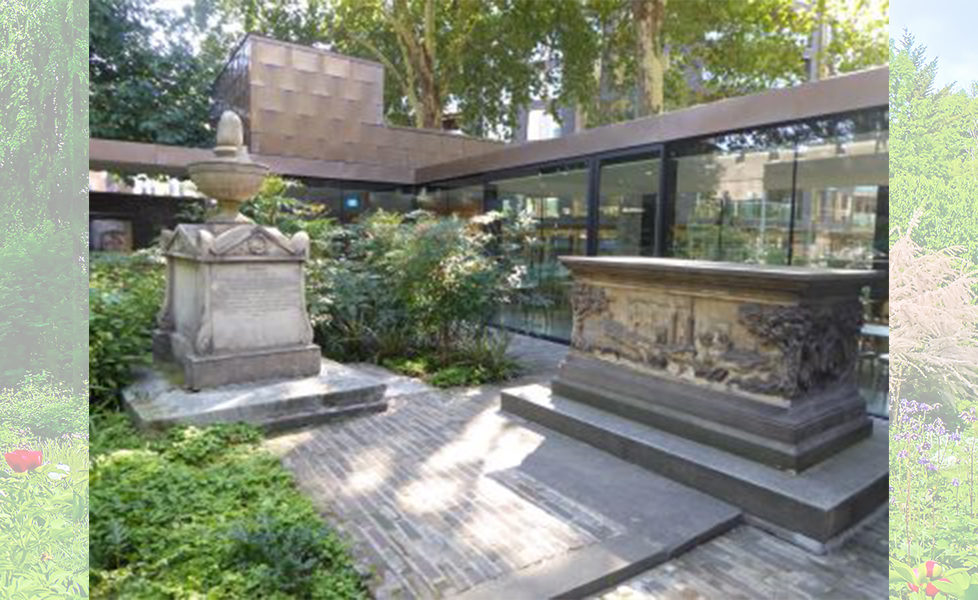 Photograph by Gillian Thornton/Shutterstock.
Today is International Museum Day.
To mark the occasion, we're revisiting this article from Gillian Thornton, who visited London's Garden Museum for the Nov 7, 2018 issue of "The People's Friend".
---
Gillian Thornton visits London's Garden Museum to find out about the intrepid explorers who brought beautiful new plants to Britain.
The British are a nation of garden lovers. Yet Britain has the poorest native flora of any country in Europe, except for Ireland.
The gardens and green landscapes we enjoy today are all thanks to the "plant hunters" who began travelling in the 17th century to the Ottoman Empire, Central America, South Africa and China in search of new varieties.
Most famous of all was John Tradescant.
I'm in awe as I stand beside his intricately carved tomb in the lush courtyard plot of London's Garden Museum.
This fascinating collection is housed in Britain's only museum dedicated to the art, history and design of gardening. It sits in the atmospheric surroundings of St Mary-at-Lambeth, a deconsecrated church next door to Lambeth Palace.
A few feet away, an imposing ornamental urn stands above the tomb of Captain Bligh.
I only know him for the mutiny of his men on board HMS Bounty, but Bligh, too, was a plant hunter.
In 1787, he commanded an expedition to take breadfruit trees halfway around the globe from Tahiti to the West Indies, where they could be grown to provide cheap, nutritious food for slaves.
First museum on the history of gardening
The Garden Museum opened to the public in 2017 after an 18-month redevelopment project supported by the National Lottery.
The story goes back to 1977, when gardening enthusiast Rosemary Nicholson found the grave of John Tradescant and his son at the abandoned church, which was due for demolition.
Rosemary set about raising funds to rescue it, and create the world's first museum on the history of gardening.
Forty years on, the new-look building can finally display the unique collection.
For a building that stands on a busy junction at Lambeth Bridge, the churchyard garden is amazingly tranquil, despite the hum of riverside traffic.
First stop on my tour is the tower. The church was rebuilt in the mid-19th century, and the tower is its oldest surviving part.
The climb of 131 tightly coiled steps is not for the fainthearted. But the view across London is spectacular, from Battersea Power Station in the west across to the Palace of Westminster, then east towards the City of London skyscrapers and to the Shard.
If you can't face the climb, you can enjoy the view on a panoramic screen at ground level.
The Domesday Book of 1086 recorded a church on this site. But it wasn't until 1620 that John Tradescant and his son came to live in the parish.
Fast forward 170 years and a young J.M.W. Turner made his debut at the Royal Academy with a watercolour showing Lambeth Palace and the church tower.
A key element of the redevelopment is the Ark Gallery, a recreation of Tradescant's own "ark".
The famous Vegetable Lamb
He began his career as a gardener to Robert Cecil, 1st Earl of Salisbury and Minister to King James I.
Tradescant later worked for Charles I and, after moving to Lambeth in 1620, created his own garden of botanical specimens. He collected curiosities, both natural and manmade, from around the world to put in his ark.
Gifts from sea captains and botanists added to his collection. As did his son John, who was gardener to Charles II and travelled to America.
Today, all the items on display in the Garden Museum's Ark are on loan from the Ashmolean Museum in Oxford. Tradescant's Lambeth neighbour, lawyer and scholar Elias Ashmole, founded that cultural attraction.
Amongst the eclectic mix of ornaments and shells, animal horns and jewellery I find the famous Vegetable Lamb.
Scientists believed an animal lived in Russia that was half-lamb, half-plant, growing on the stalk of the plant and eating the leaves.
But the 18th-century version in front of me is fashioned from the roots of a fern, arranged to look like an animal!
Across the nave I find a space dedicated to temporary exhibitions.
Heading to the courtyard garden, designed by Chelsea Award-winner Dan Pearson, I pass the Garden Wall.
More than 200 people submitted a picture of their favourite garden, which the museum then fired on to a tile here to reflect the individuality of Britain's gardens and gardeners.
John Tradescant Snr died in 1638 and lies with his son in a tomb erected in 1662 by daughter-in-law Hester. Covered with an eclectic mix of carvings, it mirrors their passion for travel and collecting.
Repton Revealed
I head up to the gallery and find a gem that mirrors the temporary exhibition below.
Repton Revealed (October 24, 2018 to February 3, 2019) marks the bicentenary of the death of garden designer Humphrey Repton.
Repton was renowned for the Red Books he prepared for each client.
Pages of watercolours portrayed the existing landscape, but clients would lift flaps to see Repton's design beneath.
Repton Revealed gathers the largest number of the rare Red Books ever displayed together.
I pore over hand-drawn plans and photos of garden designs that range from Derek Jarman's Dungeness garden to the Eden Project in Cornwall.
I discover the work of gardening pioneers like Gertrude Jekyll and Sir Geoffrey Jellicoe. Then I settle down on a bench to watch films of contemporary gardeners such as Dan Pearson and Beth Chatto talking about their early inspiration.
There are tools to marvel at, gardeners' notebooks to study and familiar objects like croquet and garden gnomes.
I spot some familiar faces, from Percy Thrower to Alan Titchmarsh, and a model garden by Britain's, which brings back memories of buying plastic flower-beds, trees and pergolas, and painstakingly "planting" tiny blooms.
Celebrating a legacy
My last stop takes me back to those intrepid plant hunters. Wealthy collectors weren't the only backers for their expeditions. The government also funded some, for its botanical gardens at Kew, or for economic use.
It was important work, but could be dangerous.
One plant hunter was chased by hostile tribes and gored to death by a bull.
Another died of fever on a mountain top.
Thanks to those intrepid travellers and botanists, we are now able to enjoy snowdrops and tulips, rhododendrons and wisteria in our gardens.
Today the Garden Museum is celebrating their legacy, and our British love of gardens, at a tranquil spot in the heart of the capital.
---
We are currently required to avoid all unnecessary travel. Keep this destination in mind for when restrictions are lifted.
For more travel features from "The People's Friend", click here.
For more in International Museum Day, click here.