English Tourism Week: Scenic Swaledale
---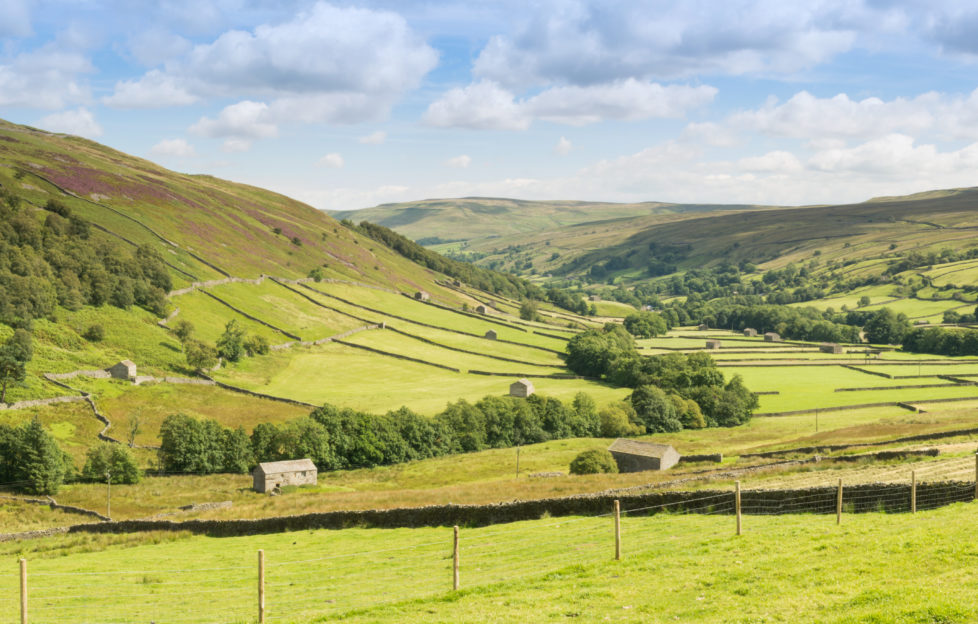 Shutterstock.
English Tourism Week runs from May 25-31.
We have to mark the occasion a little differently right now, so we won't be recommending you travel anywhere.
That doesn't mean we can't enjoy reading about our favourite destinations!
Today, we hear from Neil McAllister, who visited Swaledale in Yorkshire for us in July 2018.
---
Yorkshire folks boast about it being "God's Own Country", and they could well be right.
Whilst its towns have grit and character in abundance, it contains some of Britain's most spectacular scenery, which can be a problem if the world and his wife take to the roads.
Fortunately, there is a solution.
You don't have to stray very far from the beaten track to discover little-known, almost secret areas. Areas where the lanes are empty, villages picture perfect and where the only crowds are four-legged.
Popular for a reason
Wensleydale comes into the "popular for a reason" category. But turn north from possibly the best cheese in the world towards Buttertubs Pass to enter a more tranquil world. The pass got its name from the limestone depressions which cooled the wares of dairy farmers resting on their way out of Swaledale.
The road may be familiar from the old "Top Gear" programme, as it has been used for filming. As has the northerly route into Swaledale, past Britain's highest, loneliest pub.
The Tan House Inn was made famous by Ted Moult's 1980s double glazing advert, which Craig Doyle updated recently.
It also appeared on TV when Waitrose's Christmas advert showed seasonal revellers snowed in. As actually happened in 2010 and 2013!
The inn's isolated location is due to the long-departed local mining industry.
Up here it was coal which sustained the small community, while down in Swaledale, lead mining brought employment.
The tiny hamlet of Keld in Upper Swaledale was not always so sleepy.
Wandering around today's handful of dwellings, it is difficult to imagine 6,000 people living and working here.
The population dropped dramatically as miners departed for employment in textile mills, or for a new start in America.
Keld is tiny, with limited parking, so arrival by bus is ideal, especially for walkers. The Swaledale Shuttle runs four times a day (except Sundays) from Richmond, from nine a.m., setting up a day's rambling, perhaps enjoying part of the Pennine Way, or the new 12-mile Swale Trail, which follows the valley to Reeth.
Beautiful, but a bit of a climb
Mountain bikers as well as walkers take picturesque paths and byways, including some stunningly pretty scenery like the waterfalls around Keld.
"It is beautiful, but a bit of a climb with old or little legs," a grandfather puffed, ascending the steep path up from East Gill Force with his three-year-old grandson struggling up the slope.
From Wain Wath Force, where the road from Tan Hill joins the valley, to the dramatic Kisdon Force waterfalls, this stretch of the Swale provides dramatic souvenir snaps.
Walk a little further along the valley to discover the remains of Crackpot Hall. A pair of local historians discovered a wild child called Alice in an ancient farmhouse there in the 1920s.
Local legends tell of a feral girl living in the house, but she is likely to have been the farmer's young daughter, "with the wildness of the moors about her".
Discover more about Keld in the former Literary Institute. It serves as a community hub with a fascinating Swaledale display and selection of illustrated leaflets, "Every Cow'us Tells a Story".
"Cow'us" is local dialect for Swaledale's unique stone field barns, which provided livestock with shelter from Yorkshire's fiercest winter weather.
An irresistibly pretty spot
The leaflets detail walks around the valley via these unique structures. Like the equally esoteric walls, these feature "through-stones" that project, presumably strengthening the structure.
You could spend a week wandering these beautiful meadows and still not tick off every historic cowhouse.
Back in the days of film photography you would have kept Mr Kodak in business, as each one sits in an irresistibly pretty spot.
As we drove through the even tinier village of Angram, we paused to admire the carved namestone beside the old red phone box.
This was once a lifeline, but is now a cobwebby little-used icon. Unlike the box in Healaugh, which boasts a carpet and fresh flowers.
Whilst all Swaledale villages claim to be the prettiest, Thwaite has a valid claim to the crown.
From a distance, the stone dwellings nestle below the steep slopes of Kisdon Hill, but close up it is even more picturesque where the old stone bridge spans Straw Beck.
As in Keld, there are a few places to stay in Thwaite. These include the Kearton Country Hotel, and also a few places to park your caravan or pitch your tent.
Fortunately, the roads are notably quiet, which must be handy if you are towing your holiday home behind the car.
People buy art because they have a connection to the place
Muker, a little further down the road, is busier, with a pub, shops, tearoom and gallery.
At the interesting little church perched above the houses, we found an oddity opposite the porch, where what could be a font, stoup or even bird bath stands below the sundial.
The gallery, housed in the old school, also doubles as a coffee shop. So enjoy a brew and slice of homemade cake whilst viewing arts and crafts which range from weaving to landscape photography by owner Richard Walls.
When I wondered if they showed work by local people, Richard laughed.
"Painter Jane Braithwaite couldn't be more local as she used to live next door to us."
He explained that many other artists and craftsmen came from nearby.
"People buy art because they have a connection to the place, so want to take home a piece of it."
The pub is behind you
If the scenery doesn't put a smile on your face, the local sense of humour will.
On the low, whitewashed building across the road from the Farmers Arms, I spotted a sign beside the old mounting block.
It read, "If you are reading this sign, the pub is behind you".
As the road curves beside the river towards Gunnerside, we diverted down the little lane over Ivelet Bridge.
Built in the late 16th century, there is a weight restriction, but its narrow girth will keep heavy vehicles away.
As we reached the top it was so steep that the road vanished for a second before our bonnet dipped down for us to pass the long-flat stone. This is where pall bearers would once have rested coffins on the long walk to Grinton Church.
If you visit at night, keep an eye open for the headless black dog which is said to haunt the bridge.
If you visit by day and plan walking along the south bank, you might want to go on a diet first, as the stile beside the bridge is so narrow even sparrow thin Hazel had to breathe in!
The little byway beside Gunnerside Pasture leads down into the popular village of the same name.
Again, this was formerly an industrial centre, until the mines closed.
The Swaledale sheep
Stephen Calvert has a dual role here. Not only is he the sixth generation of village blacksmiths, he also runs his small museum remembering when Gunnerside Ghyll was a busy thoroughfare where workers mined.
From here the lane north of the river continues towards the strung-out collection of cottages known as Low Row. Beside the river the Swale Trail reaches Dubbing Garth Lane and Haverdale, which once boasted Britain's second-biggest waterwheel powering a long-gone woollen mill.
Before lead-mining, wool was Swaledale's most important industry and the valley even has its own breed of sheep, easily identified by their black faces with white nose and eyes, horns, and black backs to their legs.
We took the small lower lane up to Crackpot Cottage to enjoy a sweeping panorama as the dale ambles towards Reeth.
Earlier we had chatted to a lady waiting for the bus, when we said what a lovely part of Yorkshire Swaledale was.
Sadly we can't eat scenery
"Sadly we can't eat scenery," she told us. "There is so little employment, apart from in farming, that you have to travel to work.
"Wensleydale isn't far away, but most people have to drive to Richmond or beyond to make a living."
There was a time, not so long ago, when if the old, infirm or unemployed were unable to feed themselves, starvation or the workhouse were the only two options.
That the bigger village of Reeth had a workhouse is surprising. But even Low Row – barely a handful of homes – had one.
Whilst many place names have Viking origins, Reeth, the "place by a stream", was a Saxon settlement.
Even though it is in a backwater, it has never been backwards – indeed it had an electricity supply before Middlesbrough.
Today it is a hub for the farming community. At the August bank holiday, they come together to celebrate the Dales culture in the Reeth Show.
Whilst the athletic take on the Great Fremington Edge Fell Race, lovers of vintage vehicles enjoy the smell of petrol.
And the rest of us watch the livestock judging, all accompanied by Reeth Brass Band.
If that isn't a perfect day out, I really don't know what is!
---
We are currently required to avoid all unnecessary travel. Keep this destination in mind for when restrictions are lifted.
For more travel features from "The People's Friend", click here.
For more on English Tourism Week, click here.