English Tourism Week: The Bridge On The Tyne
---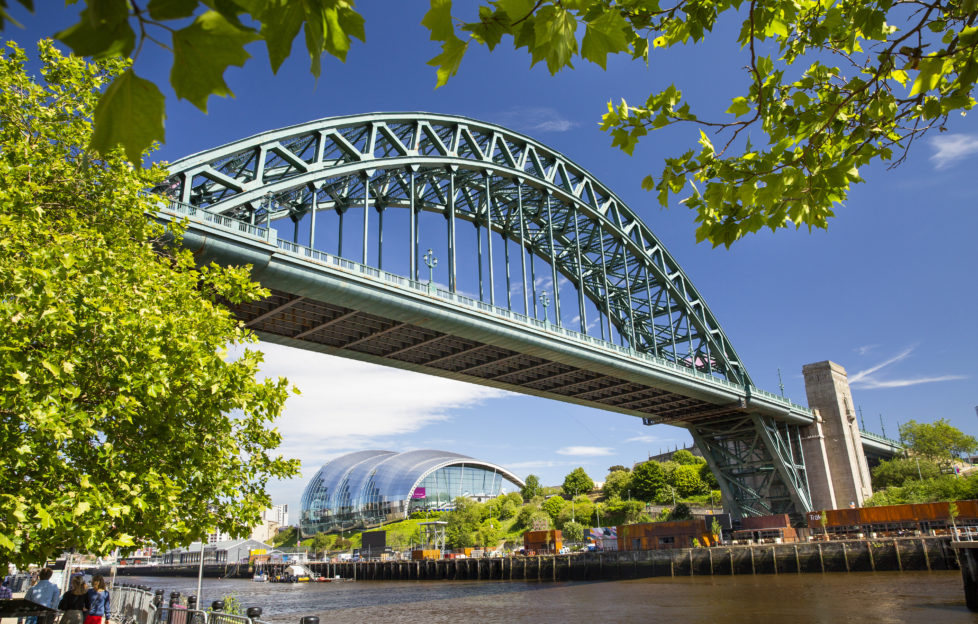 Photograph by Neil McAllister.
English Tourism Week runs from May 25-31.
We have to mark the occasion a little differently right now, so we won't be recommending you travel anywhere.
That doesn't mean we can't enjoy reading about our favourite destinations!
Today, we hear from Neil McAllister, who visited Newcastle and the Tyne Bridge for us in October 2018.
---
Celebrating a birthday is simple for a youngster.
But when the birthday boy reaches a grand age and tips the scales at over 7,000 tonnes, those little coloured candles won't do.
On October 10, the Tyne Bridge, that much-loved, clothes-hanger-shaped landmark joining Newcastle and Gateshead, will need a big cake to fit 90 candles.
It will celebrate the day when King George V and Queen Mary joined both sides of the River Tyne to a chorus of shrill whistles from ships, workshops and factories, and the full-bodied hooting of steamer sirens.
The New Tyne Bridge's similarity to Sydney Harbour Bridge isn't a coincidence, as the same firm designed both.
The local belief that Newcastle came first is true. But whilst Sydney opened three years later, construction began six months before.
In those days, England's north-east was one of the world's most industrialised areas, with an eager, skilled workforce on hand. The plan to link both sides of the river would result in better road and tram links, provide employment and boost the local economy.
But did its planners ever think it could be an attraction during English Tourism Week?
Don't forget Ant and Dec
Over the last century the north-east's riverbanks became lined with shipyards, making and repairing vessels.
Since mediaeval times cargoes of coal had created wealth, making the city grow beyond the confines of its quays. Today, once-working wharves are leisure areas where Geordies and visitors can stroll, cycle, eat, drink and relax.
I use the term Geordie carefully. Although it has become a popular title for north-easterners, it specifically refers to those from Tyneside. The Walk of Fame celebrates many of these, with bronze plaques marking local footballing heroes like Jackie Milburn and Bobby Robson; singers as diverse as Sting – who started life locally as Gordon Sumner – and Brian Johnson, gravel-voiced frontman of AC/DC; and writers Dick Clement and Ian La Frenais.
And don't forget Ant and Dec, whom younger readers will remember as P.J. and Duncan of "Byker Grove".
Some exhibitions have enthralled
Tyneside's role as a cultural hub has been enhanced since the Sage Gateshead concert hall opened in 2004. This curving steel and glass structure hosts all manner of performances, from classical to Indie pop, through musicals to Kathryn Tickell's glorious Northumbrian folk.
Music workshops and other educational activities fill the centre's programme. The café and brasserie are popular meeting spots overlooking the river, as is the Baltic Centre for Contemporary Art. We have visited a few times over the years.
Some exhibitions have enthralled, others appalled, but always made us think. The exhibition we recently enjoyed examined different approaches to being northern.
But as you read this, Turner Prize-winning Lubaina Himid's "Our Kisses Are Petals" installation of thought-provoking flags occupies the Ground Floor Gallery at the southern end of the famous "Winking Eye" Millennium Bridge.
This footbridge, which opened in 2001, is the most recent of many spanning the Tyne.
Most of the time it lets walkers and cyclists follow a curving route between the riverbanks, enjoying a great view of the Tyne Bridge. When river traffic needs to pass it pivots up, so the curved path becomes an arch under which tall ships can sail.
The flames did the city a favour
One of the best places to see the bridge is from the Baltic's top-floor Six Bar and Restaurant.
Or try the outdoor viewing platform one floor down. We divided our attention between the Tyne panorama and a line of nesting kittiwakes using the Baltic's elevated ledge as an artificial cliff.
Leading off from the quay, the Chares are narrow ancient roads and passageways where merchants built their homes. By the time of 1854's great fire they had become slums. Cholera killed many of the city's poor in the mid-1800s.
The flames did the city a favour, allowing it to demolish what was left of many Chares to build more sanitary housing.
A few remain, like Long Stairs, leading from the old Cooperage to Guildhall. Some, like Broad Chare and Manor Chare, are now wider thoroughfares.
The Cooperage is one of the city's oldest mediaeval houses and one of its most complete timber-framed buildings. A pub until recently, this ancient quayside landmark is now empty and unloved.
An unfortunate note for English Tourism Week: you can find the Cooperage on Historic England's "Heritage at Risk" register.
"Down To The Waterline"
The road leading uphill from the river to the town centre, under the huge railway arch, hosts one of the city's most unique watering holes.
The Crown Posada pub is the city's second oldest. It was once owned by a ship's captain who made his money in India and married a Spaniard.
In seafaring tradition had a mistress in Newcastle who helped him run the pub.
Recent renovation uncovered a flamenco-themed mural thought to date to the early 1900s. Sadly the owners have now covered ir with removable decorations, so you will have to wait until the next refurbishment to see it.
This is one of Britain's most unique pubs. A long, narrow place which, although not exactly forgotten by time, appears to have slipped its mind.
A short walk up Dog Leap Stairs leading to Castle Garth may bring to mind the song which opens Dire Straits's first album: "Down To The Waterline".
"Near misses on the dog-leap stairways
"French kisses in the darkened doorways,
"A foghorn blowing out wild and cold,
"A policeman shines a light upon my shoulder."
The Black Gate of the new castle, which gave the city its name, is an attractive fortification. Its stone structure was defence against the catastrophic fire which cleared many of the riverside's most ancient districts.
A mummified cat
There are a few remarkable survivors. Notable amongst which is Bessie Surtees House, two huge Jacobean merchants' houses on Sandhill, which tier upwards high above the street.
Bessie has been immortalised – or should that read immoralised – as the girl who eloped with John Scott, Earl of Eldon, later Lord Chancellor.
It is a miracle anything survived the fire, which spread to a chemical works. The resulting explosion flung huge stones and red-hot iron bars over the river and through St Mary's Heritage Centre's roof. One example is incorporated in the former church wall.
We took a short diversion to visit the unusual All Saints Church, site of another explosion. It was built in the mid 1700s on the site of an old one, which was so well built that parts had to be blown up.
Unfortunately, Captain William Hedley, who had come to watch the spectacle, was hit by part of the great West Door sent flying by the blast.
John Betjeman thought it one of the country's finest Georgian churches. Sadly, today it stands disused and forlorn, only rarely opened up during heritage open days.
Alderman Fenwick, Newcastle's mayor in 1720, gave his name to 98 Pilgrim Street, just up the hill from the end of the bridge. In its time it has been a coaching inn where Dickens enjoyed Geordie hospitality.
Queen Elizabeth was on the throne when it was built. Workers restoring it in the 1990s discovered a mummified cat in the walls. If the door is shut, ring the doorbell, as the old oak stair is open to the public.
It is impossible to be in this part of town without taking a moment to admire Central Arcade.
Thriving, lively and far more appropriate
Don't miss the lovely Edwardian Arcade.
Years before architects invented bland, homogenised shopping malls this gave our predecessors sophisticated shopping without being exposed to the elements. It is worth a trip to stand and admire its tiled fronts, barrel ceiling and glazed roof.
J.G. Windows music shop, which opened in 1908, is where a young Mark Knopfler would come to stare through the windows at a red Stratocaster guitar just like Hank Marvin's.
Turning our backs on Newcastle's commercial centre, we returned to the river, descending to the Quayside Inn. This is an old riverside warehouse which that nice Mr Wetherspoon has turned into a delightful riverside pub.
It's just one of a host of bars, cafés and restaurants along the river, which make it a magnet for visitors.
Anyone who remembers the shabby collection of run-down, derelict buildings lining the riverside back in the Seventies can only marvel how the second half of the bridge's ninety-year life has been transformed.
Regeneration has given the bridge a thriving, lively and far more appropriate setting.
Well worth a visit, even outside of English Tourism Week.
---
We are currently required to avoid all unnecessary travel. Keep this destination in mind for when restrictions are lifted.
For more travel features from "The People's Friend", click here.
For more on English Tourism Week, click here.