English Tourism Week: Exeter To Okehampton
---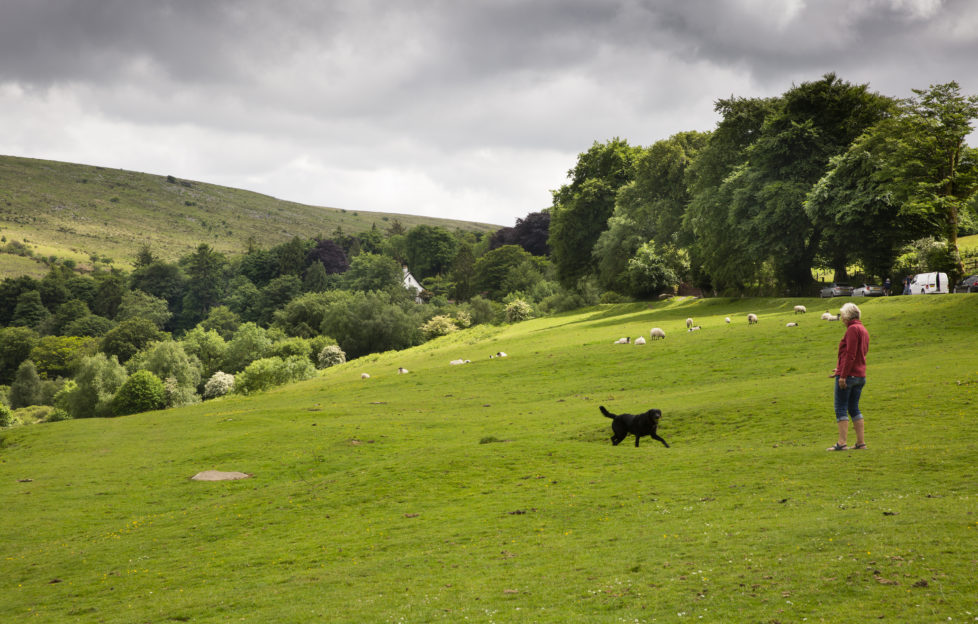 Photograph by Neil McAllister.
English Tourism Week runs from May 25-31.
We have to mark the occasion a little differently right now, so we won't be recommending you travel anywhere.
That doesn't mean we can't enjoy reading about our favourite destinations!
Today, we hear from Neil McAllister, who told us all about a delightful day in Dartmoor back in our October 24, 2018 issue.
---
It is a bit of an accident that Okehampton Station, on Dartmoor's northern fringe, still sees scheduled trains.
What was once a major stop on routes to west Devon and Cornwall saw traffic cut bit by bit. The line finally closed to passengers in 1972.
The line stayed open thanks to Maldon Quarry a couple of miles along the track, which supplied the railways with ballast, the gravel between sleepers.
In the Nineties, Devon Council and Dartmoor National Park agreed to restore the station as a tourist attraction. A few years later the Dartmoor Railway was formed, with rights to run heritage trains to Coleford Junction, linked to the main line.
The army ceases hostilities at weekends
In 1997 the first Sunday Rover service ran, once again providing a passenger service linking Exeter with Okehampton. For city dwellers, this summer service offers an excursion into the countryside; either to explore Dartmoor's towns and villages, or to walk in some of England's glorious, unspoiled countryside.
Whilst much of Dartmoor is out of bounds as a military range, the Army ceases hostilities at weekends and during the summer. The leaflets we found at the station illustrating all manner of walks are very helpful.
Some direct ramblers to the moor on six-hour hikes to the peak of Yes Tor; others offer gentle strolls in and around Okehampton.
The castle ruins are a short walk from the station. We discovered it is possible to spend a few hours ambling around this charming town without setting eyes on a moorland footpath or grazing sheep.
With a bit of effort, you can follow part of the Tarka Trail beside the East Okement River. First to Belstone, where the moor lies just across a few fields from the local pub, or for gentler refreshment, the tearoom in an old chapel.
A real joy
We made Okehampton's recently renovated White Hart Hotel our base. And not just because of Wetherspoon's good-value Sunday-night price!
When we travel we always make a beeline for Wetherspoon.
We know it won't cost a fortune. And the unlimited coffee is exactly as we like it, no matter where we are in the country. The White Hart didn't disappoint.
As Hazel sank on to the bed on our first afternoon, having spent a day travelling, she sighed with contentment.
"A perfect pillow; that is a real joy. I will sleep well tonight."
We had arrived in Devon on the Saturday, because to do the Sunday Rover's destinations justice on one day would be impossible.
After leaving Okehampton the Rover's first stop is Sampford Courtenay. Today's visitor would never guess that this picturesque backwater was once the site of rebellion and murder inspired by a new prayer book.
Patron saint of brewers and tailors
When the government introduced the English language Book of Common Prayer, it was alien to a population used to Latin.
And even more so to West Country Cornish speakers.
In this little village, parishioners demanded their priest revert to, "his old popish attire and sayeth mass and all such services as in times past accustomed".
When farmer William Hellyons objected, he was attacked by the mob, which "fell upon him and slew him and cut him in small pieces".
Royal forces quelled the rebellion in the streets of a village of thatched cob cottages, which can hardly have changed in the intervening years.
The station at Crediton is on the main line.
Around the same time as their neighbours were rebelling, Crediton's more practical parishioners bought their church from the King for £200.
The church hall, the Boniface Centre, is named after Saint Boniface, patron saint of brewers and tailors who was born in the town, but travelled as a missionary to re-organise the church in present-day Germany.
We timed our visit to coincide with Holy Cross Church's famous annual flower festival.
Enjoying floral creations
We spent the best part of an hour enjoying floral creations created by a team of local women, and one chap, Dr Francis Burroughes.
"We wanted to show the bounty of the earth," we were told. "He has a glass collection and is a flower arranger, so was invited to show his antique glass amongst the flowers."
The church is worth a visit even when not filled with blooms. The memorial to Boer War hero General Sir Redvers Buller is particularly spectacular, located high above the arch leading to the high altar.
Another reason to visit Crediton on a Saturday is the twice-monthly farmers' market. Here we stocked up on local cheese before popping in to the museum in the former town hall.
Returning to the church, the chap looking after the car park asked, "Did you spot the motorbike hire shop?"
A marvel of mediaeval carpentry
I had seen Union Road Moto Velo as we walked into town.
"He hires vintage motorbikes like Norton and Triumph," our chum explained. As I am more a moped man, we passed on that idea.
Catching the 9.55 train from Okehampton into Exeter allows us plenty of time to explore the city. Even if Gandy Street's quirky boutiques are closed on Sundays, the stores on High Street and the Guildhall Shopping Centre will satisfy most shoppers.
Those seeking spiritual satisfaction may just get to the cathedral in time to take communion. But no matter what your faith, you should visit to see the astounding 59-feet-high Bishop's Throne.
It's a marvel of mediaeval carpentry.
There is no shying away from the scaffolding around Cathedral Green, the result of the catastrophic 2016 fire, which destroyed the Royal Clarence Hotel. It is hoped that the shell will be rebuilt, returning this lovely corner of the city to its former picturesque glory.
As I lined up the camera to capture the Guildhall's stone canopy, a local chap joined us.
"Most of the high street was destroyed in the Blitz," he told us. "My father complained that the Luftwaffe left our slums alone and joked that he even waved his torch at the panes but they took no notice!"
Fortunately, the Lakeland shop and building next door also escaped the bombing, hinting at the city's pre-war glory.
We took the underpass to see Colleton Crescent, one of the country's most magnificent Georgian terraces. It has lovely views down on to the revitalised Quay, where each cellar holds a small business.
Hazel was entranced by a metalworker who had forged beautiful flowers and huge dragonflies from scrap metal as garden sculpture.
Let's hope the service is extended
We both paused to watch Nell Brown spinning wool, which she then knits into gift-sized items.
"I bet you don't know what this is," she said to Hazel, handing her a spun skein of soft fibres. It was a unique mix of camel wool and silk. Nell uses it to explain different fibres to inquisitive children.
After a relaxing return ride, we paused to watch an old British Railway loco push carriages full of excited enthusiasts on the short ride across Maldon Viaduct to the old quarry and back, as cyclists joining the Granite Way followed the trackside cycleway.
A few people commented that they believed the summer Sunday service would be extended to weekdays.
"We desperately need it for commuters," one Okehampton shop owner told us. "There has been so much housebuilding in recent years. The population has increased dramatically, and a lot of them have to drive into Exeter."
When I enquired at the station, I found out that, in early 2018, Transport Secretary Chris Grayling asked GWR to prepare plans for "an all-week, all-year train service, between Exeter and Okehampton as soon as reasonably practicable".
Let's hope the service is extended.
From one direction it gives Exeter folk a chance to reach lovely Devonian towns and villages. And from the other, a possibility to add half a day in Exeter to a Dartmoor break.
---
We are currently required to avoid all unnecessary travel. Keep this destination in mind for when restrictions are lifted.
For more travel features from "The People's Friend", click here.
For more on English Tourism Week, click here.