A Look At National Volunteers Week
---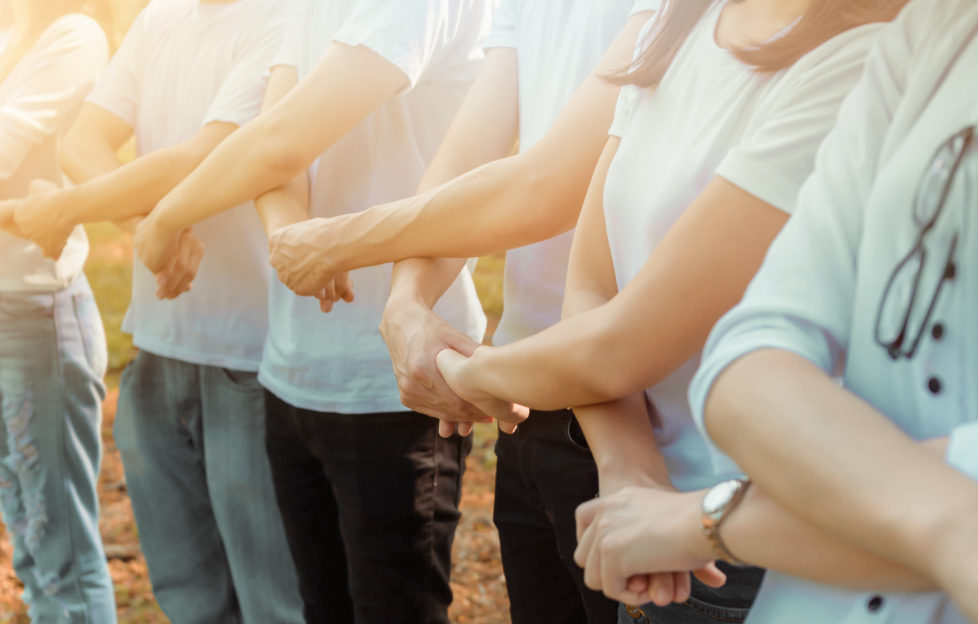 Shutterstock.
National Volunteers Week runs from June 1-7.
To mark the occasion, we're republishing this piece, which we first published in"The People's Friend" in May 2017.
---
Volunteering is on the increase in Britain.
Just under half of all adults in the UK say they've volunteered in the last year, and studies now say it's also good for your health.
A Royal Voluntary Service study said that it reduces the risk of depression and isolation, and often boosts people's ability to do well in their own lives — giving them new skills and renewed confidence. Plus there's the tremendous sense of accomplishment from helping others.
The National Council for Voluntary Organisations runs Volunteers' Week each year in June — this year it's June 1 to 7. It's a celebration of everyone already giving their time to volunteer, and gives them a chance to come together and meet fellow volunteers, as well as providing anyone thinking of getting involved with an opportunity to see what they could be doing.
The best place to start
If you're considering giving up some of your time for a worthy cause, the best place to start is to think about which ones are closest to your heart. Would you feel most motivated by an animal charity, cleaning up the environment or helping to combat loneliness, for example?
Think about how much time you can spare — opportunities vary, and you can give as little or as much as you want, but it's best to have an idea before you make contact.
Then consider which skills you can offer. Are you sociable and good at bringing people together, or would you prefer to work behind the scenes in, say, finance, driving or filling in surveys?
The best resources for finding opportunities are online at sites like do-it.org, www.volunteerscotland.net and the National Council's own website at www.ncvo.org.uk, where you can also find information on the events happening for this year's "week".
It's important to remember that it should be enjoyable, and there's nothing wrong with trying different things before you find where you feel comfortable. Most opportunities offer a probationary period, but some need you to commit, so do check.
Reading helpers
Ginny Lunn is the CEO of literacy charity Beanstalk, and a former teacher. Beanstalk looks for people to spend time with children who are struggling with reading to help them find the fun in it.
"It's about finding something to engage that child. Searching for their interests, bringing them out," Ginny says.
Ginny tells us the Horrid Henry books are particularly popular, and that she once worked with a boy who was utterly absorbed by a quiz book. It gave him the chance to prove what he had learned and made a game of it. This creative approach, the ability to find the right subject, is key, as well as being able to work in a school, alongside teachers, to get the best from a child.
"We have around three thousand volunteers now and we'd like to get that up to eight thousand. We ask them to commit to three hours a week for a year," she says.
They've had great feedback from those who have taken part.
"Eighty per cent of volunteers say they would recommend it to a friend. And ninety-one per cent said they would come back and do it again."
Sometimes the Beanstalk volunteer can be the most consistent adult in the children's lives.
One of the biggest signs of the charity's success, Ginny thinks, is when folk helped by the charity become volunteers themselves.
For more information, visit www.beanstalkcharity.org.uk.
A little means a lot
Volunteering doesn't have to mean big actions and lots of time.
There are many small ways you can make a difference, lots of them from home.
Micro-volunteering covers everything from letter-writing, participating in short surveys or just taking a couple of minutes to clean a local public garden. Getting involved usually requires an internet connection, as that's often how these individual efforts are coordinated, but there's no reason not to do something yourself in a spare few minutes.
Try helpfromhome.org, skillsforchange.com or visit www.amnesty.org.uk for ideas and online petitions to get involved in. Many nature charities have opportunities for you to take part in surveys, too, including the RSPB.
One ingenious use of technology is a phone app called bemyeyes. This Danish project connects blind people with sighted – currently there are just under half a million sighted folk helping around 35,000 blind and visually impaired — so they can "lend their eyes" and help them do everything from a quick check on their milk's expiry date to helping them navigate new surroundings.
Case Study: Danille Marr
The Anstruther Lifeboat Station has recently welcomed a new crew member as part of the vital team always on standby ready to rescue anyone who has the misfortune to find themselves in trouble on the seas.
The only difference is that the new recruit is just as likely to be called away from the classroom as her home to join the crew on their latest mercy mission.
Danielle Marr attends the town's Waid Academy. The school has granted permission for her to carry her pager, in readiness to respond to an emergency call.
Danielle, who is eighteen, felt the urge to volunteer for the RNLI, following in her brother Anthony's footsteps.
"I decided to volunteer for the RNLI as I thought that it would have a good impact helping the community," Danielle explains. "My older brother, who is also in the RNLI, also encouraged me to volunteer.
"The other crew members have welcomed me as part of the team and everyone at the station is always willing to help.
The youngest member at the Anstruther Lifeboat Station
"Training is ongoing and there isn't a limit as to how many hours you have to be able to give. But you must be able to attend training regularly.
"I've been on a few exercises on both the D-class and all-weather lifeboat. I have really enjoyed the experience and look forward to continuing my learning. So far, I have been taught how to do an alongside tow and a stern tow – this has been on the D-class inshore lifeboat.
"The crew are quite busy with callouts, though thankfully there haven't been that many this year."
Life must be pretty busy for Danielle, however, with all the studying that comes with being in sixth year at the academy.
"As far as I'm aware no-one else at school volunteers at the lifeboat. But I manage pretty well to study and volunteer at the same time. As of yet, I'm the youngest member at the Anstruther Lifeboat Station.
"I have the support of my family and friends. They are proud of me volunteering, especially with the RNLI, and I hope other people are encouraged to join."
If you'd like to find out more about the valuable work of the station, go to www.anstrutherlifeboat.org or the RNLI at rnli.org.
Ideas
Not sure if there's a job that suits you? Here are just five examples of the very different ways you can contribute:
---
For more information on National Volunteers Week, click here.
For more fascinating features from "The People's Friend", click here.