Writing Prompt Story Starter: Suffragettes In Trousers
---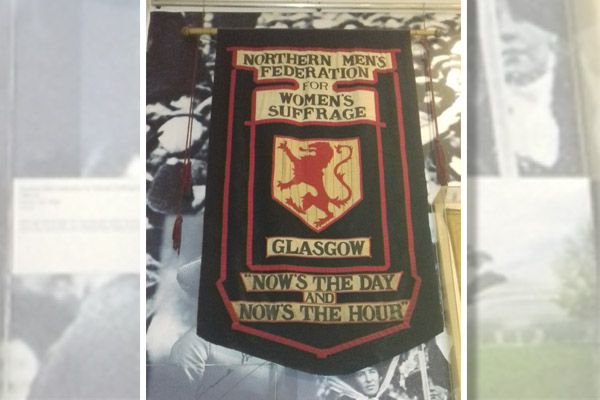 Photograph by Lucy Crichton.
This week's Story Starter may sound a little unusual.
But it has historical precedent!
Like many other people, something I've really missed during lockdown is being able to get out and about freely.
I've missed visiting museums, and art galleries, and going to the cinema. All freedoms I definitely will not be taking for granted in future!
Before lockdown, I visited The People's Palace in Glasgow. It's a social history museum, home to a "collection of objects, photographs, prints and film which give a unique view into how Glaswegians lived, worked and played in years gone by", from around 1750 until the end of the 20th century.
Like all museums in Glasgow, entry is free.
A really fascinating display for me was the Single End — a replica of a one-room flat, which would have been home to many Glaswegian families.
Another was this banner, for the Northern Men's Federation For Women's Suffrage, Glasgow.
In 1907, Graham Moffat founded the Glasgow Men's League For Women's Suffrage, following his wife's imprisonment for "suffrage activity".
It offered support to the husbands and brothers of women involved in the campaign, and to men sympathetic to the cause.
Writing inspiration
These men were sometimes referred to as "suffragettes in trousers".
In 1913, a delegation of male Scottish bailies and councillors organised by Maud Arncliffe Sennett travelled to London with a view to meeting with then-Prime Minister, Herbert Asquith.
The request for this meeting was declined, and the Northern Men's Federation For Women's Suffrage would go on to seek support through peaceful means, sending petitions and rallying support.
There's more on this on the UK Parliament website.
So, can this inspire your writing this week?
A male perspective. Men and women, working together. Against the odds?
Banners. Who made them? Who carried them?
Now's the day, and now's the hour. "Scots Wha Hae". Striking while the iron is hot.
Suffragettes. The "Cat and Mouse" Act. Women from all backgrounds, united.
Good luck with your writing this week.
You can catch up with other "Friend" writers on the Writing Hour, every Tuesday at 11am over on Twitter.
---
Click here to browse our Story Starter pages. You're sure to find plenty of inspiration!