International Day Of Persons With Disabilities
---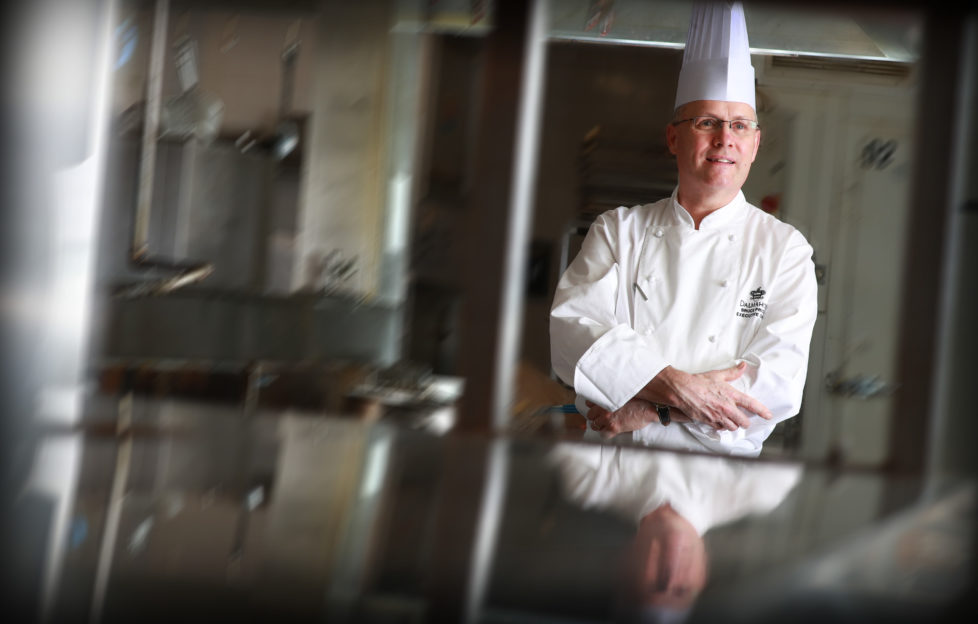 Photograph by Stewart Attwood.
Today is the United Nations' International Day Of Persons With Disabilities.
In 2020, its theme is "Not All Disabilities Are Visible", focusing on spreading awareness and understanding of disabilities that are not immediately apparent — such as mental illness, chronic pain or fatigue, and sight or hearing impairments.
To mark the occasion, we're revisiting the story of Bruce Price, which we first told as part of "The People's Friend" Inspiring Lives series in August 2020.
---
Bruce Price has a passion for cooking – so much so, he's made a very successful career out of it and it has taken him all over the world.
Since his early days in his native New Zealand, he's been working in kitchens from Australia to Switzerland, China to Taiwan.
He's now Executive Head Chef at the Dalmahoy Hotel and Country Club, near Edinburgh.
His award-winning achievements are all the more remarkable in that Bruce, like his twin brother, was born profoundly deaf.
"My twin brother, Andrew, is a pastry chef, so perhaps it's in our blood." Bruce laughs.
"As I have been deaf since birth, I don't know anything else. I have never lived in a hearing world.
This is how I communicate
"My mum was adamant that I would not just learn sign language, so I learned to lip-read very well, too.
"This is how I communicate, as sign language would be difficult in a job where I am constantly using my hands.
"I was seventeen when I left school and got a full-time job as a kitchen porter at the Hermitage Hotel in Mount Cook, New Zealand.
"After nine months, the Executive Head Chef asked if I would like to try out as Breakfast Chef. Then I went on to a proper apprenticeship, working in each section of the kitchen.
"And that was how I began.
"I credit the Executive Chef – Stephan Baumberger – for having enough belief in me to give me the opportunity."
Bruce believes he's been very lucky, saying he's never had an employer who has had any issue with the fact he cannot hear.
I have never let it hold me back
"I've worked in five-star resorts around the world and have always been Chef Bruce, never Bruce the deaf chef.
"It is important that the people you are working with are aware you are deaf. But I have never let it hold me back.
"As Executive Chef I manage the twenty-four strong kitchen team at Dalmahoy. I am responsible for menu production for the multiple restaurants at our hotel, for any big conferences or business meetings, and events like weddings and other celebrations that the hotel hosts.
"It is my role to make sure the kitchen runs smoothly so that the guests can have a great experience in whatever outlet they are dining.
"I like to think of the kitchen as the engine room of the hotel. And it is my role to make sure the engine runs smoothly.
"I usually arrive at Dalmahoy around nine a.m., then check my e-mails to see if there are any changes to the day's business.
"Then I do a round of the kitchens and check breakfast service to make sure all is OK.
"I go to the heads of department meeting to go through highlights or any issues to iron out, then I check the food prep that is required for that day.
"Once all the chefs are in we have a meeting at one-thirty to go over the business requirements.
"Depending on how busy we are, I will then either help the kitchen with food prep or head back to my office to work on menus and so on.
"I usually finish up about eight p.m., with a quick check of the food service. Then will head home if all is well."
If it's your passion, it's worth it
It's a labour of love for Bruce, who has worked all over Europe, too.
"My career has given me a great opportunity to see the world," Bruce says. "And each place I have worked has given me insight into the food and culture of the country."
When pushed to give some highlights of his career, he says, "I won the silver medal in New Zealand Chef Of The Year when I was twenty-one.
"That was special to me as it is my home country. And I was really young to be winning such a prestigious award.
"I also came second in British Chef Of The Year in 1994. And I have won Scottish Chef Of The Year three times."
Bruce's passion for cooking shines through, but does he has any advice for anyone thinking of following in his footsteps?
"You need to be dedicated to learning your craft, but if it's your passion, it's worth it."
---
For more on International Day Of Persons With Disabilities, click here.