Writer of the Week: Kate Bradbury
---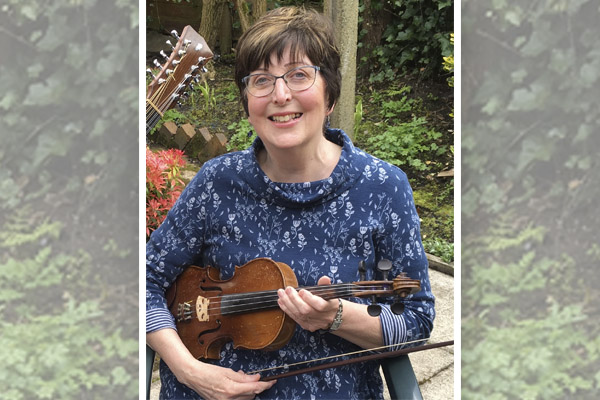 Photograph courtesy of Kate Bradbury.
Writer of the Week Kate Bradbury talks to us about her latest poem, her folk music and her favourite book of the year.
Read "Nativity" in our December 5 weekly issue.
Can you talk about your poem "Nativity" and what inspired you to write it?
"Nativity" was inspired by my experiences of many years working as a teaching assistant.
Nativity plays with young children can be fraught with mishap as well as being extremely hard work for staff and children.
I think the very best thing about them is the pride and satisfaction of the children as they manage to get through each production.
I have countless funny stories of these events but wanted to sum them up in a few lines.
Hopefully, the poem is amusing but also conveys the enormous effort put into these productions.
You also write and perform folk music – is writing a song different to writing a poem?
Looking back at the six poems I have been lucky enough to have had published in the "Friend", I realise that they are mostly snippets of my own life experiences, including some childhood memories.
My songs can have similar themes, but many are concerned with historical figures or events. An example of this is "Anna Frank" written after a visit to the house and museum in Amsterdam.
These subjects require much more research than my poems. The need to do these characters and events justice is important, so checking they are factually correct is paramount.
A poem is usually read by one person on their own and can be read and re-read at will. However, a song is listened to by many different people and so it must have a certain immediate resonance with the listener, as it cannot be re-visited immediately.
I think one of the biggest differences in writing a song is the need for a chorus, the part of a song meant to pull the listener in. It has to sum up the themes of the whole song and be memorable enough for people to join in.
The longing for originality, good rhythm and rhyme remain the same with both poem and song.
Although there are some differences in the two forms of writing, the basic need to express yourself in a meaningful way within a few lines is very similar.
What are your writing goals for 2021?
I have just started a non-fiction piece on quite a serious subject which I will probably leave now till after Christmas.
I'm looking forward to developing two or three ideas for short poems in 2021.
I would say my goals are to finish the non-fiction piece, and work on the poems. And of course, should any story move or inspire me, there is always another song to be written!
What is the best book you read this year? Why did you like it so much?
Having read the three previous novels by Rachel Joyce, all of which I absolutely loved, I was really looking forward to her latest and I was not disappointed!
For me "Miss Benson's Beetle" has just about everything. It is an interesting and original story, full of adventure, beautifully told.
There's some wonderful characters, tragedy, humour, love, friendship and even some geography of the South Seas, not to mention the entomology!
It also includes some beautiful descriptive passages of the natural world and Miss Benson's beloved beetles.
I would thoroughly recommend this truly original and heart-warming book.
Notepad and pencil or laptop? Kitchen table or study? Blank wall or inspiring view?
I have a notepad and pencil for jotting down ideas.
But my main writing is done on the laptop at the kitchen table, facing a blank wall.
And a P.S.- What's your one tip for an aspiring Writer of the Week?
Write for the love of it and never give up.
---
For more from our Writer Of The Week series, click the tag below.