Theatre Show For Special Audience Of Just One
---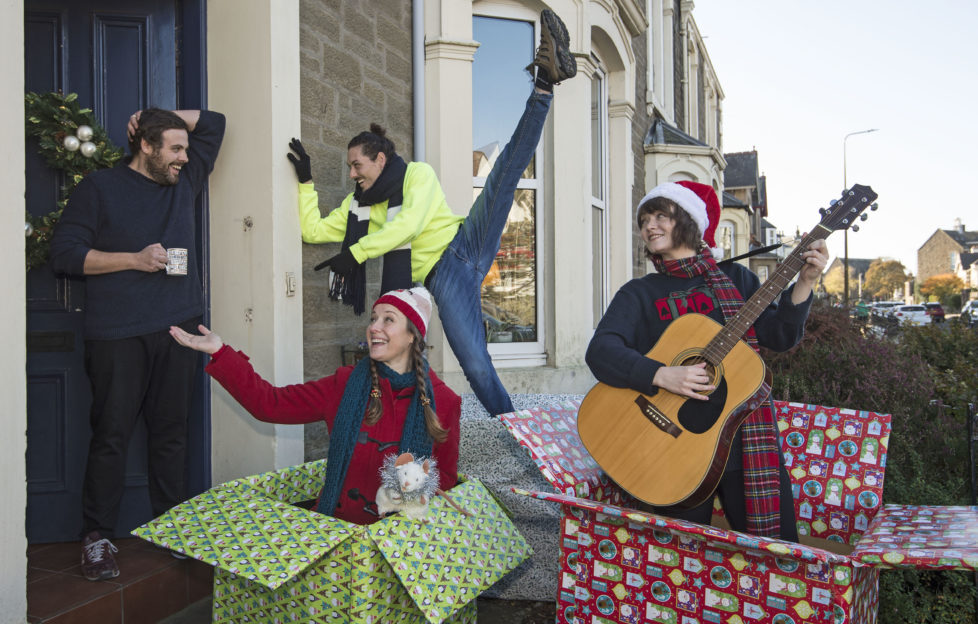 Photograph by Neil Hanna. PRESENT will see both companies stage a total of four bespoke, socially distanced performances for four deserving local resident Dundonians. The lucky recipients will be nominated by friends, families or colleagues to have a show made just for them. These unique Christmas pop-ups can take place on a doorstep or back garden and will be designed to surprise and delight (while operating within current Government guidelines). If you would like to nominate someone to receive a PRESENT please email present@dundeereptheatre.co.uk and tell us: Who you would like to receive the performance and why? Where do you think we might perform the PRESENT? What do they most like about Christmas? Are there any seasonal films, stories, shows or songs they particularly love or enjoy? Nominations are open until Thursday 12 November at 5pm. Neil Hanna Photography www.neilhannaphotography.co.uk 07702 246823
The Dundee Rep Theatre ensemble has gone the extra mile for their community this Christmas, by staging a show with a difference.
Instead of taking to the stage in front of a theatre full of people, their audience was just one very special person.
Making sure to observe social distancing guidelines, the troupe, in full costume, performed "A Christmas Carol" as a surprise for George McPherson, aged 102.
This is the first "Dundee Rep Present", a series of four performances by the ensemble and the Scottish Dance Theatre. 
Each of the individuals lucky enough to see "A Christmas Carol" were nominated by friends and families.
Centenarian George was nominated by his neighbours, who say he is "loved by the whole street".
The show must go on
Like most businesses, the local theatre has had to close its doors recently.
But the show must go on!
That's why they put together a collection of surprise performances, festive online community events, and Advent treats.
They hope the initiative will tide us all over until life has some semblance of normality again.
"It's been a rough year for everyone, and Dundee Rep and Scottish Dance Theatre want to bring a little bit of light back into your life," say Dundee Rep.
"With our venue doors currently closed, both our ensembles are using the opportunity to get creative in their Covid bubbles. We have been dreaming up 24 illuminating Advent vignettes to brighten up even the darkest December days.
"Keep an eye on your social feeds as we bring you a little magic in the run up to Christmas."
---
For more fantastic features from "The People's Friend", click here.