Writer Of The Week: Meg Stokes
---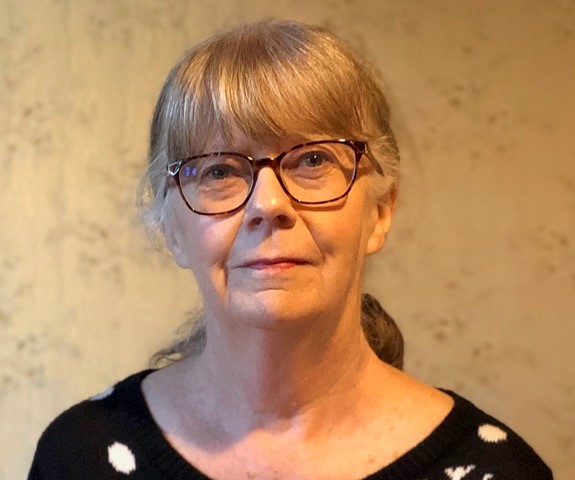 Photograph courtesy of Meg Stokes.
Welcome, Meg, and congratulations on being our Writer Of The Week!
Your newest "Friend" story, "Winter Of Forgiveness", appears in our new Special, out on December 30.
Tell us about your writing – how long have you written for the "Friend"?
I've always enjoyed writing and, in my 40s, decided to study for an English degree at Nottingham University as a mature student.
This included a module of creative writing under Tom Paulin. However, it wasn't until 2010 that I plucked up the courage to submit work and my first published piece was a history of Stumpwork Embroidery in a craft magazine.
That same year, I had my first story published in the "Friend".
I had a lot of rejections after that, but persevered until another story was accepted.
I believe I've learned a lot about writing fiction since that first publication.  I'm retired now so should have a lot more time to write . . .
But I also enjoy knitting socks, crocheting blankets and struggling to learn how to paint in watercolour. However, this year I've tried to be more disciplined about my writing time.
What type of writing do you enjoy reading?
I really enjoy crime and thrillers and two of my favourite authors are Val McDermid and Ian Rankin.
I also like Nordic Noir and authors such as Henning Mankell and Yrsa Siguroardottir.
Terry Pratchett's Discworld novels are a favourite re-read. And Christmas wouldn't be Christmas without "Hogfather", which I always begin at the end of November.
Your festive story for the "Friend", "Being Joseph", appeared in our first Christmas bumper issue. What was the inspiration behind it?
I'm an ex-primary school teacher and so, when I decided to write a Christmas story for the "Friend", I was drawn to the idea of the Christmas Nativity Play and a child who really wanted to play Joseph.
The story developed from there and the more I wrote about Thomas, the more I learned about him.  In fact, this was one of those rare stories which practically wrote itself and I could hear Thomas' voice in my head.
"Being Joseph" and "Winter Of Forgiveness" both had ideal word counts for their slots in the "Friend". Do you have a favourite word length? Do you write to set templates, or just see where the story takes you?
I find that when I write the first draft of a new story it often works out at around 2,000 words, so this seems to be my favourite length.
However, I wrote "Being Joseph" with the intention of writing 1,700 words, as I had read about the word lengths required for the "Friend" Christmas issues.
I always do an outline for stories – quite simple, a little about the character, any obstacles they may encounter and, often, the ending.  This can change as I'm writing – and often does – but it gives me a basic structure.
What was your favourite book of 2020?
"The Mirror and the Light" by Hilary Mantel.  I've read the other two books in the Thomas Cromwell saga and couldn't wait to read this, which was well up to my expectations.
Do you write in any other formats, eg poetry?
Yes, I do write poetry occasionally and had a poem published in "The Fireside Book 2020", but story writing is definitely my main writing interest.
Notepad and pencil, or laptop? Kitchen table, or study? Blank wall, or inspiring view?
I have a room upstairs, with a desk, which overlooks the front garden, but mostly find myself downstairs on the sofa with my laptop on my knee.
I learned to touch type in my teens, so using the laptop is much faster – and more legible – than my handwriting.
As for a view, as I'm writing this I'm looking at a beautiful bouquet of flowers my son – who lives 200 miles away – sent me today because I sounded 'a little fed up'.  I am blessed.
And a PS – What's your one top tip for an aspiring Writer Of The Week?
If you want to write magazine fiction, it's important to be very familiar with the sort of stories they publish.  I subscribe to the "Friend" so read it on a regular basis, but, before I begin writing, I always read through a few stories so that I have the 'tone' in mind.
I find this to be really helpful.
---
For more from our Writer Of The Week series, click the tag below.