A Closer Look At The World Of Braille
---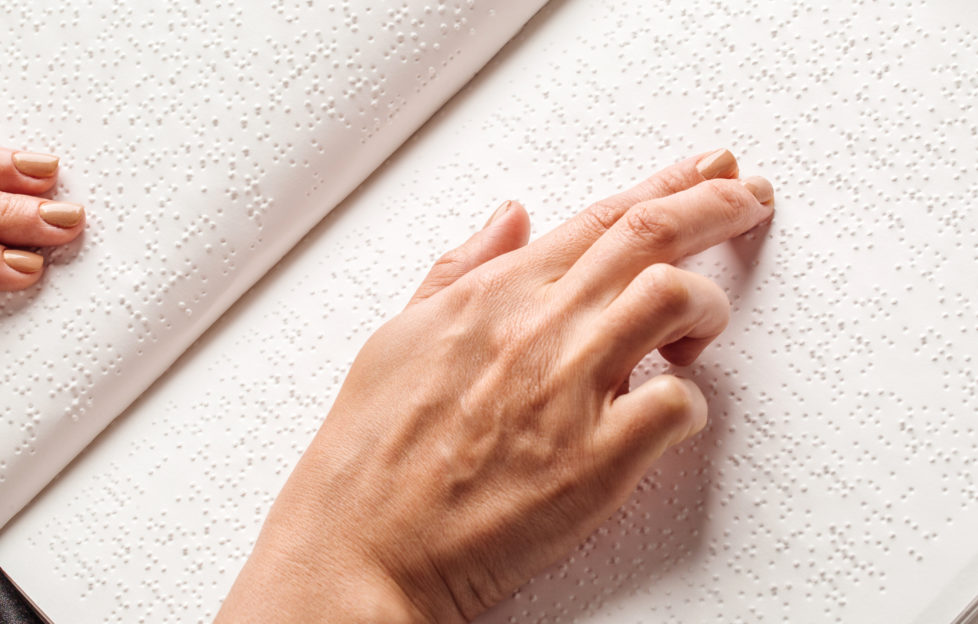 Shutterstock.
Today is World Braille Day. 
To mark the occasion, we're revisiting this piece by Gillian Harvey, first published in "The People's Friend" in October 2018.
---
You've probably heard of Braille – a tactile reading system for the blind or visually impaired – but have you ever considered its importance in today's world?
Recent advances in technology offer the opportunity for blind and visually impaired people to access texts in different ways. But Braille remains a unique and essential tool for millions of people worldwide, offering a level of independence that they would otherwise miss.
Sally Paterson is Learning Hub Manager at Royal Blind.
"Although there are some really helpful technologies out there, Braille is hugely important. People can have their bills and official correspondence printed in Braille, for example.
"If a blind or visually impaired person cannot access Braille, then they have to rely on others to read information for them."
A crucial part of literacy
In these modern times the Braille system may seem antiquated. But in fact it remains an extremely important method of communication for millions around the world.
The medium is the only one that enables users to read and produce their own written text independently. This means that children with sight problems get to learn in classrooms alongside their sighted peers.
Being able to commit words to paper is a crucial part of literacy. According to Royal Blind, studies show students who can read Braille tend to acquire higher literacy rates on average.
One of the problems with learning Braille for pupils is that acquiring the skill to read this universal code goes beyond simply learning the letters.
"There are two kinds of Braille: uncontracted, where everything's spelled by the letters of the alphabet, and contracted Braille, which is a kind of shorthand," Sally Paterson explains. "Pupils have to learn these shortcuts.
"It can be frustrating. But once they get it and are able to be more fluent, it makes a big difference."
Most people have heard of Braille, so why is raising awareness so important?
"One of the problems we still have is the lack of availability of texts in Braille format.
"Visual impairment is a low-instance disability. Only around 3% of people are affected, so it's not really in publishers' interests to create Braille copies of texts."
Without really considering Braille's use in today's world, it could be easy for those of us without visual impairment to underestimate its importance.
However, 15 million people worldwide use this method of communication, and National Braille Week is designed to raise awareness and understanding of its use.
Of course, the fact that there are now additional ways for those with visual impairment to access the written word can only be good news.
Screen readers
Screen readers, reading apps and even webcams have been developed to help those with limited sight.
"We now have screen readers which enable visually impaired users to access a normal PC," Sally says.
"Companies are also building voice-over programmes into their software as standard. And there's now an app called "Seeing AI" for the iPhone which enables users to point their phone at some printed text and have it read out."
"Finally, there's OrCam. This is a small, lightweight camera that is completely wireless, with Wi-Fi capabilities and its own automatic reading mode. This means that the user just stares at some text and OrCam reads it without any activation gestures.
"OrCam now recognises colours, banknotes and barcodes."
The problem with all these technologies is that, whilst they are invaluable tools in their own right, they all rely on the user having to listen.
"Meaning without Braille those with visual impairment have little variety in their consumption of information and text."
In addition, screen-reading software is reliant on the user learning to navigate the screen.
"Sometimes it can be a bit tricky if pages aren't compatible, or if there's a lot of pictures or text-boxes," Sally Paterson says.
The most exciting developments, therefore, are perhaps those which combine technology and Braille.
Here to stay
These include the fantastic Braillenote Touch – a tablet that enables users to access the internet, read texts and take notes with its innovative tactile keyboard.
"There is also translation software, which enables users to search for a text and print it out in Braille.
"It's not perfect as you need to ensure you can check and format it; you'd require a Braille printer and need to be able to understand Braille to do that. But it's a useful resource.
"I've also heard that developers are trying to create a tactile tablet, although this may be several years from completion."
Rather than Braille being overtaken by new technology, like the ancient alphabet still printed on our keyboards it seems that Braille is here to stay.
---
For more fantastic features from "The People's Friend", click here.