National Storytelling Week Runs Until Feb 6
---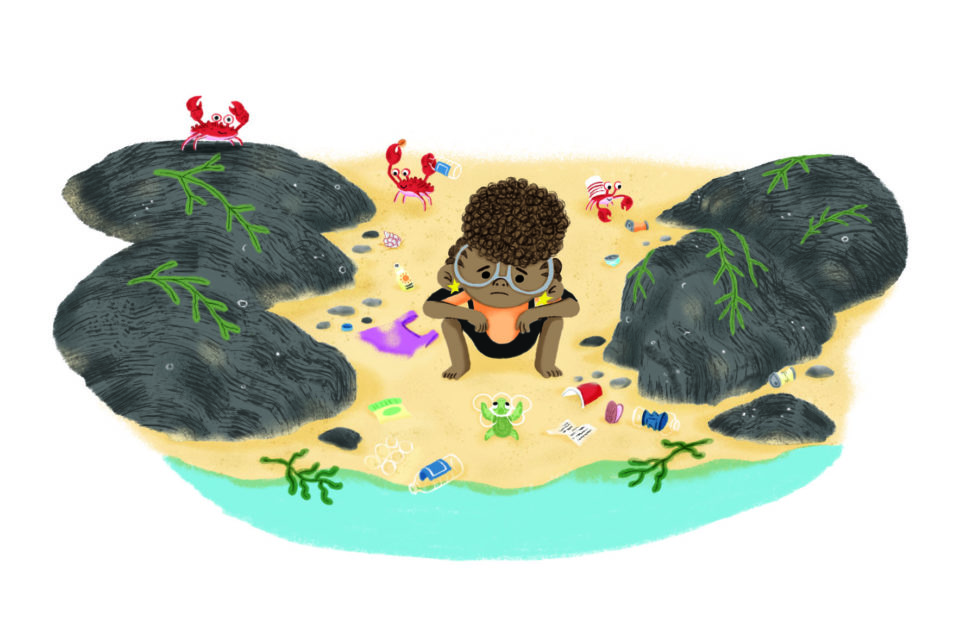 Illustration by Dapo Adeola.
National Storytelling Week runs from January 30 until February 6. 
The annual event provides a great chance to help children use their imagination and build confidence, while improving literacy.
Here, we're reproducing an interview with Puffin children's author Nathan Bryon and illustrator Dapo Adeola.
---
With its instantly recognisable logo which will transport many of us back to our earliest memories of reading, there is no doubt about the significance of Puffin Books to British culture.
The pages of the very first Puffin books were cherished by children living through WWII.
"Puffin's first published titles were born out of a critical moment for the nation. They were nonfiction books supporting child evacuees during wartime.
"Soon afterwards, Puffin also started publishing stories," Puffin's Publishing Director, Amanda Punter, says.
Many much-loved classics which have seen us through our childhoods have come from Puffin.
Puffin has published some seminal titles
"In the past eighty years Puffin has published some seminal titles that help young readers understand and navigate world events, from 'Goodnight Mister Tom', 'Roll Of Thunder' and 'Hear My Cry' to 'The Diary Of Anne Frank'," Amanda says.
Children's books play a huge part in both shaping and reflecting our culture, and helping children to form their understanding of the world around them.
Looking towards the next 80 years at Puffin, Amanda says that "modern authors perhaps make even more effort to explore many different perspectives than they might have in the past."
One contemporary Puffin author/illustrator duo who are ensuring today's children's books explore a range of perspectives are Nathan Bryon and Dapo Adeola.
Nathan and Dapo released their first book, "Look Up!", in 2019, which saw their protagonist, Rocket, make her debut.
The inquisitive girl at the centre of the series had children mesmerised and saw "Look Up!" win the 2020 Waterstone's Children's Book Prize.
The new release in the series, "Clean Up!", sees Rocket on a mission to save a Caribbean island from plastic pollution.
She would get everyone on the beach to help clear it up
Writer Nathan found the inspiration for "Clean Up!" on a Spanish beach.
"I was sitting on a beach digging my hands and feet in the sand. And there was loads of plastic in the sand, and in the sea," Nathan said.
"It made me think, 'What would Rocket do if she was on this beach right now?'
"She would get everyone on the beach to help clear it up!"
Like so many classic children's tales through the years, "Clean Up!" is set at the seaside.
The book, however, reflects the priorities of the current day, both in its address of the contemporary issue of plastic pollution, and in placing black, Asian and minority ethnic characters at the centre of the story.
Nathan and illustrator Dapo worked closely together to create the character of Rocket and the adventures on which she finds herself.
"Rocket as a character came to me mainly as an energy," Nathan said.
"I wanted her to have big hair, glasses, and love space. I guess her energy is something I aspire to be more like.
"Also meeting and having lots of inspirational black women in my life that are leaders and powerful thinkers, I wanted to represent that the best way I could."
A more diverse range of perspectives
"My design inspiration for Rocket came from one of my nieces," Dapo says.
"The aim was to capture her curiosity and zest for life in our character. And if I'm to go by how people have received her, I'd say my attempt was successful."
Nathan and Dapo's series makes a much-needed step towards children's books including a more diverse range of perspectives.
The BAME population of the UK is around 14 per cent. A 2018 study by the Centre for Literacy in Primary Education revealed that only one per cent of British children's books featured BAME protagonists.
The inclusion of ethnically representative perspectives such as Rocket's at the centre of stories ensures all children can see relatable characters in their picture books and incorporates a diverse outlook into every child's world view.
For Nathan and Dapo, this is a priority.
It's rare for a duo like us to be working at this level
"My main focus as an author is to tell stories with black lead protagonists. That's what I'm passionate about and that's my focus for my future stories," Nathan said.
Dapo highlights that, to achieve this, it starts with ensuring the industry itself is more diverse.
"I've done my absolute best to work towards making the landscape more diverse and inclusive for other black British illustrators to be able to join," he said.
"I've come to discover that mine and Nathan's mere presence in this industry as a black writer and illustrator duo contributes to the evolution of children's books.
"It's rare for a duo like us to be working at this level in the industry.
"Hopefully we can contribute towards this becoming a normal sight."
"Look Up!" and "Clean Up!", written by Nathan Bryon and illustrated by Dapo Adeola, are available to buy now.
Nathan and Dapo also contributed to "The Puffin Book Of Big Dreams", released in 2020 to celebrate 80 years of Puffin inspiring children to dream big.
---
For more fantastic features from "The People's Friend", click here.