Willie's View: A Trek By Tullibole
---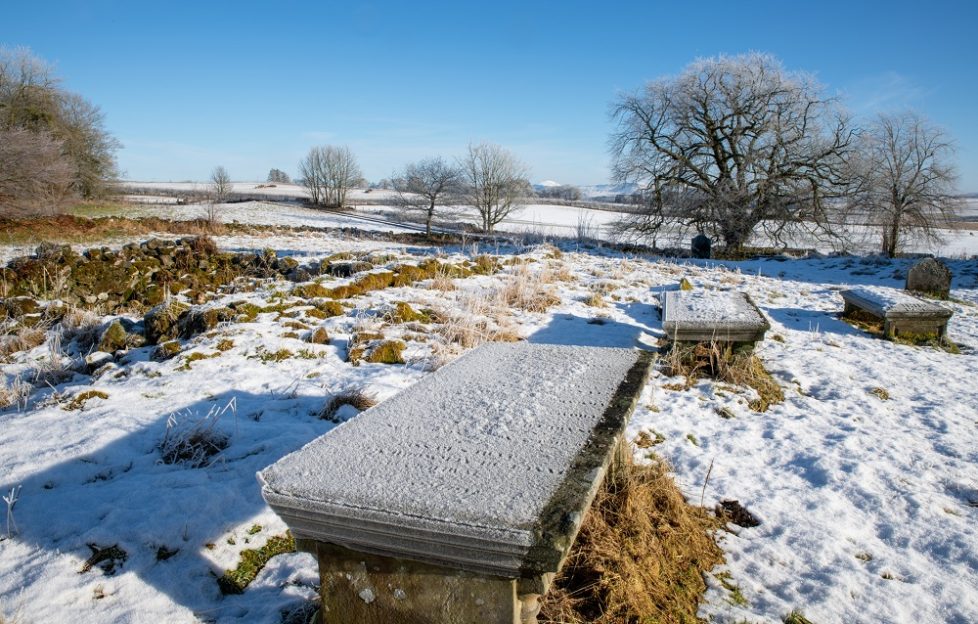 Photograph by Willie Shand.
In this week's Willie's View, our travel writer Willie Shand makes new discoveries in his local area.
---
I've tramped a lot of the local roads and hills this past year. And if the travel restrictions have done one good thing, perhaps they've made us appreciate more what's on our doorstep.
Today, with a crisp, sunny morning, I thought I'd head a different direction and make my way round by Tullibole. 
One possible derivation of the name Tullibole is "the hill of the white church". Covered in snow, its ruins and ancient grave stones were certainly looking suitably white today.
Tullibole Kirk
It's a long time since anyone worshipped in this wee kirk. 
It was demolished in 1729. Its foundations may well pre-date Christianity and go back to the days of the druids.
People say local witches met the devil here. Several of them however paid the ultimate price in the infamous Crook of Devon witch trials of 1662.
The old kirk yard is enclosed by a roughly circular boundary wall. And that's no coincidence – a circle has no corners for the devil or evil spirits to hide!
Tullibole Castle
Within the private grounds of Tullibole Castle is a 100 feet diameter beech hedge maze. It was created in remembrance of the poor unfortunates that perished during these superstitious times.
I'm glad to say there were no signs of any witches or of Auld Nick this morning. In fact, there was no sign of anybody on the whole walk. However, that was the plan!

---
For more from our Willie's View series, click the tag below.
Looking for travel inspiration? Click here for some fascinating destinations you can try following the conclusion of the latest lockdown.
You'll frequently find Willie's work in the pages of our magazine. We pack every issue with wonderful fiction and fascinating features. Subscribe today, and you'll get your first 13 issues for just £8.