Writer Of The Week: Pauline Murawska
---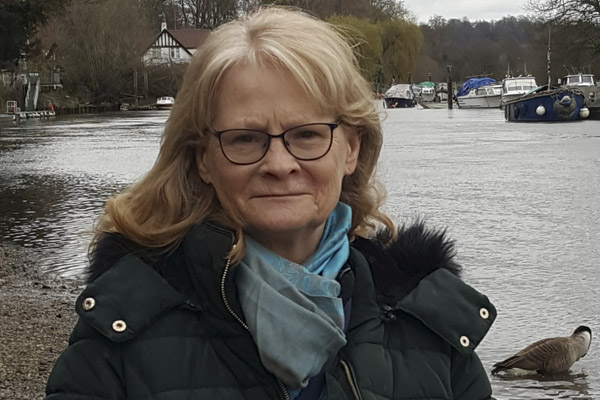 Photograph courtesy of Pauline Murawska.
Fiction Ed Lucy chats to Writer Of The Week Pauline Murawska, whose story, "Luck At The Launderette",  features in our Special 207, on sale April 14.
What was the inspiration behind the story — and do you have any superstitions of your own?
The "lucky socks" idea came from a family friend who was staying with us a while ago. 
He had misplaced one of his favourite socks and it was so important to him that he pretty much got me to turn the house upside down looking for it. (It was never found!)
The launderette would be a good location for losing things so that's where I based the story. 
I don't believe in lucky socks, although many top sportspeople do, so I can quite understand it as a superstition. I didn't consider that I was superstitious until your question prompted me.
However, I do always speak politely to magpies when I see them out and about, I never walk under a ladder (who would?), and as for broken mirrors — well maybe I am superstitious after all!
A little boy in the story is an endearing character. Have you, or would you, ever consider writing for children?
I have written stories for children in the past, and was shortlisted for one I recently submitted for a writing competition.  I like to write in rhyme for children as I find it very satisfying when reading out loud to them.
Have you done other jobs as well as writing, and do you plan your writing around them?
I am retired now, but worked for many years with "challenging" young people.  I wrote a novel based on some of their experiences and have now self-published it. (Kindle)
Do you read short stories as well as write them?
I enjoy reading short stories in magazines. I have read some in anthologies, but I find it frustrating when the story ends abruptly after a few pages, and a new one begins.
What's your own writing journey been like? How did you get started as an author?
I have always loved writing, and when I retired, enrolled on a Creative Writing Course.
Over time I collected a lot of work from the weekly course assignments and this inspired me to submit some of my work to competitions and magazines.
I decided to make a New Year's Resolution to submit one piece every month, and over the course of the year had several successes with short stories and articles on travel and writing.
Notebook and pencil, or laptop? Kitchen table, or study? Blank wall, or inspiring view?
I prefer to write first thing in the morning.
I always start with notebook and pencil and just write randomly whatever ideas I may have for a particular story.
Once I have got it started, I transfer to laptop to compete as I find it easier to edit that way.  I always work at the kitchen table with a view of the garden (and the fridge, unfortunately), so if I'm in need of inspiration or sustenance, it's all there.
And a P.S. – What's your one top tip for an aspiring Writer Of The Week?
My one top tip for an inspiring writer is to read. Read everything you can get your hands on.
This is where ideas come from. Sometimes an occasional word or phrase jumps out, or a style of writing may inspire you to try something different.
I always keep notes of anything interesting and have found this an invaluable tool, prompting new thinking and hopefully, successful stories.
---
For more from our Writer Of The Week series, click the tag below.