"Beholden To None" by Jennie Cairns
---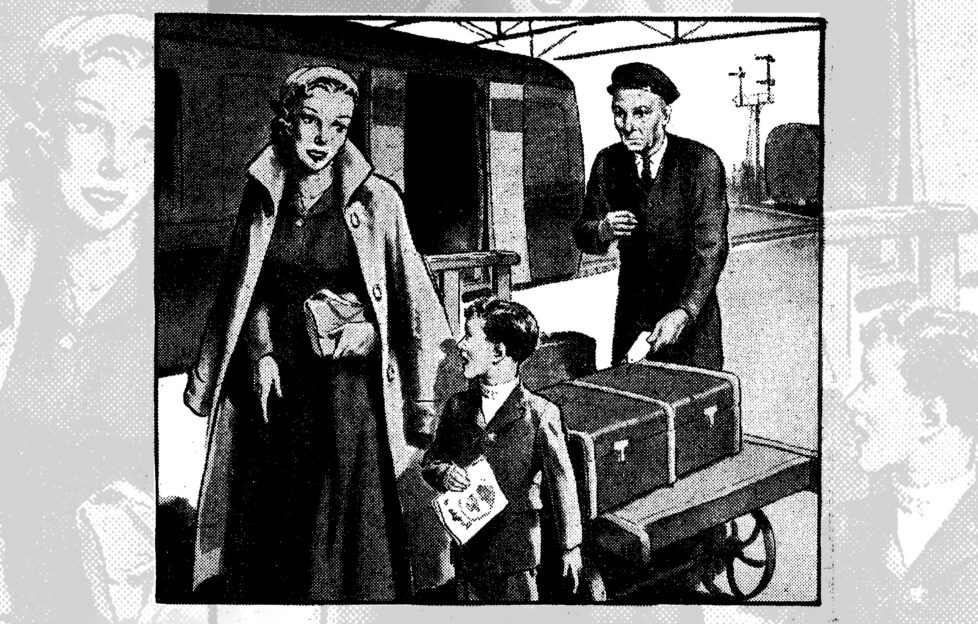 Illustration from The People's Friend magazine 1955.
Since joining "The People's Friend", I've been very lucky to have worked on two of the three fabulous books in our Classics Collection.
This year, I had the pleasure of reading "Beholden To None" by Jennie Cairns and I worked with the team to transform it from a serial into a beautifully presented hardcover book.
The serial was first published in 1955, and we know it was of huge interest to readers.
Our archivist Barry discovered that it was advertised extensively in the magazine before the first instalment was even published.
Jennie was a very popular "Friend" writer, and readers were excited to get their hands on her latest serial for the cost of a thruppence.
"Beholden To None"
The story is about Kathleen who returns to her Scottish hometown of Kilmarford to carve out a life for herself and her young son, Kenny.
Kathleen yearns to be judged on her own merits, but past connections cast shadows on to the hopes of a peaceful life.
Her father was last seen escorted to prison in handcuffs, and her late husband binds her to a powerful family who were never pleased with the marriage.
Kathleen is a superb character – a working mum, independent and steadfast to her morals. And her son Kenny will capture your heart.
For me, the character who steals the show is Aunt Isa. You are sure to know somebody like her in your own life!
And of course, there are romantic interests . . . but is Kathleen ready to love again?
Watch as Angela, Lucy and I discuss the book in more detail.
Universal Appeal
Jennie Cairns was popular for a few reasons. She was a great writer, first of all, and knew how to spin a captivating story.
But she had that something extra, too – her rich characters and the themes that she touched on were universal to all.
Readers at the time sent letters to express this. The Editor printed this in one of the issues:
"Hundreds of letters about "Beholden To None" arrive with every post. "Could anyone but Jennie Cairns write such a story of everyday life and make it so real?" Mrs G. T. Millerston, Glasgow, asks."
I couldn't have put it better than Mrs Millerston.
The Collection
So far there are three books in the collection – The River Calls Us Home by Betty McInnes, "The Inheritance" by Annie S. Swan, and now Beholden To None by Jennie Cairns.
Each book brings a classic "Friend" serial back into print once more. Fans who remember these stories will be delighted to rediscover them, and new readers will find a new favourite.
The serials we choose to include in this collection are truly the best of the best from our 152 year history. Luckily, we have a wealth of great stories to choose from!
---
You can also purchase all three books as a bundle for just £20.