A Closer Look At Humanitarian Charity Khalsa Aid
---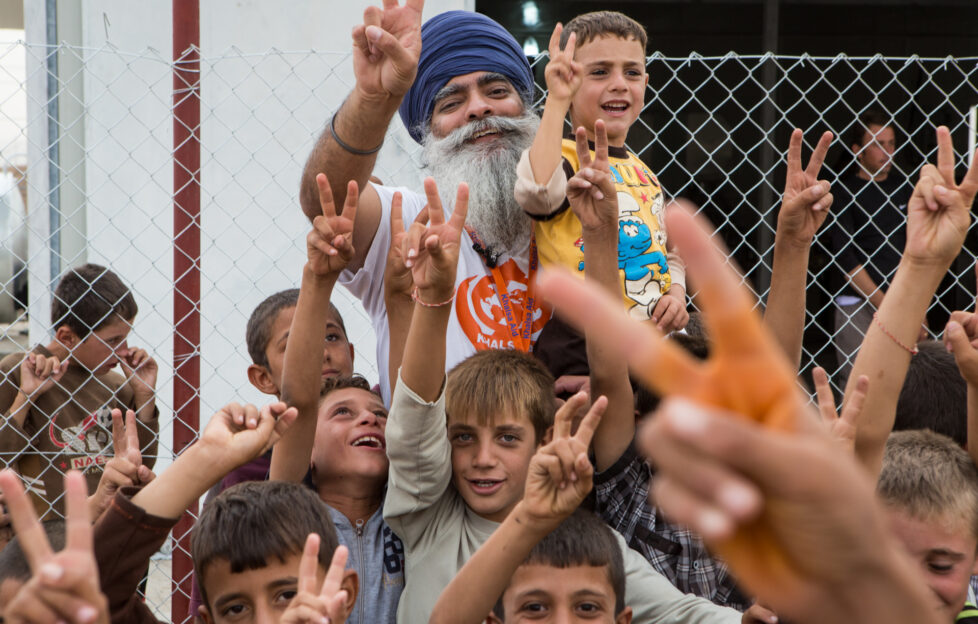 Photograph courtesy of Khalsa Aid.
Our chat with Khalsa Aid volunteers proved very popular with readers of "The People's Friend", so we're sharing it here for our online audience.
It is World Humanitarian Day after all!
This feature was first published in the "Friend" in July 2021, and was written for us by Ali Henderson.
---
Throughout recent floods, famines and hardships, one organisation has popped up constantly, providing aid and support to the needy and vulnerable.
Wherever there's a disaster, Khalsa Aid are on hand to help.
Founder Ravi Singh explains that Khalsa Aid was founded back in 1999 in response to the crisis in Kosovo at the time.
Ravi was touched by the news footage depicting fleeing Kosovan refugees, and appealed to the Sikh community, who were celebrating 300 years of the Khalsa, their core teachings.
Within two weeks they had hired two trucks and a van to set off from Slough to the Albanian border with clothing, food and medical supplies.
"The response of the Sikh community is very generous," Ravi reflects.
"We should be serving humanity all around the world, not just in Sikh temples.
"The whole reason behind it was to take that message of wellbeing to all: to every person and refugee around the world."
Jumping in at the deep end
And so Khalsa Aid was born.
"It was basically jumping in at the deep end!" Ravi laughs. "None of us had any experience of international aid work.
"We all stood by the water before we boarded the ferries to Italy and Albania and prayed – not for ourselves, but that the trucks didn't get robbed.
"We knew there was a lot of crime, but managed to come back in one piece."
Fast forward 21 years and Khalsa Aid has evolved from a handful of volunteers to a worldwide organisation with tens of thousands of active participants.
The Khalsa philosophy is powerful.
"We believe that it doesn't matter what faith, religion, colour or background someone is – it makes no difference. We recognise the whole human race as one.
"When we see people in disasters, we see them as they could be members of our own family, and that's why we are so compassionate and passionate about helping them."
This brings us to the wonderful concept of Langar which, loosely translated, means "community kitchen".
"We don't differentiate"
"If you go to the Sikh temple the food is available for everyone," Ravi enthuses. "It doesn't matter what religion you are.
"You could be the king of a country or you could be a road sweeper. You'll get the same dignity and equality in the house of God as you would get anywhere else.
"We don't differentiate."
Khalsa's Langar Aid team is active at home and abroad.
"Since COVID we've been working in the UK with local councils to help people who were struggling with issues like homelessness, mental health and learning difficulties," Ravi elaborates.
"They were basically left on their own as, in most cases, care and case workers were withdrawn.
"We've prepared hundreds of food packs every week to deliver."
Ravi and his team have responded promptly to everything, from requests for help from stranded international students to foreign farmers.
"We've helped students in Ukraine, St Petersburg, Moscow, Cyprus and Australia, funding food parcels when they couldn't get home due to lockdown.
"We offered rations for day labourers in Peru and Kenya. We provided emergency food packs for refugees in the Lebanon, Iraq and Turkey."
"No" is never an option
It's clear that "no" is never an option; aid is available for everyone and helping without discrimination seems to be good for the soul.
"Helping people motivates us to be kinder, to see the good in everyone," Ravi maintains.
Indy Narwal, part of the Khalsa Aid team who took food and water to lorry drivers stranded in Kent in December 2020, agrees.
"I think our work really lifted the spirits of the truckers," he confides.
"It was a dire situation with no access to washing facilities, proper toilets or warm food. The best thing is the satisfaction of helping others and making a difference to their lives."
"I visit a housebound, vulnerable lady to deliver food parcels," Kully Kaur Deol, who volunteers with Langar Aid in Coventry, adds.
"She lives in a deteriorating block of flats, but is always full of smiles and very happy.
"It's an amazing feeling to be able to help people less fortunate. When volunteering I feel I am having more value in my life than the usual paid work and life commitments."
The influence of love, tolerance and helping fellow human beings
I wonder how Ravi feels to see his modest aid effort of 21 years ago become the incredible philanthropic mission it is today.
He is modest and unassuming.
"It hasn't sunk in really. I'm still as passionate as I was twenty-one years ago. I don't think of myself as a CEO – I'm a hands-on, roll up your sleeves, get yourself dirty sort of guy."
"It's very humbling," he confesses. "The greatest achievement is that we have millions of youngsters, now professionals, who grew up around Khalsa Aid.
"It's not the growth of the actual charity, it's the influence of love, tolerance and helping fellow human beings.
"I'm very proud to say that we created a generation of humanitarians."
---
For more information visit the Khalsa Aid website, or call 01753 567 457.
Click here more fascinating features from "The People's Friend".