"A Surprise Parcel" From Our Children's Corner
---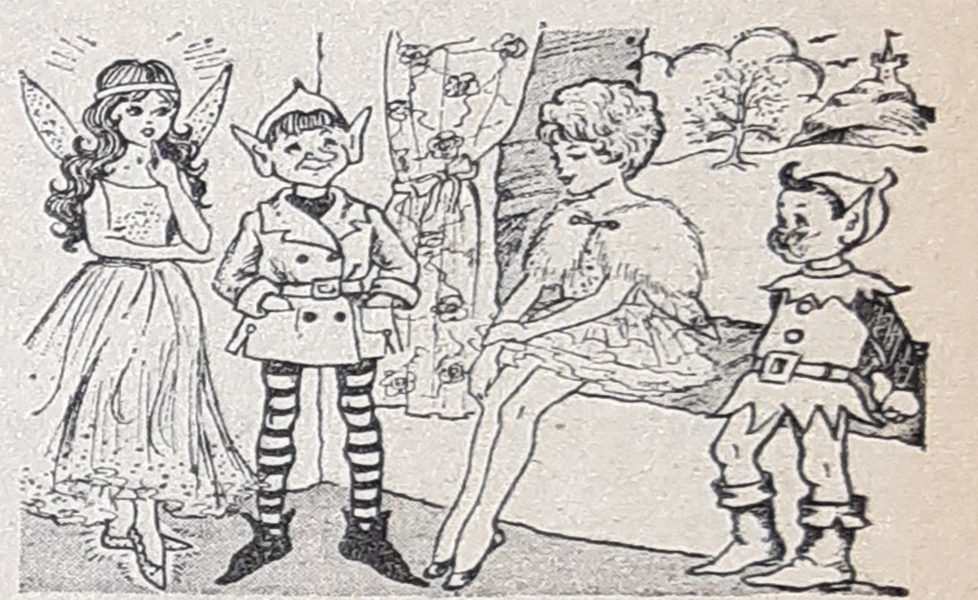 Illustration by DC Thomson Ltd.
This charming little story was first published in our much-loved Children's Corner in 1965.
We hope you like it!
---
In Winter House the fairies and elves were having breakfast.
Suddenly there was a knock at the door.
Fairy Frostshine went to open it. There stood Mr Rabbit, the postman, with a parcel.
"Thank you, Mr Postman," Fairy Frostshine said. "This is a nice surprise."
She began to open the parcel. Fairy Snowflake, Elf Roughwinds and Elf Blowhard all gathered round.
"Who can it be from?"
"Who can it be from?" they asked.
In the parcel were four presents and a dainty little card.
"It just says 'Guess Who?'" Fairy Snowflake said.
One by one the Winter Family looked at the presents.
Fairy Frostshine had a pair of the loveliest, glittering slippers she had ever seen.
Fairy Snowflake got a fluffy swansdown cape. Elf Roughwinds had a leather jacket.
Elf Blowhard had a pair of lovely red boots to match his rosy cheeks when he blew very hard!
They were all thrilled with their lovely presents. They tried to guess who could have sent them.
"Perhaps it was Mrs Squirrel," Fairy Frostshine said. "She is always very kind."
"Perhaps it is Mr Farmer," Elf Roughwinds said. "He was very grateful when I blew his apples off his trees for him."
Then they had to set to work, because they were going back to the Ice Palace.
They always left the house ready for their return the following year.
"It's our guests!"
Soon everything was bright and shining for the guests they were expecting.
"I'm always sorry to go," Fairy Frostshine said softly.
"But it's nice to come back next year," Elf Roughwinds said.
"And we'll all have our new gifts to wear when we do!" Fairy Snowflake reminded them.
But at that moment another knock was heard on the door!
This time Fairy Snowflake went to open it.
"It's our guests!" she called happily.
All the other gathered round to welcome the Spring Family.
The Fairy Frostshine took a parcel from the cupboard.
"We would like you to have this," she said shyly, and handed it to Fairy Springtime.
There were presents for all the Spring Family.
"Oh, how lovely!" they all cried with delight. "Thank you."
"And thank you for the lovely parcel you gave us!" Fairy Snowflake said suddenly.
"How did you know?" the rest of the Winter Family asked in surprise.
Fairy Snowflake laughed merrily.
"It was because of this," she said. "I found it in the bottom of our parcel. Fairy Springtime must have dropped it!"
In her hand Fairy Snowflake held a pale gold primrose!
---
Although we no longer publish the Children's Corner in "The People's Friend", we have lots of great Fiction content here.