Writer Of The Week: Gwen Rollinson
---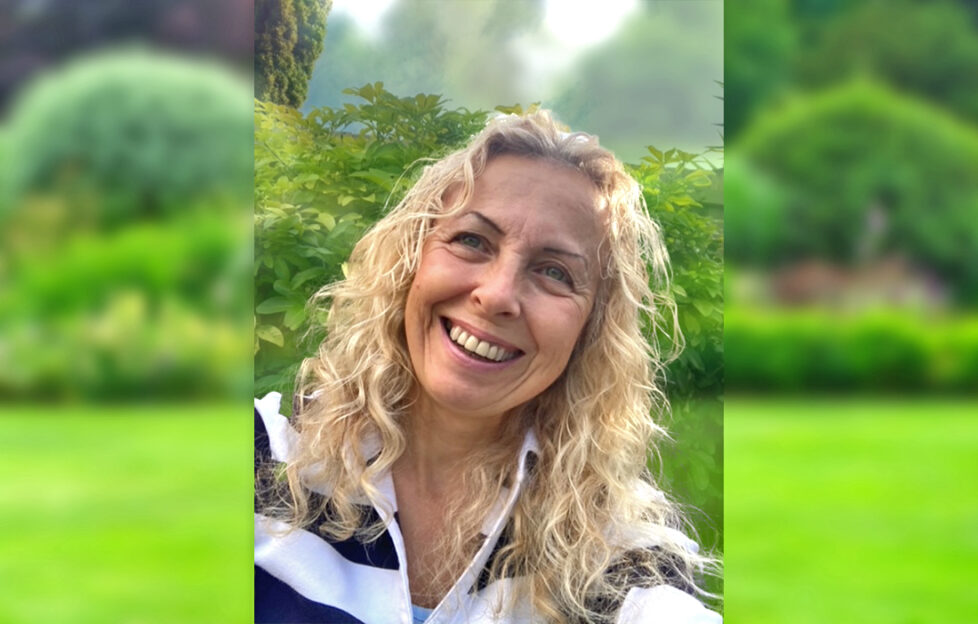 Photograph courtesy of Gwen Rollinson.
Our Writer of the Week is Gwen Rollinson, whose latest story "Guess Again" opens our weekly issue, out on Wednesday 24 November.
Your story, "Guess Again", is the perfect Christmas romance! What inspired you to write it?
I used to live near a street of terraced, Georgian houses, as described in the story.
I always thought it was magical at Christmas time as most of the houses had lighted, Christmas trees and lanterns in the windows and holly wreaths hanging on the front doors.
In one particular window, every year, the owner set up an Advent calendar of twenty four, small rooms, each covered with a clue to the object hidden behind.
I used to take a detour down this street, to work, every day and guess the hidden item.
It set me to thinking about the objects I would hide and the clues I would create for them. One of the clues I thought of gave me the spark for a romantic story.
I thought that the Advent calendar would be the perfect medium through which to bring the two, main characters together.
You submitted this story all the way back in summer. How did you find the motivation to write such a festive story out of season?
Well, I love Christmas so I suppose that's a good starting point and I'd intended writing a story, based on this particular Advent calendar, for a while.
The idea for the rest of the story suddenly came to me so I just had to write it!
When I am writing, I become so absorbed in it that the outside world tends to fade away so it doesn't really matter what season we are in or if it's a hot, sunny day.
I just set my mind on all the wonderful sights and sounds of Christmas and I'm right there in the scene!
What do you think is the key to a successful "Friend" story?
Credible and likeable characters with feelings, flaws and foibles we can all relate to; people we can laugh and cry with as they navigate their way through a situation to a satisfying or heartwarming conclusion – which may not always be in the way we expect.
Do you only write short stories, or do you like other mediums too?
I did write a light-hearted, women's novel a few years back and a children's book (minus the illustrations. Drawing is not my strongpoint) but I haven't done anything with them.
Many years ago I used to write the occasional poem, too. So, who knows, one of these days I might surprise you – and myself – and send one in to the "Friend!"
If you could meet a fictional character, who would it be?
That's a difficult one — I might choose someone quirky like Granny Weatherwax from the late, Terry Pratchett's novels.
I think it would be fun to spend time in the company of a witch from the Discworld!
I love her no-nonsense approach to life along with her comical flaws.
As a former psychologist, I love Granny's own, special psychology, which she often uses in place of magic, in her dealings with people.
I would ask her to show me how to 'borrow' the mind and body of an animal. It would be exciting to soar over mountains and valleys as an eagle, experiencing the world from its point of view!
Notebook and pencil or laptop? Kitchen table or study? Blank wall or inspiring view.
Usually a laptop at the kitchen table which looks out onto the garden or sofa by the fire if it's winter.
But I can write anywhere: once I'm immersed in writing, there's nowhere else I'd rather be.
During the really hot spell of weather earlier this year, I sat in the garden and reverted to pen and paper for the first draft of a story, but I had so many asterisks and arrows for inserts (scribbled in the margins) that it was quite a feat sorting it all out when I eventually came to type it up!
What's your one top tip for an aspiring Writer of the Week?
Just write! It's so easy to put off writing because you can't think of anything to write about.
Describe your current surrounds or garden or somewhere you've visited. Even if it doesn't trigger a story idea, it's still good practice for writing succinctly and honing descriptive skills.
Keep it on file and it may provide you with a ready-made setting for a future story.
---
For more from our Writer Of The Week series, click the tag below.