Christmas Stollen
---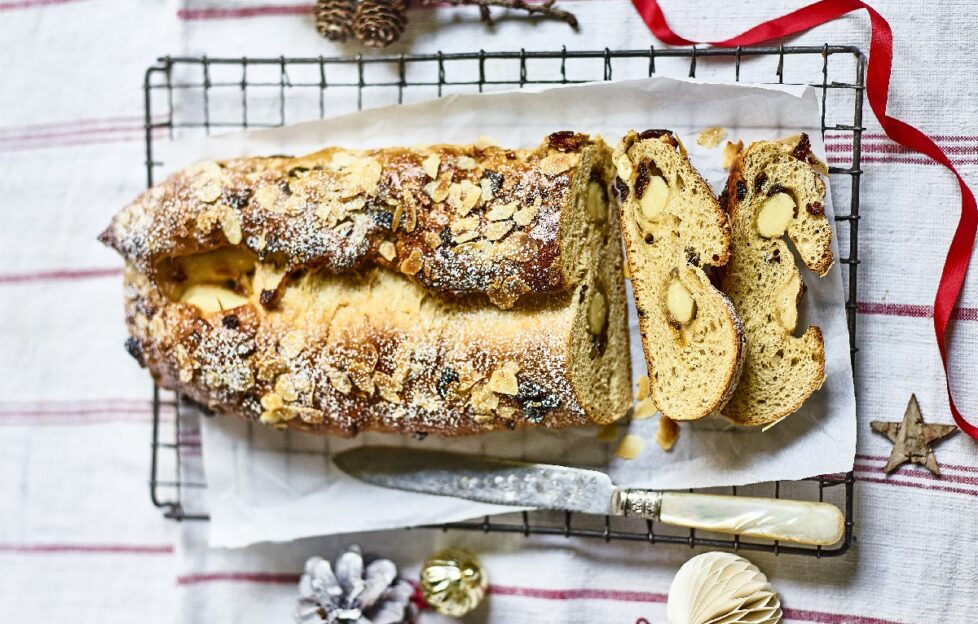 Image courtesy of Crazy Jack Organic.
Ingredients
75 g (2½ oz) Crazy Jack Raisins
75 g (2½ oz) Crazy Jack Soft Apricots, chopped
2 tbs brandy
225 ml (8 oz) full fat milk
2 tbs honey
75 g (2½ oz) butter, diced, plus extra for greasing
450 g (1 lb) strong white bread flour
½ tsp salt
1 x 7 g sachet dried yeast
1 lemon, zest only
2 tsp mixed spice
2 medium eggs
50 g (1¾ oz) Crazy Jack Whole Almonds, chopped
50 g (1¾ oz) Crazy Jack Cashews, chopped
A little plain flour for dusting
300 g (10½ oz) marzipan
2 tbs Crazy Jack Flaked Almonds
1 tbs icing sugar
Recipe courtesy of Crazy Jack Organic.
Full of the flavours of Christmas, stollen makes a delicious seasonal treat.
This recipe makes 2 loaves – plenty for sharing.
Method:
In a microwavable bowl, mix the raisins and apricots in the brandy. Microwave on high for 1 minute.
Add the milk, honey and butter to a small saucepan, then heat until just melted.
Lightly grease a large mixing bowl. Next, line a large baking tray with parchment.
Place the flour in the bowl of a kitchen machine with dough hook. Add ½ tsp salt to one side and yeast, lemon zest and mixed spice to the other, then mix. With the machine running, gradually add the milk mixture and 1 egg. Mix for 10 minutes. Transfer to the prepared bowl. Cover and leave in a warm place to prove for 1 to 1½ hours until doubled in size.
Mix the soaked fruit, juices and nuts into the dough until even, then divide into 2 balls. On a lightly floured surface, roll one ball out to a 30 x 20 cm (12 x 8 in) oval. Divide the marzipan into 4 and roll each into 25 cm (10 in) long cylinders. Place 2 cylinders, with a gap, down the centre of the dough. Fold over one side of the dough, then the other. Press down the edges. Transfer to a large parchment lined baking tray. Repeat for the other loaf.
Cover loosely with clingfilm. Leave in a warm place for 30 to 40 minutes until doubled in size.
Pre-heat oven to 190 deg. C., 375 deg. F., Gas Mark 5.
Beat the remaining egg and brush over the stollen. Sprinkle with the flaked almonds. Bake in the oven for 25 to 30 minutes until golden and cooked through. Allow to cool slightly.
Transfer to a wire rack before dusting with icing sugar.
Enjoy!
---
We have plenty more Christmas recipes for you right here on our Cookery pages.
Blackberry And Blueberry Christmas Cake makes a refreshing change. And don't miss our "deer" little Rudolph Chocolate Cakes!