Galette des Rois – Epiphany Almond Cake
---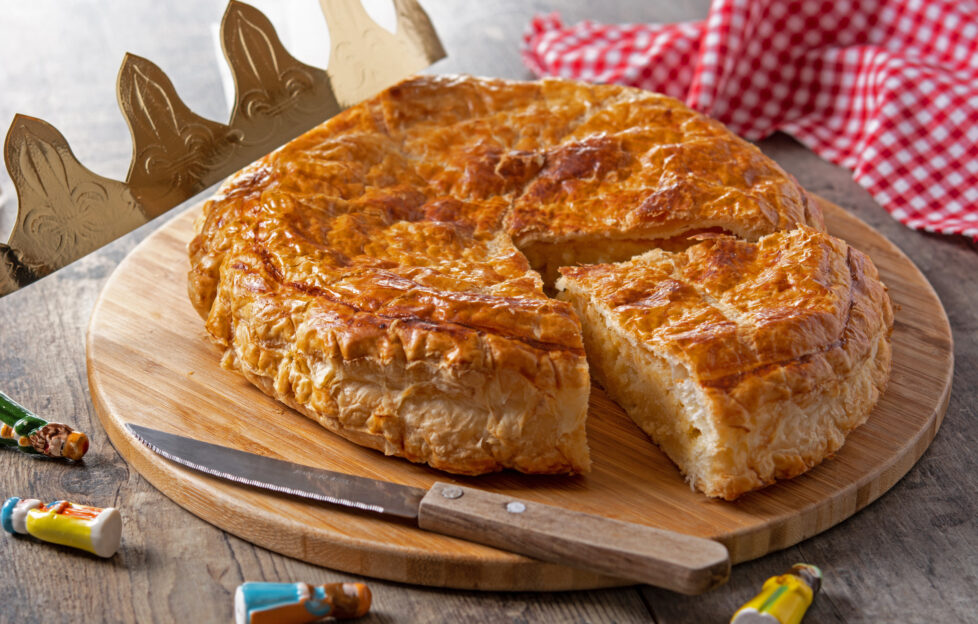 Galette des rois on wooden table. Traditional Epiphany cake in France; Shutterstock
Ingredients
425 g Puff Pastry
50 g (1¾ oz) butter (runny)
100 g (3½ oz) Almond Meal
75 g (2¾ oz) sugar
A Few drops of Almond Extract
2 eggs
French tradition is filled with food. On the 6th of January, for the Epiphany, we cook a "Galette des Rois".
It is delicious and very easy to make, so I thought I would share the recipe with everyone!
(With a few illustrations!)
What you need:

Method:
Pre-heat oven to 210 deg. C., 410 deg F. Line a round pie dish with parchment paper.
Mix one egg, the sugar, almond meal, soft butter and a few drops of almond extract in a mixing bowl
Split the puff pastry in half. Roll half of it and place it at the bottom of your round pie dish to form the base.
Use a large spoon to spread the almond meal mix at in your pie
Place the "fève" or the whole almond in the spread
Roll the other half of the dough and place it on top of your pie. Seal all sides carefully.
Using a kitchen knife, decorate your pie
In a small mixing bowl, mix one egg yolk with a dash of water or milk
Brush the mixture over the pastry
Bake in the pre-heated oven for 20 to 30 minutes or until golden. Allow to cool before eating.
The fun part
Now this is the fun part, because the tradition doesn't stop there.
Grab the crown, gather your family, and ask the youngest one to sit under the table (you read me right).
As the rule is that whoever finds "the fève" is crowned King or Queen of the day.
To ensure that no one is cheating and each piece of the pie is handed out in a fair manner, tradition is that the youngest of the family will hide under the table while the pie is divided.
Then, with each slice, one should ask "for whom is this one?", and the youngest is making the decision.
Once all slices have been distributed, welcome him/her at the table again and enjoy your dessert!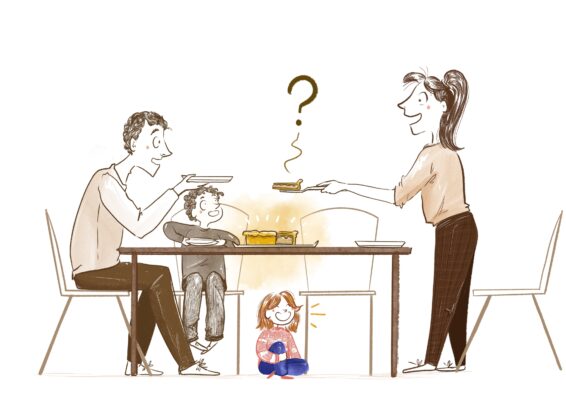 No crown? Make your own: here are a few ideas. Or pull a Christmas cracker if you still have some in the house.
---