Writer Of The Week: Michelle Barber
---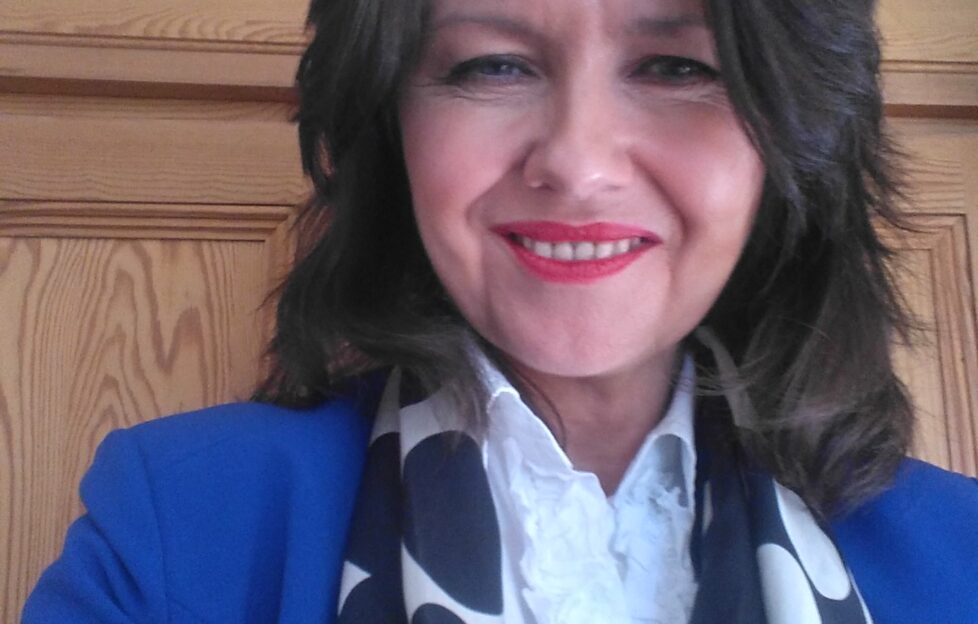 Photograph courtesy of Michelle Barber.
Today, we ask Writer Of The Week Michelle Barber all about her story.
"Something Borrowed" appears in this week's issue.
Tell us a bit about your story "Something Borrowed". Where did the idea come from?
"Something Borrowed" is set in Lincoln during the Second World War. Pru works for the Food Advice Bureau and rides a combination (motor bike with sidecar).
When a dreamy, young man steps out into the road in front of her, she collides with him and runs over the parcel that he is carrying. She ruins the wedding dress that is inside it. This is the story of how Pru saves the day for the bride.
The idea for "Something Borrowed" came to me whilst doing research for an article about wedding dresses during World War II.
People were going to all sorts of lengths to ensure that brides had a wedding dress. In some cases even sharing the dress between them.
The sense of friendliness that was offered, even sometimes to strangers, touched me deeply. I had to write about it.
At the same time, I was researching Marguerite Patten and the work she did for the Food Advice Bureau during the war. It fascinated me, so I hoped that readers would be interested in this topic in a story.
When did you start writing fiction?
I started writing fiction as a child. My first publication was at the age of ten, in the magazine that the local library published.
I dabbled for a long time and even did an M.A. in Creative Writing.
Incidentally, the first professional piece I had published was for "The People's Friend" and it was a children's story when you used to have the children's page.
Do you prefer writing stories that are set in the past?
Indeed, I do. Since being a child I have always wanted to travel in a time machine because the past is so fascinating.
As that is not going to happen, I do the next best thing which is to write stories set in the past.
It truly transports me to the place that I am writing about. For me, it's much easier than writing in the present because there are maybe aspects of the period that people don't know about and so it makes the story interesting.
What books do you read?
I love the classics like "Wuthering Heights", historical novels and also cosy detective stories.
I think reading is such a personal experience. We can bring a lot of our own imagination to the book or short story that we are immersed in. We can't do that as much when we're watching a film or series.
What are your long term writing plans?
My long term writing plans are a series of cosy, historical, detective novels.
I've got the first one that I've done a lot of work on but it still needs some editing so that will be the next step. I'm also planning to write some more long, cosy crime reads for "The People's Friend". I love writing those.
What advice would you give to someone trying to have writing success?
I know that sometimes new writers struggle along writing in a genre that really doesn't suit them, but they do it because it is very popular at a certain time.
I would say to anyone that is trying to get published, find the genre that you are good at as opposed to what you think you should be writing.
I've also come across new writers who try writing in a genre that they really don't like but have been told that they should write in that genre because it is popular or easier to get published in.
I think it's better to write in a genre that you enjoy. Putting those two ideas together really helps the writer.
---
For more from our Writer Of The Week series, click the tag below.
Click here for more information on subscribing to "The People's Friend" today.