Podcast Short Story: "Ruth At The Crossroads", 1916
---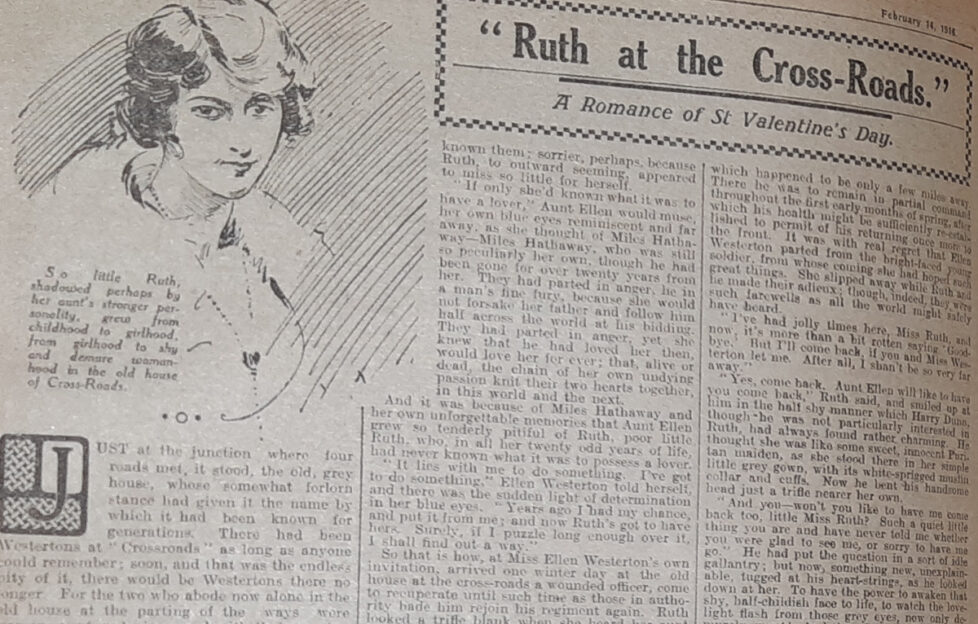 Our latest Reading Between The Lines podcast short story episode is "Ruth At The Crossroads" by Mollie E. Jamieson, first published in 1916. Read along with the story below and listen to see what the team had to say about it!
---
Just at the junction where four roads met, it stood, the old, grey house, whose somewhat forlorn stance had given it the name by which it had been known for generations. There had been Westertons at "Crossroads" as long as anyone could remember; soon, and that was the endless pity of it, there would be Westertons there no longer. For the two who abode now alone in the old house at the parting of the ways were women, aunt and niece, and with their passing the ancient name which had once been so honoured in the country-side would die out for evermore.
It was a desolate enough place now, the old, grey house of Crossroads; the once upon a day its walls and sunny garden pleasaunce had been wont to resound with the dear and happy voices of children. For the Westertons had been noted for what the village folk approvingly termed their "long families," and until this latest generation of all there had never been any talk of the improbability of succession. But the last Westerton bride who had come to old house had died young, leaving behind her but a son and daughter to comfort the husband left so desolate and all alone. People said that it was for her father's sake that Ellen Westerton had never married, sacrificing her life, first to him, and then to the little orphan daughter whom John Westerton, her sailor brother, left behind him when the sea claimed him.
If it pleased Ellen to abide in the old grey house, alone save for her memories and little Ruth, it was, after all, her own business. Twenty years ago she might have Miles Hathaway had she cared, and now Miles Hathaway, whether for love of Ellen Westerton or otherwise, was a wanderer in a distant land.
And so little Ruth, shadowed, perhaps, always slightly by her aunt's stronger personality, grew from childhood to girlhood, from girlhood to shy and demure womanhood, in the old, grey house which was the only home she had ever known.
And if Ruth had her dreams, Aunt Ellen wotted not at all of them, which was, after all, rather a pity, as Aunt Ellen had in her youth had dreams of her own, and would have understood. Aunt Ellen merely told herself that it was just as well Ruth liked a quiet life, and had no fly-away notions such as usually belong to the young. Yet at heart she was sorry for Ruth a little, too, for Ruth, who seemed to have missed her youth, and all the pleasant things of youth, as Aunt Ellen, in her girlhood, had known them; sorrier, perhaps, because Ruth, to outward seeming, appeared to miss so little for herself.
"If only she'd known what it was to have a lover," Aunt Ellen would muse, her own blue eyes reminiscent and far away, as she thought of Miles Hathaway—Miles Hathaway, who was still so peculiarly her own, though he had been gone for over twenty years from her. They had parted in anger, he in a man's fine fury, because she would not forsake her father and follow him half across the world at his bidding. They had parted in anger, yet she knew that he had loved her then, would lover her for ever; that, alive or dead, the chain of her own undying passion knit their two hearts together, in this world and the next.
And it was because of Miles Hathaway and her own unforgettable memories that Aunt Ellen grew so tenderly pitiful of Ruth, poor little Ruth, who, in  all her twenty odd years of life, had never known what it was to possess a lover.
"It lies with me to do something. I've got to do something," Ellen Westerton told herself, and there was the sudden light of determination in her blue eyes. "Years ago I had my chance, and put it from me; and now Ruth's got to have hers. Surely, if I puzzle long enough over it, I shall find out a way."
So that is how, at Miss Ellen Westerton's own invitation, arrived one winter day at the old house at the cross-roads a wounded officer, come to recuperate until such time as those in authority bade him rejoin his regiment again. Ruth looked a trifle blank when she heard her aunt bid old Barbara, their solitary servant, prepare the best chamber for their stranger guest; but Aunt Ellen only smiled her objections down.
"We've got to do our 'bit,' child, in this big war, and if our 'bit' isn't succouring the sick and wounded, I don't know what's much better. Here we are, with a large, empty house, and if I didn't tell you sooner that I'd written, volunteering hospitality, it was only because I thought you'd maybe want to dissuade me from the idea. Not but that it may be dull enough for a young man here; but I'll look to you to cheer him up, Ruth. A taste of young society will be good for you as well as for him."
"Oh, I couldn't, Aunt Ellen," shy Ruth said, and blushed as red as a peony. But Aunt Ellen only nodded smilingly and encouragingly, and quite as one who knew all about it. She was telling herself that, whatever happened, Ruth must never guess that it was the thought of her niece's loneliness quite as much as any patriotic desire to assist her country in its hour of need, which had first spurred her to this new adventure. Shy, quiet, little Ruth should have her chance.
Everything worked out very pleasantly in Aunt Ellen's little scheme; for Captain Harry Dunn, the young Canadian, proved himself to be one of the most agreeable and adaptable of visitors, and won even the unsusceptible heart of old Barbara from the first. He came like some wind of early, freshening spring into the grey old house of Crossroads, dispersing the cobwebs of wont and custom, which so long had gathered there.
True, it was Aunt Ellen whom, even from the very first, he chose to select as confidante—Aunt Ellen, with her wide, large charity, and understanding heart. Little Ruth would sit by, well content to be merely a listener, though it was somewhat to Aunt Ellen's chagrin that Ruth was content merely to be a listener. Things, though otherwise entirely satisfactory, were not turning out quite as Aunt Ellen had either wished or desired, and yet she felt herself powerless in any way to move in the matter.
So time went on, until Captain Harry Dun was an invalid no longer, but under orders to betake himself to the nearest military camp, which happened to be only a few miles away. There he was to remain in partial command throughout the first early months of spring, after which his health might be sufficiently re-established to permit of his returning once more to the front. It was with real regret that Ellen Westerton parted from the bright-faced young soldier, from whose coming she had hoped such great things. She slipped away while Ruth and he made their adieux; though, indeed, they were such farewells as all the world might safely have heard.
"I've had jolly times here, Miss Ruth, and now, it's more than a bit rotten saying 'good-bye.' But I'll come back, if you and Miss Westerton let me. After all, I shan't be very far away."
"Yes, come back. Aunt Ellen will like to have you come back," Ruth said, and smiled up at him in the half shy manner which Harry Dun, though he was not particularly interested in Ruth, had always found rather charming. He thought she was like some sweet, innocent Puritan maiden, as she stood there in her simple little grey gown, with its white-sprigged mushin collar and cuffs. Now he bent his handsome head just a trifle nearer her own.
"And you—won't you like to have me come back too, little Miss Ruth? Such a quiet little thing you are and have never told me whether you were glad to see me, or sorry to have me go." He had put the question in a sort of idle gallantry; but now, something new, unexplainable, tugged at his heart-strings, as he looked down at her. To have the power to awaken that shy, half-childish face to life, to watch the love-light flash from those grey eyes, now only demurely sweet! And then Captain Harry Dunn stood suddenly to attention, as Aunt Ellen, all unaware of the pleasant tête a tête which she was interrupting, joined them once again. He turned to her, holding out his hand.
"I'm off, then, Miss Westerton, and again many, many thanks for all your kindness. And don't forget that St Valentine's Day comes on next week, and that I've promised to send you a Valentine. However far off I may be in the days to come, you may know that I shall be always thinking of you."
"Dear lad," Aunt Ellen said, and laid her hand upon the stalwart young shoulder.
The promised Valentine came for Aunt Ellen upon the morning of the 14th of February, a box of sweetly-scented purple violets, among the delights of which Aunt Ellen fairly revelled until calmer thought came upon her. She sat, twiddling the card which purported that the flowers came "With love, from H. D.,"" round and round in her fingers, a perplexed frown upon her usually placid, good-tempered face.
"What does an old woman like me want with Valentines, when poor little Ruth must go wanting? If only he'd sent it to her, instead of to me, it would have made all the difference. Isn't there anything I could do to alter things?"
With Aunt Ellen, judging by recent events, to plan was to do. With marvellous celerity she returned the violets to the box, tied it up again, and discovering the labelled address to have been hurriedly written in pencil, had just adapted it to her purpose, when Ruth, later than usual, appeared in the open doorway. She glanced with a certain mild surprise at the parcel lying by her plate; for, though gifts came but seldom to the old house at the crossroads. Ruth was not one to become unduly excited over anything.
"A parcel—for me? That's nice, and it's Saint Valentine's Day morning too. Haven't you got anything, Aunt Ellen? I thought I heard Captain Dunn say something about sending you a Valentine."
Aunt Ellen shook her head smilingly. Things were shaping better than she had hoped, and she might, should occasion arise, be able to explain later to Captain Harry Dunn.
"Why!" Ruth said slowly, and again—"Why!"—as presently the open box stood before her, the whitely-gleaming card looking up at her from the wealth of purple bloom. Aunt Ellen nodded, still smilingly.
"I fancied I guessed the writing; but still, I wasn't going to say until you opened it. Your first Valentine, isn't it, child? Well, you couldn't have had a prettier one, and I can't think of anything nicer than that Captain Dunn should have had such a thought for you."
Ruth looked up with widely questioning eyes, in which the radiance of joy still lingered. So long she had accustomed herself to being slighted, passed over in favour of others, and now it would seem that she was to be accorded homage for herself alone. She slipped the card she held, half shyly, into the elder woman's hand.
"Do you see that—that, Aunt Ellen? His 'love'—oh! Do you think he can really mean it? For always he has seemed such  a hero, so far above such a quite little thing like me, and yet he must always have—cared. It seems too beautiful to be anything but a dream, and yet I think I should break my heart if I was to wake up and find that it was not true."
Aunt Ellen, accepting the proffered card, frowned in her perplexity. In her haste to make things pleasant for Ruth, she had ignored, forgotten the incriminating message of the card, filially suitable from a young man to an older woman, totally out of place at the present juncture. She met Ruth's eyes, radiant, triumphant, wistful, and realised with a sudden rush of remorse that it was too late now to draw back. She must carry this thing through with a high hand whatever be its ultimate denouement. For one golden day, at least, her child should taste happiness, let the morrow bring with it what it might.
"Young men usually mean what they write, do they not, you silly child? You have always been so quiet with Captain Harry, such a reserved little mouse yourself, that he has had but little chance to tell you what he thinks of you. For men are strange, little Ruth, and never stranger when they try their hands at clumsy wooing. Give Captain Harry time, and there is no saying what a gallant and courtly lover he may prove himself to be."
"You know best; you always know best, Aunt Ellen," little Ruth said, and the radiance was still in her grey eyes. But it was the elder woman who bore the heavier heart throughout that still, faintly sunny February day. She had time to think out a hundred plans, all of which she dismissed as absolutely useless, ere, at the last fading of afternoon, she looked from an upper chamber window, and saw Captain Harry Dunn come up the garden path between the pale, flowering snowdrops. She had meant to open to him when he came, do her best to explain matters; but now all power seemed to go from her as she heard Ruth go singing downstairs—Ruth who also from her chamber, had watched the young soldier's coming, and was now hastening to bid him welcome. Poor little Ruth, her golden day had been too short, and now it was to have its end at last.
But it was a radiant Ruth who now sped down the wide stairway, a radiant Ruth who flung the great door ajar to admit Captain Harry. She still wore her grey gown' but she had fastened a posy of his violets in her waist-belt, and her usually pale cheeks flaunted their most daring of roses. That, and the light in her grey eyes, caught him, held him, as he stood there upon the familiar threshold. Suddenly to him she was a Ruth new created, and that for him alone. He stretched out wandering hands.
"Ruth!" he said half dazedly, and again, "Ruth!" Their hands met in one long, close clasp, the shining in her eyes grew, deepened—he stooped and kissed her. To Harry Dunn, at that supreme moment, it seemed as though all life had been leading up to just this—the knowledge that this wonderful new Ruth was the one woman in the world for him. When he spoke, his voice had a sudden, triumphant little thrill in it.
"Ruth—and I never knew—till now. That I loved you, little sweetheart, must have always loved you, though I never guessed it. Have I frightened you, dear? Has it come as a big surprise to you as it has to me? What have you done to yourself, little girl, that you should look so beautiful?"
"Done?—why! I have done nothing," said Ruth, and blushed shyly and radiantly once again in her turn. "For I never knew either, Harry, not till your dear Valentine came. Then I understood—knew; though even yet it seems almost like some lovely dream. Are you quite, quite sure that we shall not both presently waken, and go back to actual life again?"
Harry Dunn put his arm around her as they went through the wide, dim, old hall. There was the dawning as of a new heaven and earth in his eyes, as he looked down into the grey orbs uplifted so trustfully to his own.
"We shall never go back to actual life again, either you or I, sweetheart. Our beautiful dream is to last us to the end of both our lives. But about the Valentine—I don't quite understand."
He looked up as Aunt Ellen came slowly, and in her own stately way down the broad staircase. Her kind eyes were smiling. Now she stretched out her hands to the two awaiting her below.
"You don't need to tell me, children," was what Aunt Ellen said. She stooped to kiss little Ruth—little Ruth, who need never now dread the loneliness of the coming years, with this strong right arm to guard her—little Ruth, who might have gone loverless all her days had not Aunt Ellen intervened.
"You don't need to tell me, children," Aunt Ellen said. Her eyes met Captain  Harry's as he bent his handsome head above her hand, and if, for the moment, her tender, half wistful glance was not so much for him as for another less fortunate lover of long ago, Captain Harry, in his new-found happiness of that St Valentine's Day, was something less cognisant of the fact.
---
Catch up with Reading Between The Lines news and previous stories.