The Lost Lionesses: Pioneering Women's Football In 1971
---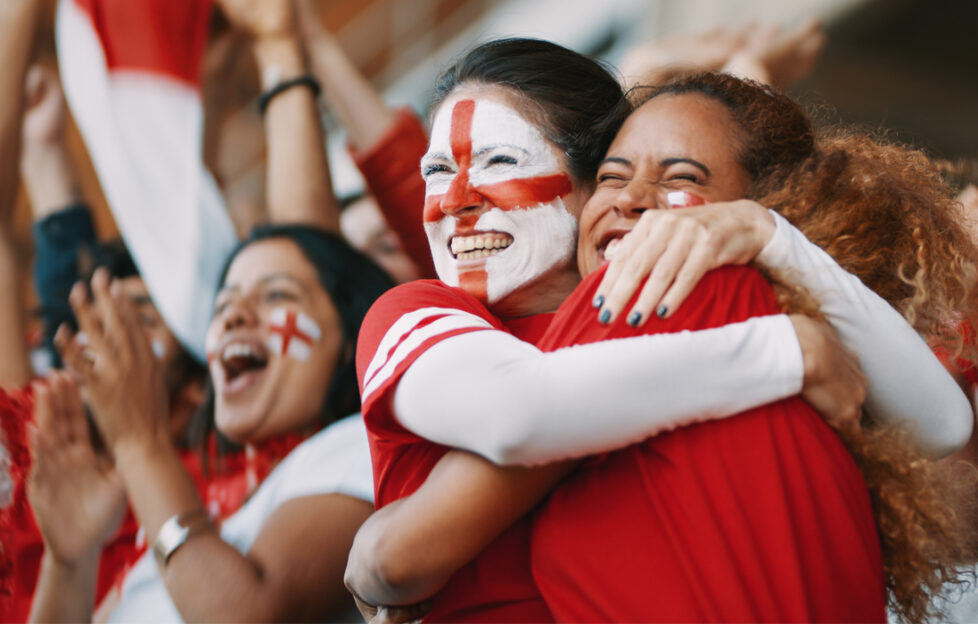 Shutterstock.
In light of the recent Lionesses success in women's football as EURO champions, we're looking back at a "Friend" feature of the Lionesses and women who came before. Douglas McPherson recalls the pioneering female footballers who flew the flag for England at the 1971 World Cup.
---
The 1991 FIFA Women's World Cup
Thirty years ago, on November 30, 1991, Michelle Akers-Stahl scored the two goals that took the USA to a 2-1 victory over Norway in the inaugural FIFA Women's World Cup Final.
England didn't qualify for that historic tournament, which was held in China.
Twenty years earlier, however, a squad of Sunday players flew to Mexico to play before the biggest ever audience for a women's England team in an unofficial World Cup.
Sponsored by drinks makers Martini & Rossie and organised by the Federation of Independent European Female Football, the 1971 Women's World Cup was a huge event in Mexico.
The final saw Denmark beat the host nation 3-0 before an estimated 110,000 fans—a record for women's sport unbeaten to this day.
The tournament wasn't recognised by Britain's Football Association, which in 1971 had only grudgingly begun to allow women's teams to play once more in its grounds, after a 50-year ban.
In the absence of an official England team, Harry Batt saw the opportunity to put together his own national side, composed mainly of players from the Chiltern Valley women's team.
Batt's wife, June, became their trainer.
England and Women's Football
The women ranged in age from thirteen to twenty-one. Most were still at school, and hardly any of them had been abroad before.
In Mexico, they were startled to find themselves greeted like celebrities with a barrage of flashbulbs as they stepped off the plane.
It was, after all, only a few years after Bobby Moore had led England to victory in the men's World Cup.
"It was like going into the TARDIS and coming out in another world," fifteen-year-old forward Chris Lockwood said.
With Martini paying all their travel and accommodation expenses, police motorcycle outriders escorted their tour bus from television interviews to their hotel, where hundreds of fans thronged to catch a glimpse of them, as if they were a female version of The Beatles.
Accustomed to playing before a handful of spectators in local parks, the girls ran on to the pitch of Mexico City's Azteca stadium in front of 90,000 spectators—the largest crowd to watch a women's England team to this day.
Cheers, whistles, drums and firecrackers created a cacophonous atmosphere.
"You can't imagine the noise!" Janice Emms, who was nineteen at the time, remarked. "And we were just kids, really."
Hampered by the intense heat and thin high-altitude air, the amateur team sadly lost all their matches against semi-professional sides from France (3-2), Argentine (4-1) and Mexico (4-0).
They played like Lionesses, however, with the games so hard fought that some of the girls were hospitalised with injuries.
Sixteen-year-old forward Yvonne Farr played for 15 minutes with a broken foot!
Ban For The Lionesses
Having been treated like stars in Mexico, the team expected to return to England as sporting heroines, but that was not to be.
While the national press regarded the footballing pioneers with indifference, the FA handed the players bans of between three and six months for attending the unofficial tournament, and Batt was banned for life from running or coaching a team.
According to his son, he died a broken man as a result.
Fifty years on, however, the pluck of England's forgotten World Cup team is finally being recognised with the release of a 50th anniversary football shirt — dubbed "The Lost Lionesses" — designed by Martine Rose and produced by Nike.
The team, meanwhile, remain proud of their place in sporting history.
"We wouldn't have changed our experience for anything," Leah Caleb, who was thirteen when she went to Mexico, commented.
"As well as the chance to play on the same pitch as Pele, the Mexican people really embraced."
---
Get features like this in every issue of the "The People's Friend" when you subscribe.