Emma Burstall On Her New Book: "The House On Rockaway Beach"
---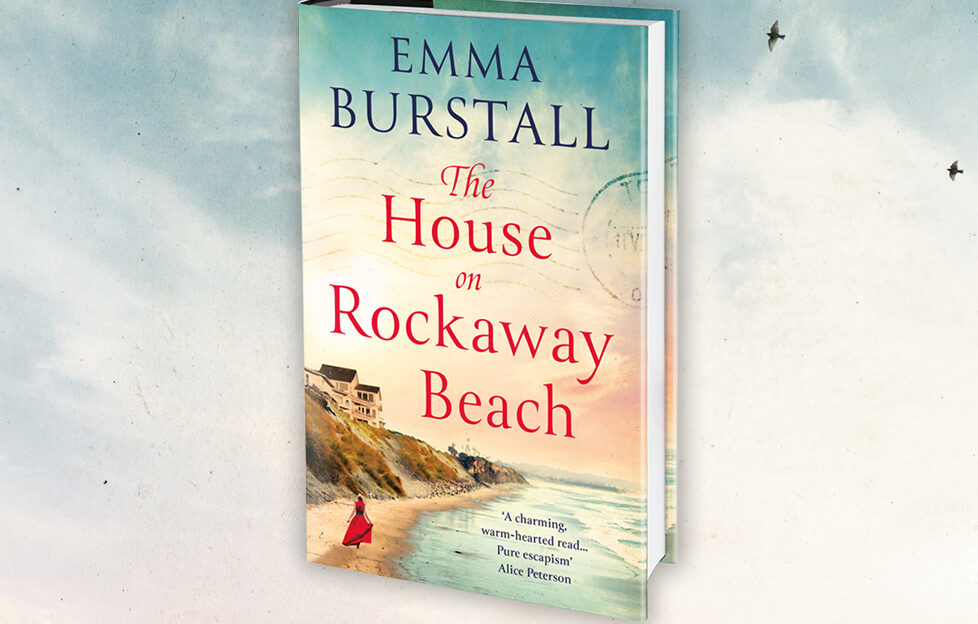 Provided by Head of Zeus.
Emma Burstall gives us a glimpse into her brand-new book, "The House On Rockaway Beach". Plus, a special extract reading! A tale of two sisters, Sophie and Celia, and their grandmother's house on a beach in New York. The sisters are at odds with each other, until Sophie makes a shocking discovery. . .
---
1. Can you remember the moment the idea for "The House On Rockaway Beach" came alive in your head, and what sparked it?
I've been visiting Rockaway Beach with my children for years as my sister, Sarah, and her husband have a lovely seaside house here. There used to be a dilapidated old home at the end of their street, overlooking the ocean, and I often used to wonder who owned it and why it had fallen into rack and ruin.
Growing up in a family of three and with three kids of my own, I've always been interested in sibling relationships and rivalries. Gradually, the idea formed of setting my next novel in a tumble down house like the one near Sarah's and putting two very different sisters at the heart of the story.
2. How does "The House On Rockaway Beach" differ most to your other novels?
The main difference is that it's set in a foreign location. My other novels have all been UK based. I previously wrote a series of Cornish novels set in the fictional seaside village of Tremarnock. Some of the same characters appear in all five books, while in "The House on Rockaway Beach", all the characters are new and fresh.
Other than this, I think my books share a lot of similarities. They're all warm, heartfelt novels about women, families, relationships, romance and challenge, often with a gripping secret at the core.
3. What inspired the setting of a beach in New York?
I've always loved the sea, so it's no coincidence that I've chosen to set many of my books here. There's something about the ocean that's both frightening and exciting at the same time. Standing before such a vast expanse of water can make you feel very small, yet it also somehow expands the mind and makes you focus on the big questions in life. Listening to the ebb and flow of the tide is also curiously relaxing and meditative.
Not all beaches are the same, however, and I adore Rockaway's unique, laid-back, urban beach vibe. As the place is just a stone's throw from the bright lights and towering skyscrapers of Manhattan, day trippers flock here from the City in summer, which makes for great people-watching.  Equally, many families have lived here for generations, so there's also a strong community feel. All in all, it seemed to me to be the perfect location for a sweeping saga about family ties, buried secrets and romance.
4. Can you sum up a little about the two sisters and their personalities?
Sophie and Celia are very different characters and they've never got on. Celia's a successful GP with a wealthy husband and a structured life which looks perfect from the outside, while Sophie, the older one, is single, free-spirited — and broke.
When their grandmother dies, they're shocked to discover she's left them her quirky old beach house on the Rockaway peninsula. Together, they fly there to clear up the house and it soon emerges that they also have very different memories of their times there.
Sophie wants to keep the place, Celia can't wait to get it off her hands. Old hurts and resentments re-surface and it seems they'll never see eye to eye. Then a long-buried family secret turns their world upside down and they're forced to re-evaluate everything — including their troubled family background and the roots of their fraught relationship.
5. Can you give a little bit away about the handsome mysterious stranger?
Well there are two, actually! Terrell, a local lifeguard and yoga enthusiast, is drop-dead gorgeous as well as friendly, funny and empathetic. There's also dishy Joe, rugged and weather-beaten, who writes poetry, paints and goes fishing. One of them isn't quite what he seems, but I'm not going to say anything more because it'll spoil the story!
6. How do you want people to feel after reading "The House On Rockaway Beach"?
Happy, relieved and a bit thoughtful. I hope it's a cracking story that will also make readers reflect a little on their own relationships. People can behave very badly, but there's often a reason behind it. If, instead of giving up on them, you keep the communication going and keeping trying to understand, amazing things can happen. . .
7. What does your writing process look like? Structured routine or however the mood strikes?
A bit of both! I'm usually quite slow when I start a novel and find it easy to be distracted. However, once I really begin to know my characters and bury myself in their world, I get the bit between my teeth and speed up. Then, as the deadline approaches, I'll take myself off to the local library and keep my head down all day, stopping only for a quick sandwich at lunchtime.
I guess it might be better to be more structured right from the start, but it does take me a while to enter the zone, when I'm one hundred per cent absorbed and virtually nothing and nobody can divert my attention. I love that feeling of total focus. It's the best!
8. We have a lot of writers in our readership—what's your number one piece of writing advice?
Just do it!  I know this sounds trite, but it's so easy to procrastinate. I spent years thinking I wanted to write a book but telling myself I wasn't good enough, no one would want to read it, there was too much competition etc etc. Then a writing acquaintance pointed out that unless I put something down on paper, I'd never know if I was any good or not. She was right, of course, and it was just the spur I needed.
I still start most books feeling both excited and intimidated. Part of me always thinks that maybe this time, I'll have lost my touch. Then I remind myself I won't know until there are words on the page to evaluate, and off I go again…
9. What are you reading right now?
"Where the Crawdads Sing" by Delia Owens. Somehow, I didn't get round to reading it when it came out and I don't want to see the film until I've finished. The characters are compelling and there's a gripping plot. I'm thoroughly enjoying it.
10. Are there any works-in-progress you're allowed to tell us a little bit about?
I'm working on various thoughts at the moment, doing some research and generally mulling. I'm not quite sure which idea will win out, but I have a feeling I won't be leaving Rockaway just yet…
A Special Extract Reading Of The House On Rockaway Beach!
---
Read more author and writer interviews from the "Friend".