Writer Of The Week: Angela Wooldridge
---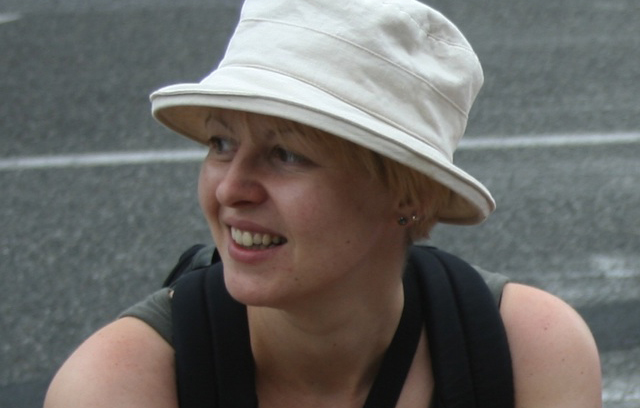 Photograph courtesy of Angela Wooldridge.
Our writer of the week is Angela Wooldridge!
You can read her romantic story, 'Tea And Empathy', in our weekly issue out on Wednesday 12 October.
What inspired your story 'Tea And Empathy'?
Don't most of us dream of giving up the day job and opening a café? In mine I'd have specialty teas and little booklets on each table for customers to have a go at reading their leaves, and I'd call it 'Tea and Empathy' because of course that's what you need when catching up with friends.
I've had this story setting in my head for ages, but nothing quite worked until Alan put some story prompts on "the Friend" blog a while back. One of them, "would a witch really do that?", struck a chord and suddenly it all fell into place.
Have you always wanted to be a writer? Can you remember the first story you wrote?
Always. I believe I put my poor, long suffering English teacher through a lot of what would now be termed as Narnia fanfiction.
Do you think of characters first or plot? Does it depend?
It varies. I often begin with a setting or situation and then build a character to fit it, but then sometimes the character takes over and the plot has to change as a result.
Do you stick to short stories, or do you like to write longer form fiction as well?
Both. I love writing short stories, there's a great deal of satisfaction in weaving a complete tale and tucking it neatly into a confined space. I'm also writing a children's fantasy novel which I'd love to see on library shelves one day.
If you could meet any writer from history, who would it be? What would you talk about?
It would have to be Anne McCaffrey. She wrote mostly science fiction from the '60s through to the '90s and was probably key to opening sci-fi up to women with her unique approach to the genre. She took her love of horses and turned them into the most amazing dragons, and her passion for singing put the opera in space opera.
I'd be happy to just sit and let her talk about anything.
What's the best book you've read so far this year?
I've read a lot of children's fiction this year because it's a good idea to read in the genre you're writing in. You experience what people are reading now and it helps to soak up the tone and make sure you're getting your "voice" right.
I'm going to choose "Skinful of Shadows" by Frances Hardinge. It's difficult to pigeon-hole. I found it in the 8-12 section but it could easily be adult. It's paranormal historical fiction with themes of empowerment and choice. I loved it.
Finally, what's your top tip for aspiring "Friend" writers?
Don't expect what you write to be perfect the first time. Take courses and workshops, soak it all up and then use what works for you. Read out loud – you'll pick up the typos that your brain skips over and you hear if the sentence structure is working.
---
Read more from Angela at her website.