Knead Peace: Bake For Ukraine Hot Cross Buns Recipe
---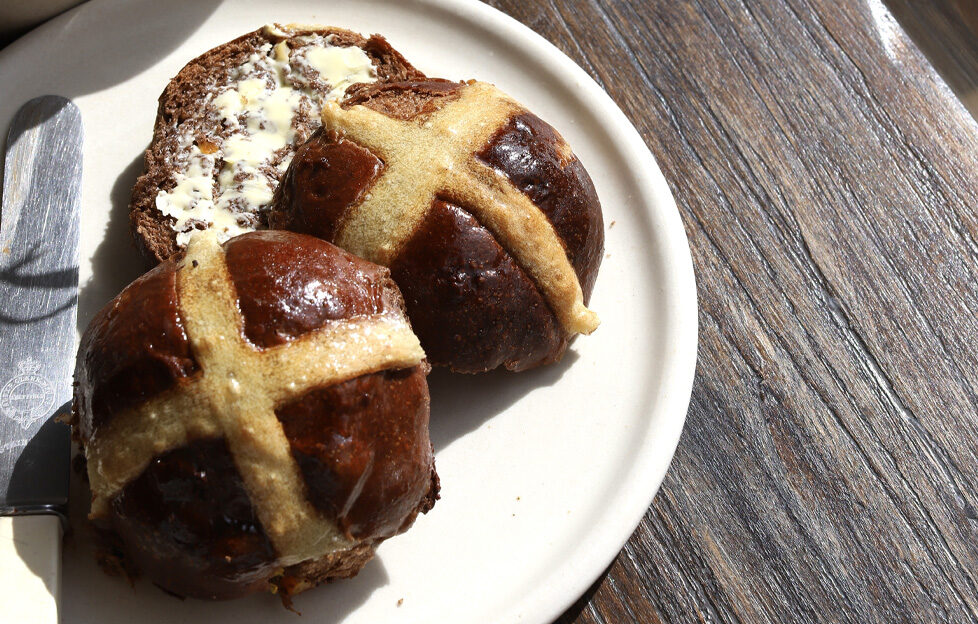 Courtesy of Octopus Books.
Ingredients
TANGZHONG
35g Bread Flour
115g Water
115g Whole Milk
BUNS
590g Bread Flour
50g Cocoa Powder
100g Brown Sugar
1 tsp Ginger Powder
1 tsp Cardamom Powder
1 tsp Sea Salt
250g Whole Milk
30g Fresh Yeast
2 Eggs
120g Unsalted Butter (room temp)
100g Chocolate Chips
100g Raisins
100g Candied Orange Peel
Courtesy of Octopus Books.
Here's a special extract of Knead Peace: Bake For Ukraine featuring a hot cross buns recipe. A collection of amazing bakes from across the world in support of Ukraine.
---
Layla's Cacoa Hot Cross Buns recipe
Nelson Fartouce
LAYLA'S BAKERY
Makes: 20 buns
Method
Start by making the tangzhong — in a pan whisk water, milk and flour until double cream consistency. Then let it cool down.
Next, add all the dry ingredients to the mixer and mix for 5 minutes at a slow speed, then add the cooled tangzhong, milk, eggs and yeast.
Mix for 10 minutes, then start adding the butter in small pieces little by little, increasing the speed as you go until the mixture detaches from the sides.
Add the dried fruits, choc chips and mix through for 2 minutes. Take out of the mixer and place into an oiled bowl and cover with cling film.
Let the mixture prove at room temperature for 1.5 hours, or put it in the fridge overnight.
Line a tray with baking paper and scale 70g balls arranging the buns on the lined tray 3cm apart. Let the buns prove on the tray for another hour at room temperature. Set the oven to 170°C.
Whilst buns are proving, make the cross mix by combining with a whisk 100g of bread flour with 75g water, adding the water little by little.
Whisk 3 whole eggs together to create your egg wash, brush egg wash over the buns.
Pipe the cross mix using a piping bag and pipe the cross onto the buns.
Bake at 170°C, for 15minutes, turn the tray around and bake for a further 5 minutes.
Glaze with orange marmalade once out of the oven using a brush.
Knead Peace: Bake For Ukraine
Inspired by the resilient spirit of Anna Makievska and The Bakehouse, Kyiv, who have continued to bake day and night throughout the conflict, Knead Peace is a unique collection of beautiful bakes from world famous chefs and bakers in support of Ukraine, compiled by Andrew Green. For more recipes like this one, pick up Knead Peace: Bake for Ukraine is published by Kyle Books and compiled by Andrew Green, £25.00, www.octopusbooks.co.uk.
---
Send it in!
If you try our salmon recipe, "The People's Friend" team would love to see your creations. You can send them to peoplesfriend@dctmedia.co.uk for a chance to be shared on social media or in the magazine!
Check out our Cookery section for more recipes.