What You Need To Know For Winter Birdwatching
---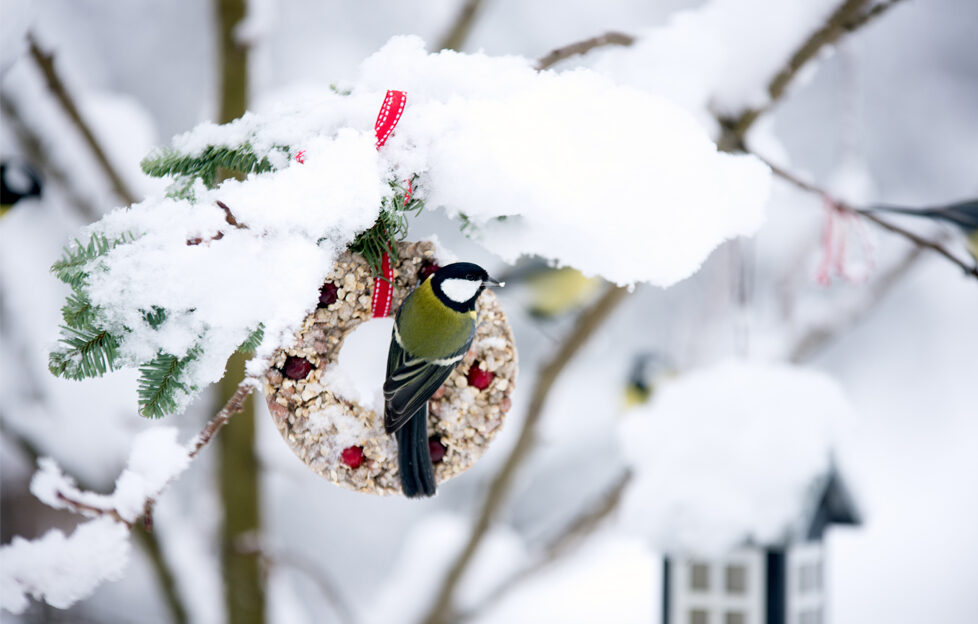 Shutterstock.
Just because winter is here doesn't mean you can't still get out birdwatching! We asked the RSPB all that we need to know for some winter birdwatching.
Winter is almost here. The sleigh bells are gently chiming, a brand new year is calling, and morning frost is settling across the British countryside.
Although springtime is the season of fresh life and new beginnings, the cold months of winter are also a magical time for birdwatching. After all, birds don't hibernate over winter; they remain active for most of the season, even in the most freezing temperatures.
And if you're willing to brave the frost and embrace the biting breeze, taking a winter birding trip is uniquely rewarding. Why? Well, the idyllic backdrop highlights a bird's colourful plumage, for one thing, while autumnal migration welcomes a slew of new birdlife from colder climes looking to holiday in Britain's milder winter climate.
This January sees the welcome return of RSPB's Big Garden Birdwatch — an annual event in which avid birders from all experience levels come together and count the best of British birdlife. So, whether you're day-tripping to Wales, camping in Scotland, or touring the Peak District, this article explores how to make the most of birdwatching in winter. Read on.
Know your birds (and the winter migration)
To make the most of winter birdwatching, it's important to know what species to look out for.
From the Isle of Skye to the southerly Jurassic Coast, winter birdlife across the United Kingdom is a sight to behold. After all, our island welcomes myriad visitors from the north and east during an autumnal migration: birds from as far afield as Canada, Scandinavia, and even the Arctic fly over to enjoy our milder conditions when the frost takes hold.
These winter visitors only stick around for a fleeting moment — returning home in the spring for the breeding season — so you have a fairly limited window in which to enjoy their presence in the UK.
You can see a full list of winter visitors curated by Countryfile, but our highlight is the bohemian waxwing — a rare and exotic bird with a debonair crest that only appears in the UK when the weather is particularly cold. You can also expect to see a variety of geese, including the barnacle goose, as well as a species of thrush called the fieldfare.
Find the best locations for birding
Birdlife in the United Kingdom during the winter is rich and wonderful. Despite the cold, our feathered friends are surprisingly active, meaning there are some real sights to behold so long as you time the trip right and know where you're heading.
The Starling Spectacular tour in Somerset is particularly awe-inspiring. On this tour of the rolling rural West Country hills, half a million starlings paint the sky with Van Gogh-esque brushstrokes as they return to roost. The event is a real spectacle, particularly at sundown as the backdrop illuminates the birds, making for a fantastic picture (check out this gallery).
Moreover, if you want to get into the festive spirit, visit the snowy peaks of North Wales. This is a fantastic opportunity to see some of the most beautifully unique birdlife in the UK. For example, especially lucky birders will get to see a red kite — a majestic bird that almost went extinct in the 1900s, but has a bright future thanks to essential conservation efforts.
Other perfect locations for winter bird encounters include the isle of Portland in Dorset, the North Norfolk coast — where snow buntings and shorelarks can be spotted — and Bamburgh's Budle Bay.
Dress for the weather and bring the right equipment
So you know your winter birds and have identified some great locations, and now it's time to pack for your trip. Particularly during winter, bird gatherings are vulnerable to the elements, so with this in mind, you must look the part and be dressed for the occasion.
Although this is simple advice, it's all too easy to find yourself ill-prepared for winter's biting temperatures. The best option is to dress in numerous layers using long johns, sweaters, and thermals — which should be enough to keep you toasty warm, even in the most remote of winter wonderlands. Camouflage can also help with bird spotting, but don't wear bright colours because you'll stand out in the icy backdrop, especially as most foliage is gone.
As for equipment? Just like a carpenter needs a sturdy saw, birders require a good pair of binoculars. Check out this guide to birdwatching binoculars from the RSPB when preparing for your winter trip, but the perfect pair will depend on your budget and experience. As a rule, 8x magnification creates a smaller, brighter image ideal for the local park or campsite, while 10x binoculars are narrow and more effective over long distances, making them great for spotting birds in the open wilderness — such as the snow-capped peaks of North Wales.
You can also bring a birdwatching hamper for all the treats you'll need on your trip, or as a gift for a birdwatcher in your life!
Entice birdlife into your own garden
Maybe you're not as physically able as you once were, or perhaps you don't have a local nature reserve or greenspace nearby. Either way, that doesn't mean birdwatching isn't something you can enjoy from the comfort of your own home.
If you have a garden, there are many British garden birds that are likely to visit throughout the winter, from red-breasted robins to colourful goldfinches. And you can make your garden a more enticing place to drop into by introducing a stone bird bath: your feathered visitors will be grateful for a place to quench their thirst and preen their plumage, while it'll be an attractive addition to your outdoor space.
Even if you don't have your own garden — maybe you live in a flat or apartment — you can still encourage birdlife to stop by your window or balcony by hanging a bird feeder and filling it with nuts and nibbles — better yet, opt for a squirrel-proof feeder and those bushy-tailed nut thieves won't be able to get their tiny paws on them.
Far from being a barrier to birdwatching, Winter provides a unique and spellbinding backdrop for observing hundreds of native and migratory bird species in the UK — from the beloved red-breasted robin to the extraordinary bohemian waxwing.
Follow these four simple steps to winter birdwatching and you'll know what to look out for, where to go, and be sure you've got all the right gear to get the most out of your birdwatching experience. Enjoy!
---
You can also read how to keep your garden clean to help bird health.