How To Make Your Christmas Dementia-Friendly — 5 Easy Swaps
---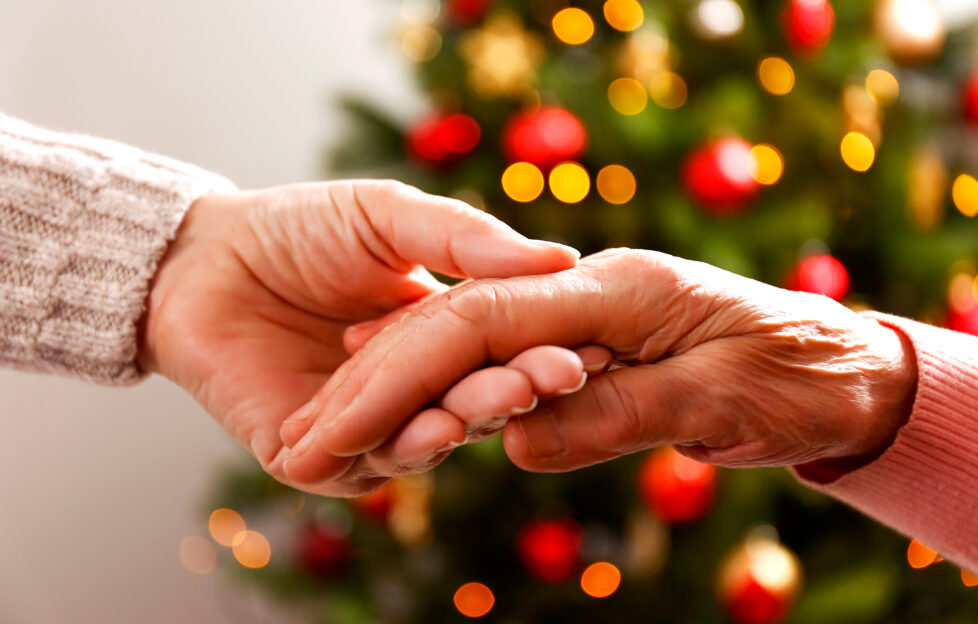 Shutterstock.
Christmas is no doubt a magical time of year, but it can be tough for anyone living with dementia. A change in routine, family visits, and the pressure to have the perfect celebration can quickly become overwhelming. That's why Lottie have shared their 5 simple swaps to make your Christmas more dementia-friendly.
"Christmas is an incredibly important time of year for everyone. It's understandable to feel anxious about making sure everyone is happy – especially someone who has dementia – but there's lots of ways to make your festive fun dementia-friendly", shares Hannah Karim, Dementia Care Expert Manager, at Lottie.
"Often, the best part of your loved one's day is spending time with you. Although it can be a challenge and feel overwhelming, it's so important to spend time together. Those feelings from relaxing and having fun together can shape the rest of their day. Your visits have more lasting power than you think and can influence how they feel, and even how they eat.
Remember: even if it's a slower pace than what you're used to, you're making memories together. It's equally important to support yourself, as looking after someone with dementia can feel overwhelming. Open up to your close friends and family if you're struggling, as it can feel a huge relief."
5 simple swaps from care expert
Swap the TV for music
For some people living with dementia, watching the television can be difficult, as they may struggle with storylines. This Christmas, swap out the TV for the radio – or a specially-curated dementia-friendly playlist – as it can be easier to follow.
Music therapy is increasingly becoming a key part of dementia care as it can enhance their life, enable them to express themselves creatively, and it provides a shared experience opportunity for families, too.
Put any decorations up gradually
A change in routine and surroundings can sometimes be tough for anyone living with dementia. To make your environment  at Christmas more dementia-friendly, put your decorations up over a few days. This gradual approach can help them familiarise themselves at their own pace.
Scent can be a great way of evoking memories of the past – think about swapping some of your usual decorations for scented decorations. Oranges and spice could help them to reminisce.
Most importantly, do not place any pressure on your loved one to think about the past. It should come naturally, in a calm and stress-free environment.
Avoid saying 'remember when…' to jog their memory. Instead, you can talk more openly about the past and lead the conversation. A more suitable and calm approach would be 'I remember when…', as this can ease them into an open conversation where they can join in, if they feel comfortable.
Change your routine beforehand
Christmas Day is often the busiest day of the year! From unwrapping gifts to cooking food, it is a huge change to our everyday routines. You don't have to avoid your usual Christmas Day fun – communicating clearly and calmly will really help with the transition to a new routine.
Firstly, introduce one new change every couple of days to smooth out the transition rather than letting it happen all at once.
With each change, remember to talk about it before it happens, and after it happens. It's not just a good idea to prepare your loved one ahead of the change, but also to review the change after it has happened to keep it in their mind that this change happened.
If your loved one is leaving their familiar surroundings over Christmas, make sure this is clearly communicated beforehand. When you travel with your loved one, give yourself plenty of time, as this can ease any caregiver stress.
Be mindful of food
When you are plating up any food, be mindful that a full plate of Christmas food can be daunting, especially for those who have difficulties eating. Avoid overloading their plate – and most importantly – do not rush them. Keep calm, and ensure they have enough time to eat, without too much change.
Asking close friends and family members of your loved one with dementia can really help tailor their plate. Remember, people with dementia don't need a special diet, but aim to serve things they'll enjoy.
By understanding a person with dementia's preferences, you can support them to eat and drink.
Avoid talking differently to them
Although no harm is intended, sometimes you may find that you speak differently to your loved one who has dementia. Speaking in a child-like tone can come across as patronising and demeaning, and may leave your loved one feeling irritated, overwhelmed, or anxious.
Remember that your loved one deserves dignity and respect. Every person's experience of dementia is unique, so make sure they feel as comfortable as possible. Communicate clearly and calmly, use simple sentences, and take the time to listen to their response.