Fiction Ed's Blog: Annuals From The Archive
---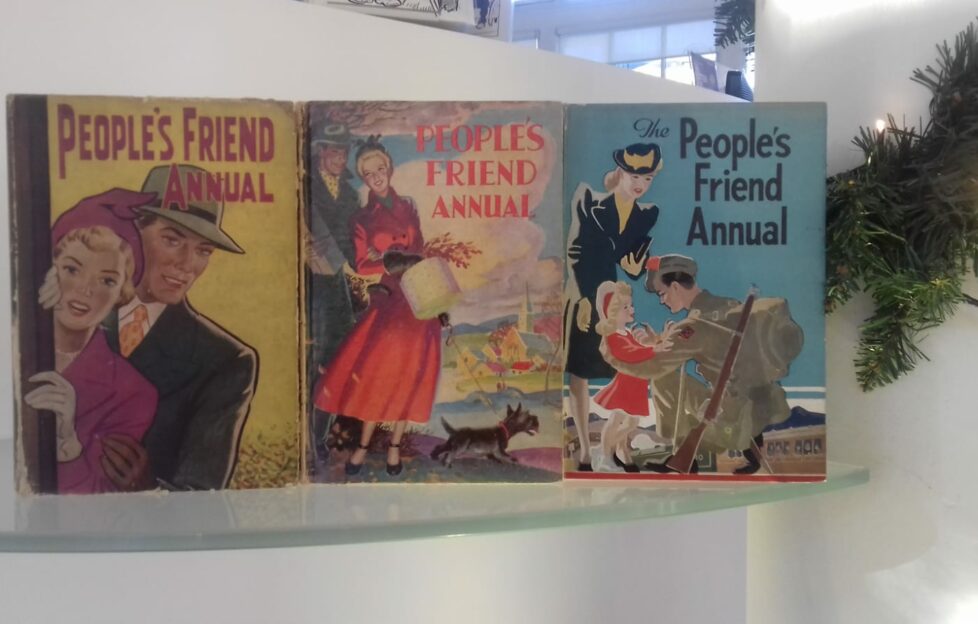 Pic: DC Thomson
Here on the Fiction Team, we're in regular contact with our Archive Team.
Visiting the Archive is fascinating because, as well as being a complete history of all things "Friend", it's a look through the history of the 154 years that we've been in print.
Barry from the Archive Team sent me these "Friend" annuals of old recently – hope you might like to have a look at them, with me.
The Annie Swan Annual
The first "People's Friend" yearly publication was "The People's Friend Almanac", which appeared around the 1890s – not an annual, as such.
People's Friend annuals as we know them today began life as "The Annie Swan Annual", which was published from around 1925.
This one (above) is from 1936, although our earliest annuals didn't actually feature the year of publication on the cover.
A4-sized and priced 2/-, our 1936 annual featured 24 short stories by a selection of authors, with the opening and closing stories by Annie herself. Each story featured a black and white illustration.
The annual also features lots of interesting adverts for, among other things, cold and flu remedies, Marmite, and an 'Amami Wave' Set – "Don't let poor hair steal romance"!
"The People's Friend Annual"
After Annie's death in June, 1943, the annual was known as "The People's Friend Annual, incorporating The Annie Swan Annual".
Our 1944 annual (above) was published in 1943, with the War still on.
By the 1940s and 1950s (below), the annuals had changed size to the handy size they remain today.
They featured around 20 short stories, interspersed with some Scottish scenes illustrated by J. Campbell Kerr.
Our next annual is from 1975/6 (below).
As well as 20 short stories, it had begun to feature poetry, from "Friend" favourite, Edgar A Guest, and reflections, by the Rev T.R.S Campbell.
Here's our 1990 Annual (below).
Poetry is much more of a feature by the 1990s, and most of the illustrations were now in colour, too.
Right Up To Date
And finally, here's this year's "People's Friend" Annual (below).
It features 25 brand-new stories, as well as poetry, lovely J. Campbell Kerr paintings, and vintage cleaning tips!
You can order a copy of this year's annual by clicking here.
Happy reading!