Fiction Ed's Blog: Artwork In Our Christmas Issue
---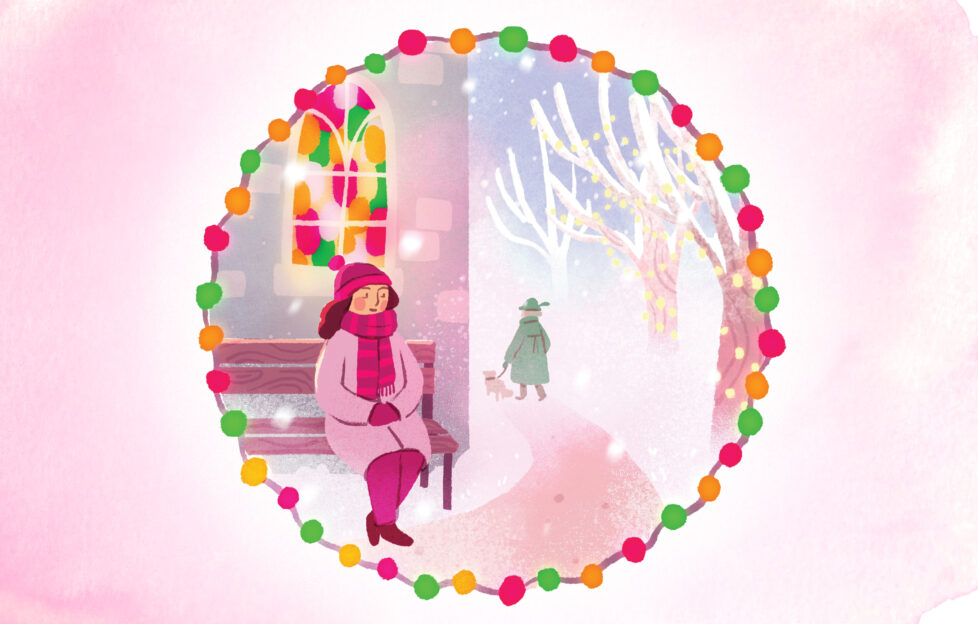 Artwork: Sarah Holliday
Our Bumper Christmas Issue is on sale now – 144 pages filled with magical stories and festive features.
Fiction Ed, Lucy, and Illustrations Editor, Manon, look at just some of the lovely artwork which accompanies the fiction in this issue.
Our Opener
Our opening story is "Bless Us All", by Lynda Franklin, illustrated by Sailesh Thakrar (below).
"The artwork in this one has everything needed for an 'opener' – it's a striking image, with appealing characters, and an air of mystery," says Manon.
"There's a contrast between the cool and warm colours. And a montage works well, bringing some Christmas magic!
"The character of the vicar is reminiscent of Father Christmas."
A Complete Contrast
Our next story is a lovely contrast – Sarah Holliday's illustration for Karen Houseman's "A Breath Of Fresh Air" (main image).
"Set in the present day, this story is quite thoughtful, and the illustration reflects that while still keeping a 'feel-good' tone," says Lucy.
"The artwork is in contrast to the opener – modern, and in a roundel. The Christmas lights around the border are a lovely touch."
Manon adds, "This one's a great example of illustrators bringing colour to what would, in real life, be a mostly-white, winter scene.
"Look at the light coming from the church window."
Traditional, And Modern
Katie Ashmore's "A Touch Of Tradition" is illustrated by Helen Welsh (below).
"This illustration works well with the story, which is a modern family tale with touches of tradition," says Manon.
"Helen has included little details, like the 'Joyeux Noel' in the baubles around the border. A French touch!"
Period Stories
Merrilee Robson's "Secret Santa" is set in 1941, and the artwork by Pat Gregory has a wartime feel to it (below).
While looking through the issue at our Team Meeting, we agreed that historical stories give loads of scope for interesting illustrations – with little period details.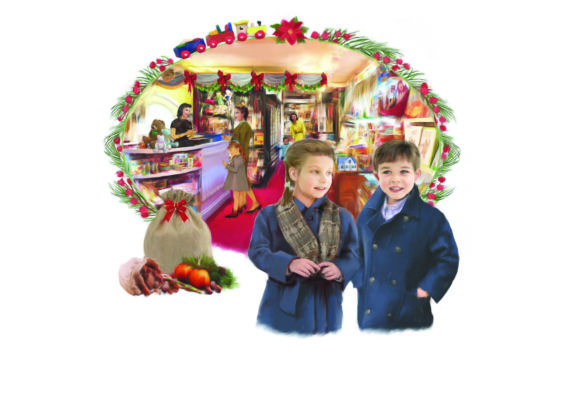 Picture Libraries
"Festive Spirit" by Sally Waterbury features a watercolour image (below) from a picture library, and has a nice seasonal feel to it.
"That Silent Night", by Eirin Thompson, is also chosen from a picture library (below).
"It's a great example of a less 'literal' illustration," says Lucy.
"It doesn't illustrate a specific scene from the story, rather, it's more about a general impression of the overall story."
Another image which is less literal and also good fun is Eirin Thompson's "A Good Pitch" (below).
"We need to have a good 'mix' of varied illustrations, to keep things interesting for the reader," says Manon.
"And as well as our talented team of illustrators, using an image from a library means we are given the 'point of view' of different artists."
Recurring Characters
Tony Redcliffe's 'Sister Bernadette' story features a recurring character, which means we always commission the same artist to illustrate it (below).
"It's a great example of an image which reinforces the traditional spirit of Christmas," adds Manon.
"Recurring characters are like old friends, to our regular readers – like a comfort blanket – so the illustrations are heart-warming and give the impression of the story, as well as the feeling that we're catching up with friends."
A Good 'Mix' Of Varied Illustrations
Finally, "On Pins And Needles" by Marian Myers is a fun story, and the illustration by our own Manon Gandiolle has a light-hearted feel to it (below).
"This was a fun one to work one," Manon tells us.
"I'm biased towards Springer Spaniels, as I have one at home, ready to model at any given moment!
"The challenge was to make it Christmassy without including a tree, so I've added a poinsettia and a red bow.
"The modern style complements the story as it was fun and light-hearted."
Catch up with Manon talking to Features Ed, Alex, about our latest Bumper issue, by clicking here.
Merry Christmas!