Heinz Beanz Recipe: Spiced Beanz Pie With Mashed Potato
---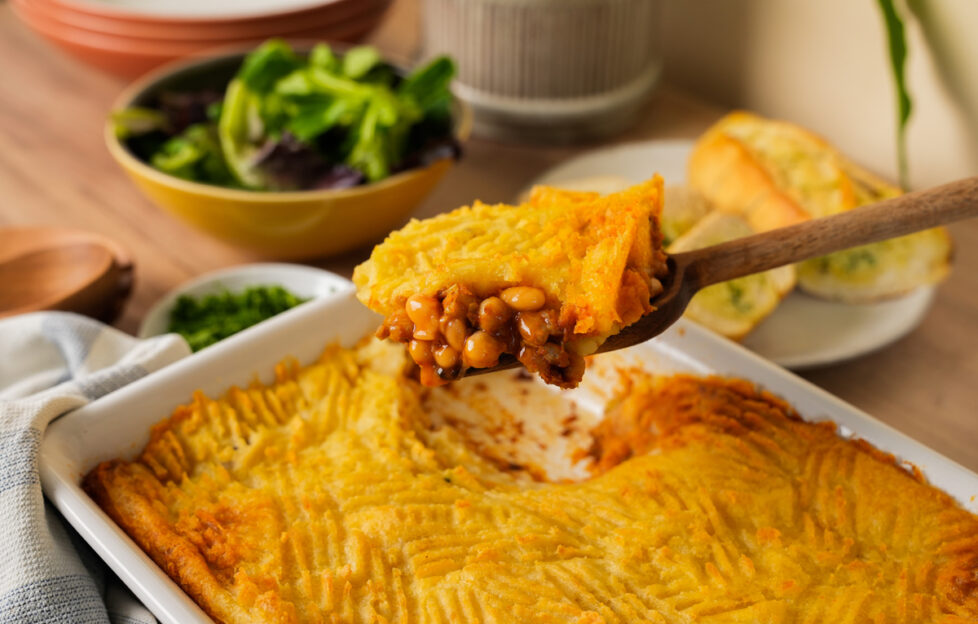 Provided by Heinz Beanz.
Ingredients
800g potatoes, peeled and chopped
3 tbsp olive oil
1 red onion, finely diced
½ leek, finely sliced
2 tsp smoked paprika
2 tsp ground cumin
1 x 400g tin chickpeas, rinsed and drained
2 x 415g tin Heinz Beanz
Small bunch flat leaf parsley, chopped
Heinz Beanz
Try a delicious spiced Heinz Beanz pie recipe as an alternative to shepherd's pie this winter. Packed with hearty pulses, it's a filling plant-based dish.
Prep time: 5 mins
Cooking time: 30 mins
Serves: 4
Method
Preheat oven to 250°C/230°C fan oven.
Add potatoes to a pan of hot boiling water and boil for 12 minutes or until soft.
Whilst potatoes are boiling, add 1 tbsp of oil to a pan along with onions and sauté for 2-3 minutes. Once the onions are soft, add the paprika and cumin and stir, then add the chickpeas and Heinz Beanz. Stir, then simmer for 2 minutes.
Whilst beans are simmering, add olive oil and 2 tbsps of warm water to the potatoes and mash with a potato masher until smooth. Add a pinch of salt and smoked paprika to the mash and stir again.
Add the bean and chickpea mixture to an ovenproof baking dish, top with your mash and place in the oven to cook for 12 minutes or until the mash is lovely and golden.
Remove from the oven and sprinkle with fresh parsley.
Total cost as of October 2022: £5.13
Individual serving cost £1.28 per serving
618 kcal per serving
Send in yours!
If you try the Heinz Beanz recipe, "The People's Friend" team would love to see your creations. You can send them to peoplesfriend@dcthomson.co.uk for a chance to be shared on social media or in the magazine!
---
Get more great recipes from the "Friend"!