Super Green Matcha Pancakes Recipe With Coconut Cream & Raspberries
---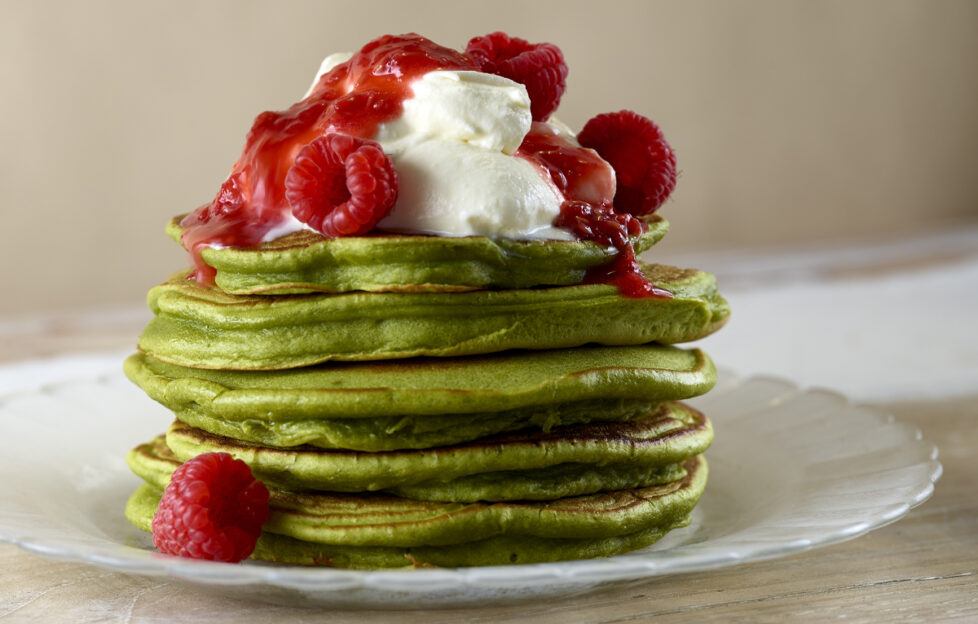 Courtesy of www.eggrecipes.co.uk
Ingredients
130g (4¾ oz) self-raising flour
1 tbs caster sugar
1 tsp baking powder
1 tbs matcha powder
Pinch of salt
2 tbs unsalted butter, melted and cooled
2 medium British Lion eggs
100 ml (3½ fl oz) whole milk
1 tsp green gel colouring (optional)
Vegetable oil to fry
50 ml (3½ fl oz) double cream
20 g (¾ oz) coconut yoghurt
20 g (¾ oz raspberries)
To serve: raspberry coulis (optional)
Recipe and image courtesy of www.eggrecipes.co.uk
Try something different this Pancake Day with this bright green and refreshing matcha pancakes recipe from British Lion Eggs!
Serves: 1
Difficulty: easy
Method For Matcha Pancakes Recipe
Start with making the pancake batter. In a medium-size mixing bowl, combine all the dry ingredients — flour, sugar, baking powder, matcha powder and salt.
In a separate bowl mix together butter, eggs, milk and colouring (if using). Gradually pour the wet ingredients over the dry and whisk until the batter is smooth and there are no lumps of flour.
Warm up a teaspoon of oil in a small frying-pan over a medium heat. When the oil is hot pour 2 tablespoons of batter into the centre of the pan and shape with the back of the spoon into a disc. Cook for 2 minutes on first side, then flip and cook for another 2 minutes until the pancake is golden brown. Transfer on to a cooling rack and cook the rest of the mixture.
In a small bowl, whip the double cream to a stiff peak consistency. Gently fold the yoghurt into the cream.
To serve, stack the pancakes, top them with coconut cream and fresh raspberries. Drizzle the raspberry coulis over the stack (if using).
Send in yours!
Send in your pancake day attempts to peoplesfriend@dcthomson.co.uk and they could be featured in an issue of the magazine.
---
Get more yummy recipes from the "Friend".