Writer Of The Week: Deborah Tomlin
---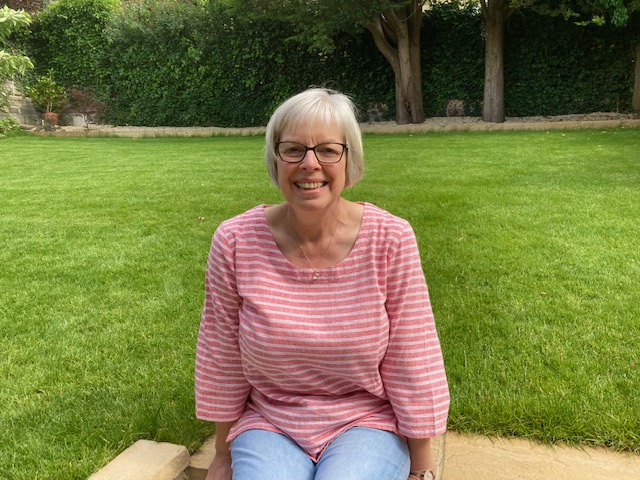 Photograph courtesy of Deborah Tomlin.
Our Writer of the Week is Deborah Tomlin. Deborah's short story, "Say It With Flowers", appears in Special 239, on sale this week.
Where did the idea come from for the church setting?
I grew up right in the middle of church life. My father was a vicar and my mother was the woman behind the great man. We lived in parishes on the outskirts of London and finally inner-city London. We got to know so many wonderful people.
When I married, the congregation skipped from the pews, eager to help with flower arranging to decorate the church, as well as help with the catering and serve at tables during the reception.
I love to pop into any open church when we visit different places at home and abroad. I love the stillness and peace. I often light a candle in memory of those I love.
Are flowers important in your own life?
I have such tender memories of helping my mum arrange church flowers. I would go with her and initially be in charge of the dustpan and brush, as she snipped away at stems until they were just right for the vase or pedestal. Gradually, Mum encouraged me to "have a go".
I learnt so much from her and love to have fresh flowers at home, especially ones I can pick from the garden. Flowers say so many things from "Congratulations" and "Well done", to "I love you" and "Thinking of you". Can you imagine a world without any flowers? Flowers give such a richness and freshness to life.
I find the journey of seed to bloom so amazing. How can a seed so small become something so beautiful? Flowers allow us a way to connect to each other like the characters in my story. Flowers also tell a continuing story of change and that fills me with hope.
What are the good things about writing for the "Friend" reader?
I remember my nanny reading "The People's Friend" when I was a child. She used to enjoy sitting in her chair – "Now all the work is done, eh," – losing herself within its pages.
I enjoy losing myself in the characters of my stories and creating good outcomes to situations that seem tricky. I especially enjoy forging connections that help people to understand one another better and, quite often, themselves better.
The magazine is such a positive publication and deals with the ups and down of everyday life. It's great to be part of it.
What type of books do you like to read? Any favourite authors?
I enjoy reading novels about ordinary people and the struggles they come up against in ordinary and extraordinary situations. I read both historical and contemporary novels, and sometimes the odd thriller that grabs my attention.
I remember years ago reading "The Island" by Victoria Hislop and crying after reading just a few page because I found her writing so beautiful. My husband and I even visited Crete and stopped by Spinalonga.
I love authors like Joanna Trollope and Erica James. "Pride And Prejudice" by Jane Austen has to be an all-time favourite and Rosie Goodwin a constant go-to. There are so many more.
One thing you like and dislike about writing?
There are those days as a writer when nothing seems to go right and I have spent hours on something I am totally unimpressed with. Ideas can sometimes be in short supply.
It's brilliant when things do come together and I find my characters telling me the direction to take in a story, or surprising me with something I hadn't thought of.
The joy of seeing my work published is hugely satisfying and rewarding. I still can't believe it's my name I see printed on a page.
Notebook and pencil or laptop? Kitchen table or study? Blank wall or inspiring view?
I tend to enjoy writing on my laptop, looking up the garden, and like to have music playing softly, like Chopin or Mozart. I don't listen to songs as I get distracted by singing along to them.
I like to sit down in a tidy and relaxing environment, so a candle and small vase of flowers make for a perfect writing space. I do keep a notebook by my bed for those times when an idea strikes in the night.
​P.S. What's your one top tip for aspiring writers?
My top tip would be to be brave. Be true to yourself and write from your heart. Your own experience is full of thoughts and ideas other people want to hear about, and you will have a unique and fresh way of writing.
Success doesn't always come easily, but no writing is wasted. A writer's life is a continuing journey with no ending.