Theatre Is For Everyone
---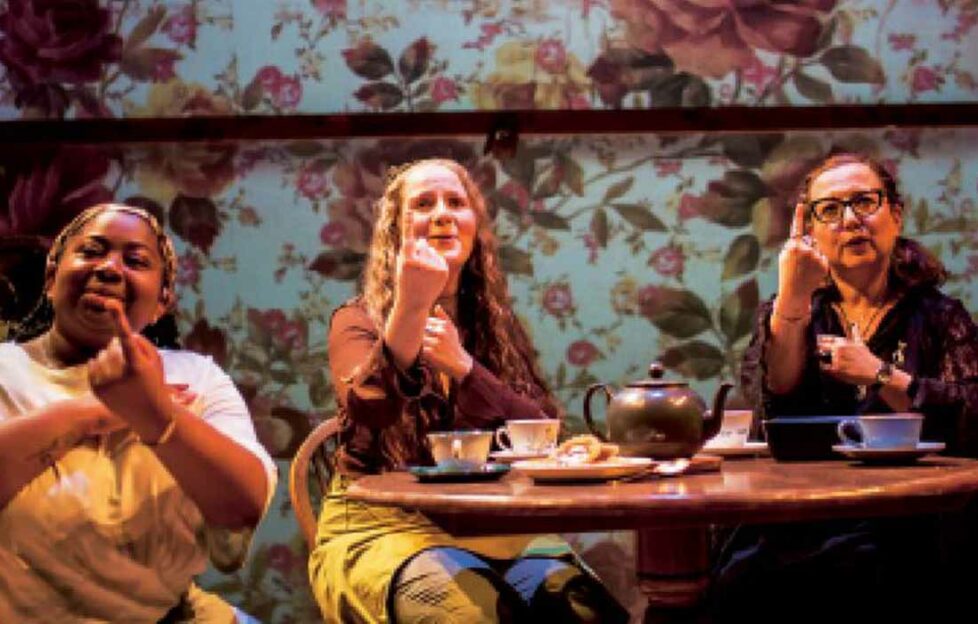 The company provides role models for both deaf and hearing people Pic: Becky Bailey
With Deaf Awareness Week running from May 1-7, we take a look back at an interview with Paula Garfield as she tells Holly Crawford about her theatre company for deaf people
In 2000, there were few deaf actors, and even fewer hearing actors who could use British Sign Language (BSL).
"As for deaf directors, well, that seemed impossible," Deafinitely Theatre founder Paula Garfield says.
That's why Paula made it her mission to change that.
"I'd worked as an actress for a variety of companies for a decade by that point.
"It was around that time I began asking, 'Where are the productions being directed and led by deaf people?'" Paula explains.
"The British Theatre of the Deaf was the only similar set-up I could find, but it used mime and minimal signs in performances, and folded in the 1960s.
I kept hoping someone would set up a professional theatre company for deaf people, until eventually I teamed up with a group of colleagues and we decided to do it ourselves!
The result was Deafinitely Theatre, a flagship company for deaf actors, writers and directors.
BSL was used first and foremost in all productions, with spoken and written English creatively woven in.
Last year, Deafinitely Theatre celebrated its 20th anniversary
"It's been a rollercoaster ride, but twenty years later I'm starting to see a larger pool of deaf actors and creatives, and learning of more deaf people wanting to become directors.
"I'm proud of that growth and of everything we've achieved," Paula reflects.
"It's vital that Deafinitely Theatre's work isn't just about putting on plays," Paula says.
"It's about starting conversations and raising awareness of the issues deaf people face in society.
"This can influence positive change and that's the legacy our work brings."
Paula and her team have reshaped the theatrical landscape for the deaf community, and created opportunities for those who aspire to work in it.
"One of the major things the company does is provide role models for deaf and hearing people," Paula says.
"We're proud of our alumni, which include 'EastEnders' actor Rose Ayling-Ellis and actor William Grint, who has worked for the Royal Shakespeare Company."
As you'd expect for such a determined individual, Paula is all about breaking new ground, but ensuring everyone comes along for the adventure.
Deafinitely Theatre is for everyone. There's a misconception that we're only for deaf audiences, but that's not the case.
"At least half of our audience are hearing people who like theatre or have an interest in BSL.
"Non-BSL users also come along, and love it!"
So how does one pick a highlight from such a successful career?
The answer, Paula says, is to select two!
"Every show I've directed is special, but two stand-out productions were 'Love's Labour's Lost' and 'A Midsummer Night's Dream', which took place at the Globe Theatre.
"To adapt and translate Shakespeare's text into BSL and have audiences of more than a thousand pack out the venue night after night was something I'll never forget."
---
To find out more about Deafinitely Theatre and its shows and events, visit www.deafinitelytheatre.co.uk.
Pick up a copy of "The People's Friend" each week for up-to-date health and wellbeing news.