Piccolo And Oregano Galette
---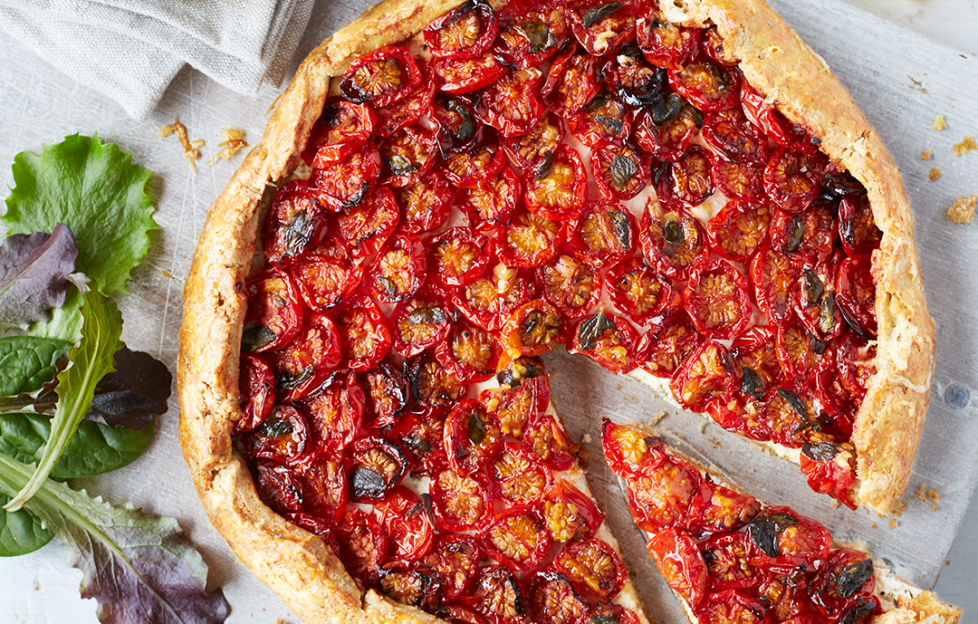 Photograph courtesy of British Piccolos.
Ingredients
For the filling:
Drizzle olive oil
500g Piccolo cherry tomatoes, halved
4 sprigs oregano, leaves only
150g ricotta cheese
60g cheddar, finely grated
Generous pinch dried oregano
Salt and freshly ground black pepper
Mixed salad leaves, to serve
For the pastry:
125g plain flour, plus extra for flouring
125g wholemeal flour
Generous pinch flaked sea salt
125g butter from the fridge, cubed
1 tsp dried oregano
75g finely grated cheddar, plus extra to finish
1 free-range egg, lightly beaten
About 2 tbsp milk
1 free-range egg yolk, for brushing
British Piccolos
This piccolo and oregano galette features a delicious cheddar cheese crust.
We think the crust has a lovely, rustic framing effect on the filling. Plus, regular readers will know our fondness for cheese here at the "Friend" . . .
The folks at British Piccolos gave us this recipe for British Tomato Week, which ran from May 29 – June 11, 2023.
Although we've missed the event, we're still keen to give this recipe a try. And we hope you are, too!
Serves: 4
Preparation time: 2 hours 20 minutes
Suitable for vegetarians
For the filling, follow these steps:
Heat the oven to 160C/140C Fan/Gas 3. Line a baking tray with baking parchment and brush it with a little olive oil.

Toss the tomatoes in a bowl with the oregano, garlic and a drizzle of olive oil, and season with salt and black pepper. Arrange on the prepared baking tray, cut-side up.

Roast for an hour until softened. Set aside. If the Piccolos have let out liquid, you can drain them in a sieve or on a plate lined with kitchen paper.
For the pastry, follow these steps:
Put the measured plain flour, wholemeal flour and salt in a bowl and, using your fingertips, rub the butter in to the consistency of breadcrumbs. Add the dried oregano and cheddar and stir well.
Mix in the egg and about two tablespoons of milk (enough to bring it to a dough – you may need slightly more or less milk).
Bring together using your hands and then wrap in cling film and leave to chill in the fridge for 30 minutes.
Increase the temp to 210C/190C Fan/Gas 7 and line a large baking tray with baking paper. Remove the pastry from the fridge.
Get ready to bake:
Finish the filling by mixing together the ricotta, cheddar, dried oregano, salt and freshly ground black pepper, to taste, together in a bowl.
Unwrap the pastry and roll it out on a floured surface into a round, about 2–3mm thick (around 30cm diameter). Transfer to the baking tray.
Spread the flavoured ricotta over the pastry, leaving a roughly 5cm border.
Arrange the tomatoes on top, packed in tightly.
Fold the edge of the pastry onto the tomatoes to contain the tomato and ricotta filling inside the tart. Brush the egg yolk over the pastry and sprinkle with a little more cheddar.
Bake for 35–40 minutes. You are likely to need to cover the galette with foil after 20 minutes to stop it over–browning.
Serve at once with mixed salad leaves.
---
Send in yours!
Thinking about trying this piccolo and oregano galette? We'd love to see how you get on!
Send a photo to peoplesfriend@dcthomson.co.uk for a chance to be shared on social media or in the magazine!
Click here for more delicious recipes, tips and tricks from "The People's Friend".