Writer Of The Week: Keith Havers
---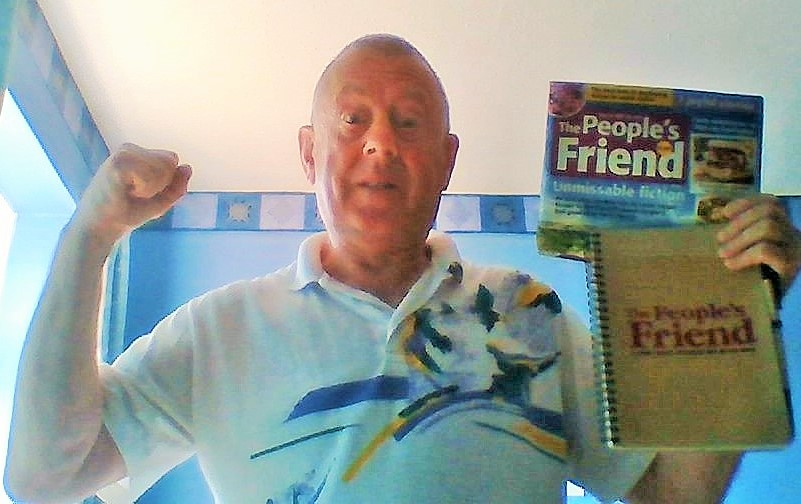 Photo courtesy of Keith Havers.
This week we're delighted to chat to Keith Havers whose story "Ask The Right Question" appears in this week's upcoming issue.
---
Tell us a bit about "Ask The Right Question".
---
Characters are always important in a story whether it's a short story or a novel. One of the topics I like to explore is relationships between those characters. I've done relationships between the sexes and across the generations so I thought I'd try and see what happens when a third party comes between two guys who just like spending time together. Barry and Lenny are intelligent but a bit nerdy. When Clare turns their duo into a trio there is some tension but, because of the strength of their friendship, things are bound to turn out all right. I get a lot of my ideas for themes from TV programmes so I suppose this one came from things like "The Likely Lads" and "Detectorists".
How long have you been writing fiction?
---
At school I was more interested in science than literature, but I still liked to read and write fiction. I became an engineer and took pride in using my writing skills to make my technical reports succinct and easy to read. I started to submit to competitions around 2004, I had my first magazine acceptance in 2011 and my first for "The People's Friend" in 2012.
What's your favourite genre to write?
---
Being an 11-year-old at heart I love to write adventure stories inspired by the kind you used to get in "The Boy's Own Paper". You can only touch on this sort thing in women's magazines and one of the ways is to write stories based on historical themes such as the suffragette movement and other struggles for equality.
How has the fiction market changed over the years?
---
It's pretty obvious that the magazine market is getting more difficult. Titles have closed or reduced their fiction content. Some magazines have a closed list for submissions. Thankfully "The People's Friend" is still open to new writers which keeps the fresh ideas coming in.
Which authors do you admire?
---
I always download a few Lee Child books when I go on holiday so that I can keep up with the adventures of Jack Reacher. It's escapism stuff. Just lately I've become a big fan of local author C.J. Tudor. She came to Nottingham Writers' Club a few years ago to talk about her first novel "The Chalk Man". I bought a signed copy and have continued to read her novels ever since. Her writing has been compared with that of Stephen King. In general I have to admire all authors who write for children. It's important to enhance their reading skills and fire their imagination.
What are your future writing plans?
---
Apart from persevering with the magazine market I want to find time to continue another project. A few years ago I began to write a series of modern adventure stories aimed at early teens. It's a sort of up-to-date "Famous Five"/"Secret Seven" escapade with a diverse group of kids. I'd like to carry on with it and see where it leads. If nothing else it might amuse my grandkids.
Thank you, Keith!