Willie's View: By Airngath Hill
---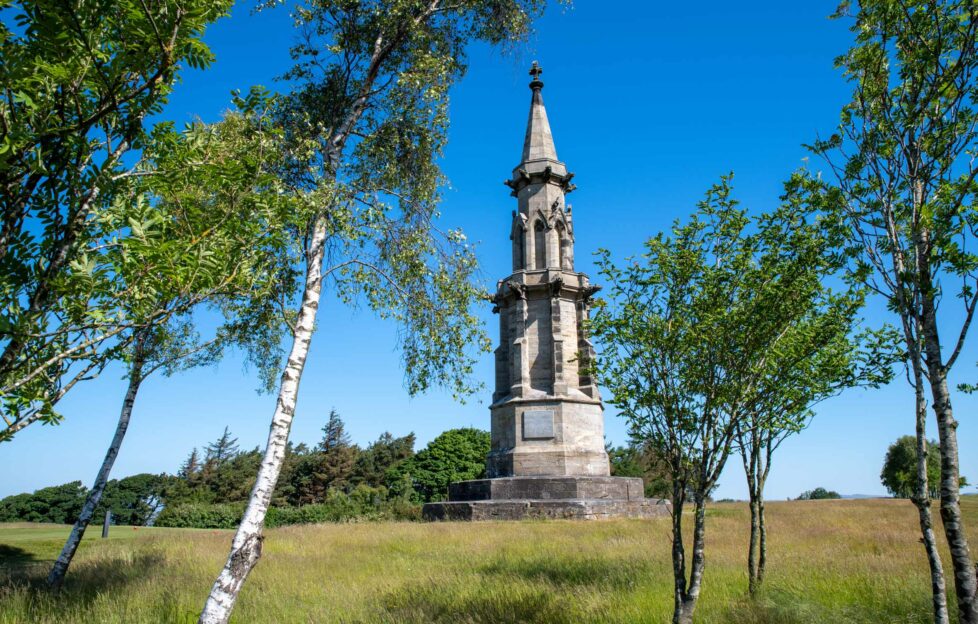 Photograph courtesy of Willie Shand.
There are lots of pleasant, easy walks around the town of Linlithgow.
A walk round Linlithgow Loch reflecting the palace where Mary Queen of Scots was born in 1542; walks along the towpath of the Union Canal or, if you're feeling like a more challenging ten miles hike, over the old hill path to Bo'ness returning along part of the John Muir Way.
That's the track I set out on today, with a short detour to the top of Airngath Hill.
On the way to the hill we pass the grand mansion of the Grange, built by geologist and geographer, Henry Moubray Cadell and later becoming home to industrialist William Cadell – a founder of the famous Carron Iron Works.
Crowning the hilltop is the Hope Monument.
The obelisk monument memorialises Brigadier General, the Honourable Adrian Hope.  He, it appears, was to meet his end during the Indian Mutiny at Rooeah, Oude in 1858. He now rests in Westminster Abbey.
Even if you go no further, it's worth climbing to visit the monument. Take in the extensive views north over Bo'ness, Grangemouth and across the Firth of Forth to the rolling Ochils beyond.
The only downside this warm, sunny morning was that the farmer had been out working at the hay.
That should set my hay fever off nicely for the next few days!

---
More ideas for days out with Willie Shand.
More things to see and do in Linlithgow.