Fiction Ed's Blog: Our 2024 Annual
---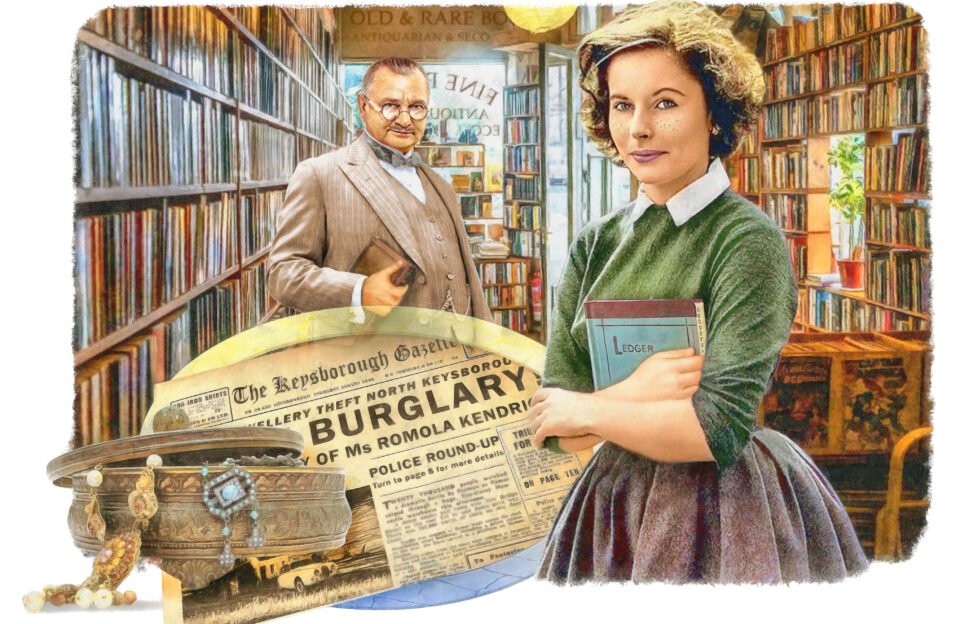 Artwork: Ged Fay
The "People's Friend" Annual 2024 will be available soon.
Let's look at the 25 brand-new stories you'll find inside.
Twenty-Five Stories
Our opening story is "The Perfect Resolution" by Eirin Thompson. Dorothy has a New Year's Resolution – but it's not concerning herself, it's concerning her son!
We're "Out On The Moors" in our next story, and according to legend, the former inhabitants of one house are reputed never to have left…by Shona Partridge, with artwork from Sailesh Thakrar.
An imaginary pet leaves one little lad "In The Dog House", in Becca Robin's short story. Illustrated by Pat Gregory.
Norma's husband starts bird-watching in his retirement, but the calm descends into mayhem when squirrels invade the garden! "Driving Me Nuts" is by Kate Hogan.
We're back in the 1950s for our next story, a cosy crime read -"Every Trick In The Book", by Liz Filleul. When a series of local burglaries take place, Geraldine's suspicions turn to her boss. Artwork, Gerard Fay (above).
All Brand-New Stories
A four-legged friend helps heal a family rift in "Lead The Way", by Jane Ayres. Illustration from Tracy Fennell.
A flower delivery mix-up brings two people together, in "Bouquets Of Love", by Alyson Hilbourne…
…and a young lass is encouraged by her English teacher to enter a writing competition, in Sharon Haston's "The Write Stuff". Artwork, Ruth Blair.
We go back to Empire Day, 1920, for Sarah Swatridge's "Beside The Seaside"…
… and a gran finds that helping at a local school is more rewarding than she'd expected in "Stitched Up!". By Laura Tapper, with artwork from Helen Welsh.
Favourite Authors
We're back in 1967 for our next story, "Taking Control", by Alison Carter. Maxine loves Luke, and Luke loves Maxine – so why aren't they together? Artwork, Ged Fay.
Riley has four sisters and has been bridesmaid every time, in "Four Weddings And A Cake", by Eirin Thompson. Artwork, Martin Baines.
Two friends enter the Best Garden competition every year, but is one of them destined never to have "Green Fingers"? By Christine Bryant; artwork Ruth Blair.
Jenny receives an invite to her sister's 30th, but after an incident in their past, can she "Forgive And Forget"? By Barbara Dynes, with artwork from Ruth Blair.
When a husband starts spending time alone, Carrie fears the worst. Could there be a reasonable explanation? "The Leaning Tower Of Books" is by Susan Blackburn.
Year-Round Reading
Caro owns a charming little boutique but she's facing financial worries, in "The Little Shop Of Hope", by H. Johnson-Mack. Artwork, Sarah Holliday.
Diane loses her beloved climbing rose, and struggles to find a replacement in "A Rose By Any Other Name", by Patsy Collins. Artwork, Ruth Blair.
Cara is cat-sitting for her lovely gran. What could go wrong?! "A Major Problem", by Eirin Thompson, is illustrated by Mandy Murray.
Village newcomer Alice hopes to make new friends by sharing her "Damsons In Distress!". By Jane Bettany, with artwork from Andre Leonard.
Harry isn't pleased when he's asked to help with a beach clean. But then he finds something special that changes everything. "Seal Of Approval", by Alyson Hilbourne,
A Charming And Traditional Read
We're in 1980 for our next story, set around a college quiz night. "A Little Knowledge", by Gwen Rollinson, is illustrated by Philip Crabb.
A guitar has the power to change a life, in "Play On", by Val Bonsall…
…and in "Everything Changes", by Alyson Hilbourne, a WW2 bombing raid leads to an extended family. Artwork, Ged Fay.
When an English couple take in a student for six months, they soon realise he's become part of the family. "The Empty Chair", by Glenda Young, is illustrated by Sarah Holliday.
And in our final story, a young lad isn't keen on his part in the nativity, in "The Angel's Gift", by Rosemary Gemmell. But help is at hand! Artwork, Kirk Houston.