Mushroom & Goats' Cheese Linguini
---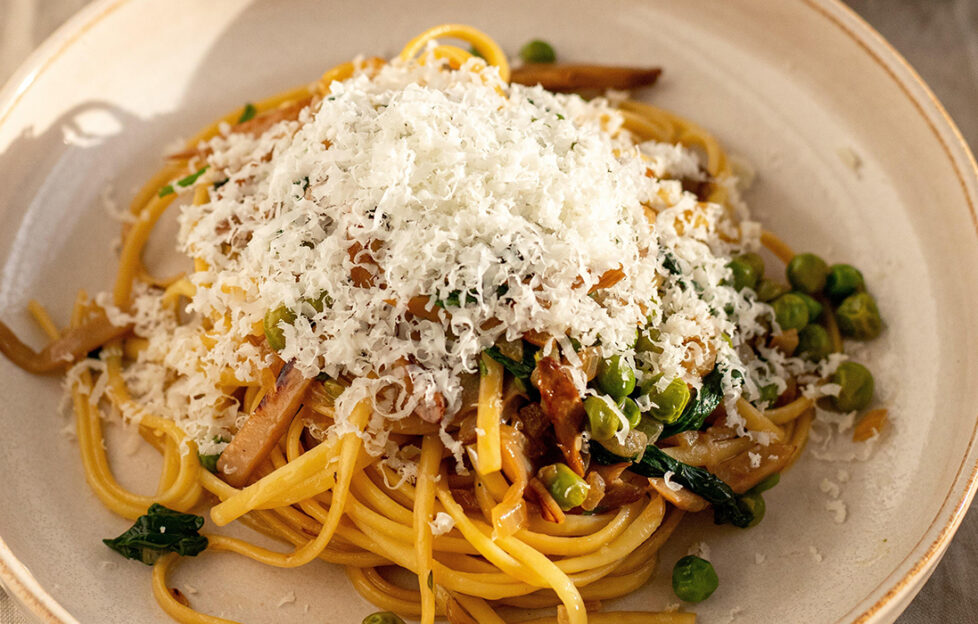 Ingredients:
300g linguini or any other flat pasta
200g mixed wild mushrooms
1 white onion
15ml vegetable or rapeseed oil
2 cloves garlic, peeled and crushed
100g St Helen's Farm Goat's Butter
Good handful parsley
100g peas
150g baby leaf spinach
Salt and freshly-ground black pepper
Zest of 1 lemon
150g St Helen's Farm Goat's Cheese
Milking Goat Association
Using delicious goats' cheese products from St Helen's Farm, this quick and easy dish can be on the table in 20 minutes!
Serves: 4
Cooking time: 20min
Bring a big pan of salty water to the boil and cook the pasta for the length of time on the packet, strain through a colander, but retain a little of the pasta water for the sauce.
Lightly wash, pat dry then tear or roughly chop the mushrooms
Peel and dice the onion.
Heat a large saute pan over a medium heat and add the oil.
Add in the garlic and onions and cook for a few minutes until softened. Add in the mushrooms and increase the heat, this will remove the moisture from the mushrooms so they get a little crispy.
Cook until the mushrooms are golden, then add in the butter and keep over the heat until a buttery foam gathers, this is the beginning of that glorious thing that is brown butter.
Reduce the heat to medium/low and continue to stir until the foam has almost gone, you'll be left with a nutty golden brown butter coating the mushrooms.
Remove from the heat.
Wash and roughly chop the parsley.
Toss the pasta into the mushroom mix, add peas and spinach and return to a medium heat, add in a few splashes of the saved pasta water, this will help in two ways, creates a little steam and also helps to thicken the sauce slightly.
At this point season well with salt and pepper and add in the chopped parsley and finely grate in the lemon zest.
Finish with a generous amount of shaved or grated goat's cheese.
Transfer either to a large warm bowl and allow people to serve themselves or divide evenly between 4 warm plates.
St Helen's Farm goats' cheese products are available from Sainsbury's, Tesco, Waitrose, Ocado and Morrisons.
---
For more easy, Cheesy recipes, pick up this week's issue of "The People's Friend", on sale from August 9. Or take a look at our great subscription deals!