Pumpkin Risotto With Watercress Pesto
---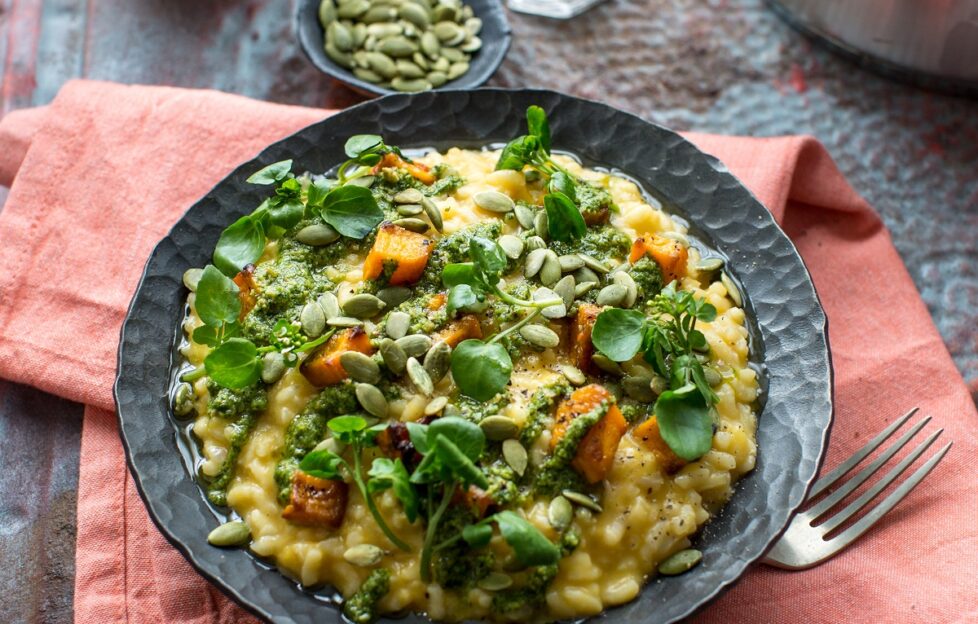 Image courtesy of The Watercress Company.
Ingredients:
1 small pumpkin or butternut squash
Olive oil
Salt and freshly-ground black pepper, to taste
5 shallots, peeled and diced finely
2 cloves garlic, chopped finely
200g Arborio risotto rice
100ml white wine
1lt hot vegetable stock
35g watercress
25g cold butter
2tbsp pumpkin seeds, toasted
For the Pesto:
50g vegetarian parmesan
50g pine nuts, toasted
50g watercress
75ml olive oil
Recipe courtesy of The Watercress Company
Looking for something to do with this year's leftover pumpkin? Try this delicious risotto recipe – a great dish for all the family!
Serves: 4, suitable for vegetarians
Cooking time: 55min
Pre-heat the oven to 180°C, 350°F, Gas Mark 4.
Peel the pumpkin, remove the seeds and chop into 2 cm (¾ in) cubes. Place half of the pumpkin on to an oven tray, drizzle with olive oil and season with salt and pepper before placing into the pre-heated oven for 25min, or until it is soft in the middle and starting to colour on the outside.
Put the remaining pumpkin into a medium-sized saucepan and cover with cold water. Add a pinch of salt and bring to the boil, simmering for 15-20min or until the it is soft and cooked through. Drain and blend in a food processor until smooth. You will stir this pumpkin purée through the risotto to give it good colour and flavour.
Next, make the pesto by blending together the parmesan, pine nuts and watercress, before slowly adding the olive oil and seasoning to taste.
Take a large frying-pan or wok and place on a medium heat. Add a tablespoon of olive oil and throw in the diced shallots and garlic along with a pinch of salt. Fry gently for a few minutes, being careful not to allow the shallots to colour or burn. Add in the risotto rice and continue to fry for a further few minutes before adding in the white wine. Then reduce the heat to medium-low and stir the rice and shallot mixture until almost all the wine disappears.
Use a ladle or small jug to pour one quarter of the vegetable stock into the pan. Cook until the liquid has been absorbed, stirring frequently. Repeat until all the liquid disappears – this should take around 20min. Check that the rice is cooked through. Add a splash more water if necessary.
Finally, stir in the watercress, pumpkin purée, diced roast pumpkin and cold butter, then season to taste with salt and pepper. Spoon the risotto into four bowls, scatter over the pumpkin seeds and drizzle generously with watercress pesto. Serve and enjoy!
According to environmental charity Hubbub, nearly half of the 35 million pumpkins carved for Hallowe'en won't be eaten.
Rescue your pumpkin with this recipe, and you'll be doing your bit to combat food waste, too!
---
Send it in!
If you try our risotto recipe, "The People's Friend" team would love to see your creations. You can send them to peoplesfriend@dcthomson.co.uk for a chance to be shared on social media or in the magazine!
Check out our Cookery section for more recipes.