The Wedding Quilt – Episode 50
---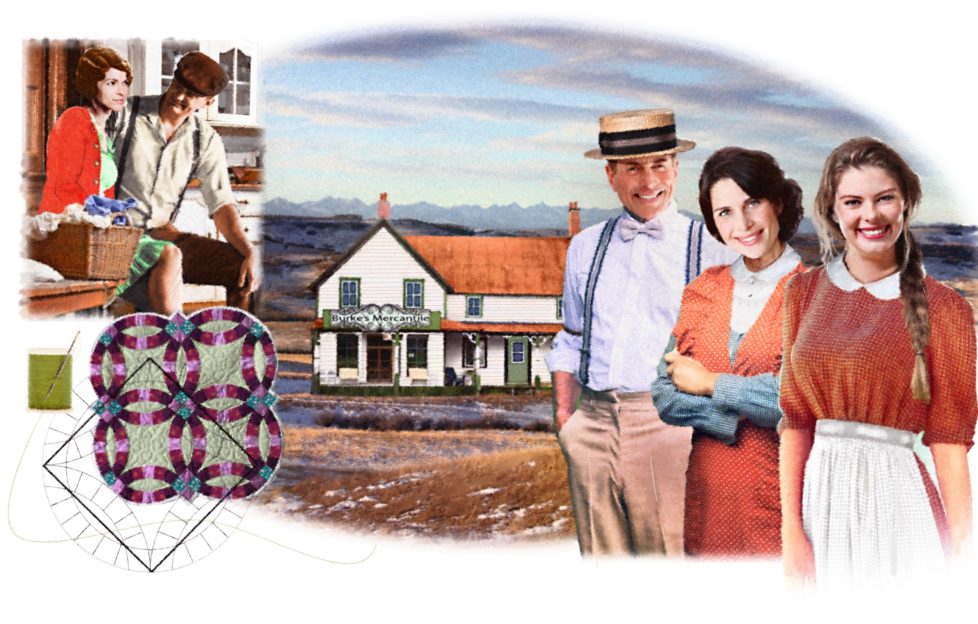 Illustration by Mandy Dixon.
"Is this yours, ma'am?"
Mamie blinked at the young reporter from "The Ararat Advertiser".
"Yes. At least, I pieced it together, but I had help with the actual quilting. That is allowed, you know. We always have quilting bees to do that part."
In a daze she answered the questions put to her by the young man. The quilt was made in the double wedding ring pattern. She traced the design with her finger to show him what she meant. Why had she chosen this design? How long had it taken her to make the quilt?
His final remark staggered her.
"I suppose you'll send it to Toronto now, for the CNE?"
The Canadian National Exhibition! Mamie had never aspired to such an honour.
For a moment she dwelt on the thought of her cousin Sarah viewing her quilt, boasting to her friends that the maker was a member of her family. But then she shook her head.
"No, no. This quilt is spoken for. It's meant for a bride, you see."
"Might I have the young lady's name, Mrs Burke? I'm sure our readers would like to know."
"I don't know yet. You see, I promised the young women who helped me that the quilt will go to the first of them to be married, and at the moment they're all still single."
"How romantic!"
"Yes, isn't it!"
And annoying, she thought, as the young man moved on to interview other contestants. The way things were going it looked as if the quilt would go to Stella, although nothing was settled yet.
Stella's father had decreed that no engagement would be announced until the following spring, and even then the wedding would not take place until June. There was still time for Beasie and Drusilla to enter the wedding stakes!
Mamie's conscience stabbed her. She had made this promise in a weak moment and she regretted it now, but nevertheless she would keep her word.
****
Frank's friend was a sandy-haired young man called Neil Paterson.
The train was packed by the time it reached their stop and she and Drusilla had to sit far apart, while the two men had to stand.
It was a relief to reach the fairground where they could be out in the fresh air, but before long Beasie was beginning to regret that she'd come.
Tuesday afternoon was devoted to beef cattle classes and Neil, a farmer's son, was keen to spend the afternoon watching the judging.
Before long he was in a spirited discussion with two spectators regarding the relative merits of Herefords and Aberdeen Angus, and, rolling their eyes at each other, the two girls walked away.
"We're going for lemonade, Frank," Drusilla called. "Are you coming?"
"You two go ahead. I'll stay with Neil."
"Poor Frank. He's no more interested in cattle than I am," Drusilla murmured. "But I expect he feels he should keep Neil company, though I'm sure he'd much rather spend the day with you."
"It'll be different tonight," Beasie said ambiguously.
Nights at the fair were the preserve of young lovers. After out-of-town entertainers had performed for the crowds the midway came to life.
Coloured lights and music turned the surroundings into a place of magic where visitors rode the galloping horses on the carousel or tried their luck at games of chance.
Beasie yearned to be strolling about with Paddy Ryan at her side, but he was far away, and in the months since he left he hadn't bothered to write. What would be the point? He had made his choice, and she wasn't part of it.
Perversely she felt annoyed that Frank wasn't paying attention to her. Oh, he had bought her a treat of bacon on a bun at the Masons' stall, and a glass of sarsaparilla to go with it, but he'd done the same for his sister and Neil.
Young lovers were wandering about hand in hand, but Frank made no move to touch her fingers. What might she have done if he'd tried? Her feeling of confusion startled her.
Going back on the train, she sat beside Neil.
"You work on the trains with Frank, don't you?" she asked, thinking she'd better make conversation or he might think she was being aloof.
"Yup. I'm a fireman right now, but I'm hoping to go through for a conductor, same as Frank."
"That's nice. Is there much chance of promotion?"
"Maybe, when Frank leaves."
"I don't know what you mean."
"Hasn't he said anything? He's going out West, eh?"
Beasie felt a buzzing in her ears. What was the matter with her? She hoped she wasn't going to faint.
She was dimly aware that Neil was enthusing about a Black Angus bull he'd seen that day and somehow she managed a few non-committal remarks.
Frank Carmody going West? Were all the men in her life destined to go thousands of miles away from her?